Honda NC 750 X in review
(Baujahr 2021)
Cross-over fun bike with 59 hp - is that possible?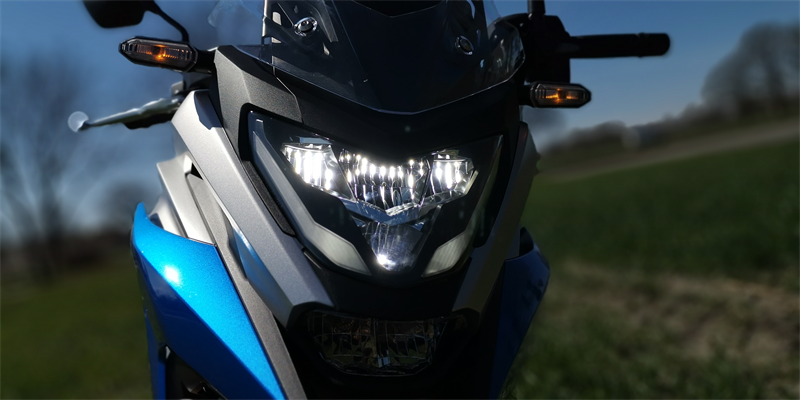 Photos: motorradtest.de
There are only a few motorcycles like the Honda NC 750 X. Although it has no real enduro qualities, it is well suited for longer stages thanks to its seating position. So actually a typical road-oriented cross-over bike, but only with 59 hp. It is not comparable to a Yamaha Ténéré 700 or a BMW F 900 XR. In addition, it is extremely practical with its storage compartment and can be driven without shifting thanks to the optional DCT transmission. It is also great for the city and also for two this motorcycle offers enough space. What other motorcycle can still unite all these virtues? Just - none. 
This is how it stands
The Honda NC 750 X is chic, especially in the bright blue of our test machine. They are also available in black, white and red - so there should be something for everyone. The NC 750 X costs 8,350 euros, which is quite cheap compared to "real" travel enduros. Of course, you can also notice this during the first tour of the machine at one point or another: Simple telefork at the front (neither upside-down nor adjustable), simple box swingarm at the back and single disc at the front immediately catch our eye. Honda's NC series has been designed for simple and cheap but well-made motorcycles since 2012. This DNA still embodies the current NC750X, although it is well designed.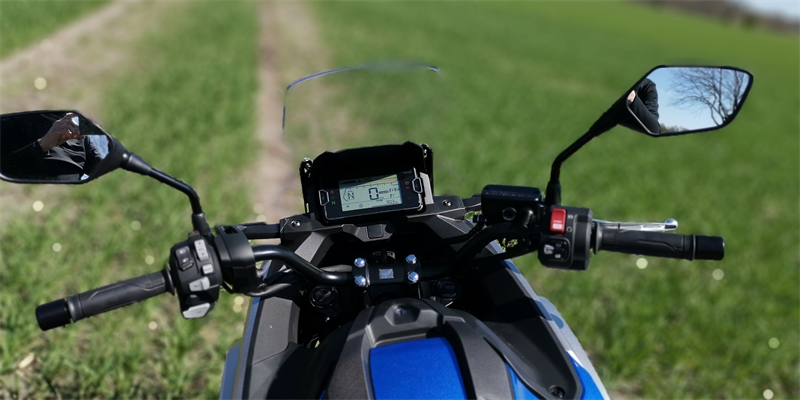 When we first sit up, we immediately feel at home. Medium-width handlebars, simple LC display, clear switches - every biker gets it right here. The handlebars are close to the driver and relatively high, the seat height with 800 mm very moderate. You automatically sit upright like a classic travel enduro and even smaller riders have a safe stand. The machine weighs only 214 kg, which is very little for a bike of this type.
Our test bike is equipped with the DCT transmission, which pushes up the price by 1,000 euros and the weight by 10 kilos. 55 percent of all NCs in Germany are ordered with DCT, but we do not consider it vital. However, it works very well and if you want, thanks to the shift paddle on the left, you can also manually switch up and down like in a Porsche. In practice, however, this is rarely done, because a) the DCT switches very harmoniously on its very way and we b) do not want to set speed records with a 59 hp bike anyway. By the way, the three DCT modes of the predecessor are history, the 2021 NC has instead four driving modes, which also affect the switching times of the DCT.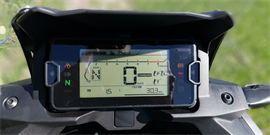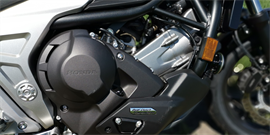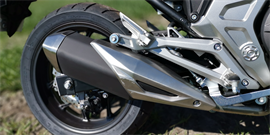 This is what she should be able to do
The NC 750 X has Ride by Wire, a three-stage traction control, an engine brake and three driving modes plus a rider mode that you can configure yourself. In addition, there is full LED light incl. blinker and an LC display packed with lots of information, including gear display, on-board computer, and status display of the three characteristics of the selected driving mode. Africa-Twin riders may wonder why it's all so easy to see here...
The real hit with the NC750X is without question the 21 litre storage compartment that sits where the tank is normally located. Our helmets have all found space here, how practical is that??? However, there is a disadvantage: If you want to refuel, you may have to remove attached luggage at the back, because the tank filling nozzle is located under the passenger seat.
This is how she drives herself
The changeover to Euro-5 has given the NC 750 X 2021 four hp more power and one Newton meter more torque. Do you notice that? Well, I don't think that's the right thing to do. More relevant is the higher nominal speed of +600 Umin, which now does not chase the engine into the limiter quite as early as its predecessor. In addition, the first three gears are slightly shorter translated and the machine has become 6 kilograms lighter. And all these things together you just notice. The machine accelerates surprisingly fast and makes a good figure especially during the pull-through test (see video). At least 69 Newton meters, already at 4,750 umin, provide propulsion. In general, the nc's engine is designed to be low-tour: you don't want to and can't turn like wild on the tap, but rather cruist comfortably over the villages. The engine and gearbox design allow for manual driving, if you have to switch at all - keyword "DCT".

 

The windscreen is okay, but the disc is just so high that turbulence and noise occur on the helmet. We recommend either a smaller disc or a larger disc. Honda itself offers a 77mm higher disc in the accessories shop, which should provide a noticeably better windscreen. Speaking of accessories: A suitable suitcase set plus top case (50 liters !) is also available for the X, but this costs about 1,500 euros.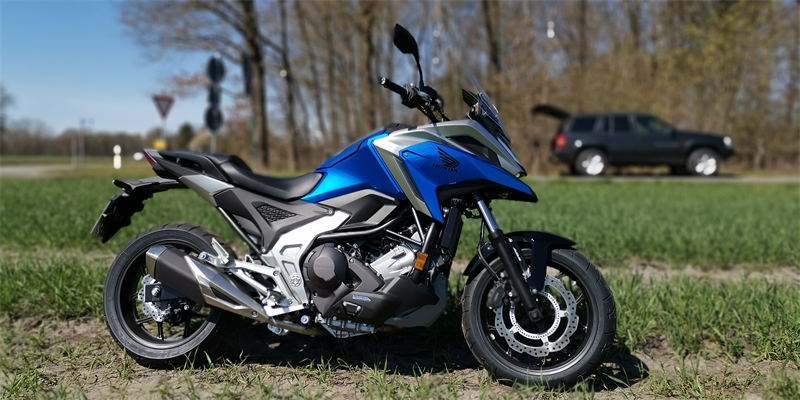 Photo: motorradtest.de
Conclusion - what gets stuck
The NC 750 X is one of Honda's top 3 sellers. No wonder, because as mentioned at the beginning there are hardly any competitors that would be comparable with this bike. It is incredibly practical, agile, easy to drive, affordable and offers the proverbial Honda quality. However, the NC would not be dojustice if it were simply reduced to these virtues, because it is also really fun! Appropriately, we also liked the sound thanks to the lifting pin offset. Beautifully bollerig and untemrum bassy, the Twin roars in front of it. Almost like a V2, especially when you're gasping. 
Overall, Honda succeeds with the NC 750 X a small, fine funbike that has not unjustly found many fans over the years. This certainly does not include the announcers and announcers of the motorcycle meeting, but rather "real" motorcyclists, who use their bike a lot and often. So all those who have to be able to rely on their mobile base, because they are not only gurgling to the iceman in fair weather, but on the daily commute or for longer journeys. And that's exactly what the Honda NC 750 X is made for.
The test machine was provided to us by
motofun from Kaltenkirchen
- thank you very much!
Price/Availability/Colours/Years of Construction
Price: 8.320€
Used (3 years old): 6,000€
Years built: 2014-2021
Colours: red, black, blue, white