Kawasaki Ninja 1000 SX Review
(Baujahr 2021)
Mature sports tourer without weaknesses - the Ninja 1000 SX can do almost anything.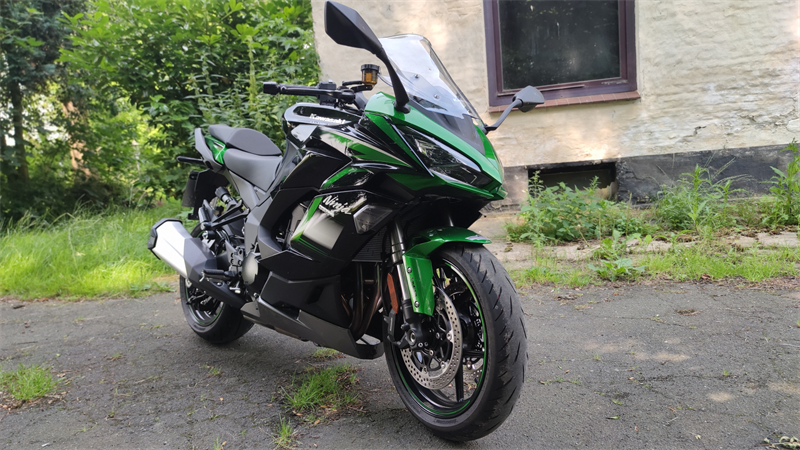 Photo: motorradtest.de
What happens if a manufacturer consistently develops a machine further and does not allow itself to be influenced by any fashion trends? Exactly, the bike is just getting better and better. An example of this is the Kawasaki Ninja 1000 SX, because this bike has been built since 2010 and has missed the 4th facelift in 2020. We drove the 1000 SX and we were thrilled!
This is the Kawasaki Ninja 1000 SX
Crossover bikes and retro machines are just the order of the day. Kawasaki cares little. They continue to build a "sport tourer" with four cylinders, as they were still popular about 10 years ago. The Ninja 1000 SX therefore has hardly any competitors. Let's call them: BMW R 1250 RS and Ducati SuperSport 950. With a lot of good will you can add the Yamaha Tracer 9 GT and the KTM 1290 SuperDuke GT, but that's all we can think of. Why is that? Because sports tourers are hardly bought anymore. And why is that? No idea. In any case, the SX is the prime example that this category still has its raison d'être.
Sport tourer bikes are heavier than nakeds and offer rich road holding with an extremely stable straight line. Long curves are their profession and they drive like an ICE, especially on the highway! The Ninja 1000 SX weighs 235 kg - and you can see that. In our opinion, she looks sportier than she drives. By the way, Kawasaki has renamed the device from Z 1000 SX to Ninja 1000 SX for the facelift. This also makes sense, because Z at Kawa stands for naked bikes, which the ninja is not.


Compared to the predecessor, a lot has been revised: chassis, engine, design, technical equipment, tires and exhaust. That almost sounds like a completely new machine, but that's not true. Rather, Kawa has consistently eliminated the few weaknesses of the SX, but it is clearly still an SX. It has become a bit more expensive at 13,945 euros, but now offers everything your heart desires. Except for an electronic chassis, nothing is missing - great!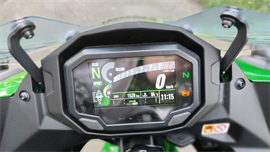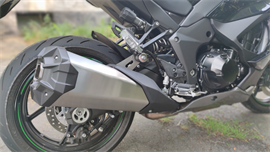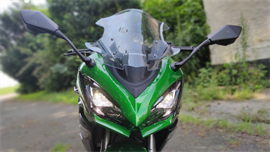 What it should be able to do
The cockpit now has a 4.3" color TFT that we already know from the Versys 1000 S. Also on board is a 6-axis IMU, which enables cornering ABS and lean-angle-dependent traction control. Ride by Wire, 4 driving modes (3 fixed and one freely configurable) are also included and also a cruise control, as it should be for a sports tourer. In addition, you can of course connect your mobile phone to the bike and make settings via smartphone or record tours.
But that's not all: There is also an inclination display and a display of the braking force or the throttle response. Whether that has to be all remains to be seen, but it's kind of funny. In the evening let's see how weird you drove again today ... wonderful nonsense.
LED front and rear is of course also standard, only a cornering light is not available. The windshield is simply adjustable several times, but be sure: If it is placed very steeply, this can lead to turbulence on the helmet. You have to try it, with us the flat position worked best.
Photo: motorradtest.de
This is how she drives herself
Who wants a test drive? Here, here, me, me! Okay, then we leave THE ENGINE OR THE TURBINE on. That's exactly how a 4-cylinder has to sound. I already know how she will drive: creamy, silky, creamy. Only row fours can do that and in this group Kawasaki has now really more than established itself. Whether Z900/RS, Versys 1000 or H2 - hardly any other manufacturer knows how to bring such beautiful purring engines to the start. And the sound is also convincing: Not too loud, not too quiet, nice bassy and with character. I could turn them on in the garage and listen for hours if I didn't get poisoned.
And how does the Ninja 1000 SX drive? Quite simply: Like a sports tourer of classic school. Stubborn straight-line running, power in all situations, great brakes (!), great driving performance, everything great! A small downer: The machine vibrates a bit at about 5000 umin, but that's part of this type of engine - as a gift. The 1000 SX weighs 235 kg, so it is not a lightweight. This benefits stability, but comes at the expense of manoeuvrability. It is "not unwendign", but not quite as bustling as a 180 kg naked. What is also striking is the ease of use. The machine requires a few buttons on the left handlebar and is intuitively adjustable. We've seen this much more complicated, compliments to Kawasaki.
Conclusion - what sticks
This machine is just great! Volker and Dietmar didn't want to be relegated anymore, that's rare. You can see the bike's maturity everywhere. Everything works easily and simply and the machine gives the pilot full confidence right from the start. It is guaranteed not to break so quickly, at least that's what it radiates. It is suitable for all those who want to be sporty during a longer tour - also with a passenger, because he also feels at home on the SX. 
Kawa himself says about the Ninja 1000 SX: "Tours and sports – the Ninja 1000SX offers the best of both worlds". Usually we laugh at these marketing slogans, but in this case it hits the nail on the head. 
The test machine was kindly provided by
Heller & Soltau,
by far the best Kawasaki dealer in Northern Germany! Our tip for the Ninja 1000 SX: Definitely test drive.
Price/Availability/Colours/Years of construction
Price: 13.945 €
Used (3 years old): 10.000€
Years of construction: 2011-2021
Colors: red, green, black