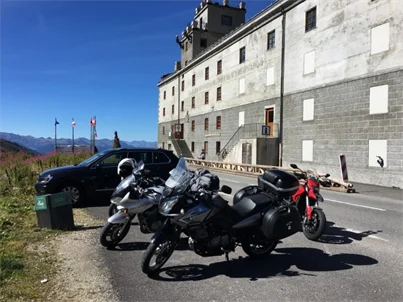 Nevertheless, the V-current can reach up to 180 km/h and the water-cooled 90 degree V motor does not produce any annoying vibrations. The highest torque of 60 Nm is 6400 rpm. The bike hangs optimally on the gas, is extremely revolving and almost load-changing. On pass tracks, however, the driver should not be lazy. The engine taken over by the SV 650 is considered reliable and workshops also report hardly any negatives about the V-current.
The V-current in our test is from 2011 and now has just over 40,000 km on the clock. You don't notice the mileage of the machine – everything works like the first day. The 6-speed transmission switches easily and accurately and the seating position is comfortable for drivers and passengers even on longer distances. The possible payload of 206 kg is sufficient for average couples even with luggage. However, you would like to see a little more power fully loaded.
Is there more to it?
Sure, more is always possible. And so we are quite impressed by one or the other accessories on our test machine. Although the series disc, which can be installed on two different heights, already offers an acceptable protection, the GIVI-Airflow disc (approx. 130 €) installed on our test machine is even more comfortable, especially when driving on motorways. By the way, it is easily adjustable, which is why motorradtest.de can also highly recommend it.

The serial version also misses a main stand. A useful addition from our point of view, which costs around 200 €. And not only indispensable for the optics: the motor protection from SW-Motech! Although it also costs a good 200 € but in addition to its protective properties, it has the pleasant side effect that it significantly enhances the engine front – we find anyway.

Meaningful technique without appearing overloaded:

Since 2007, the DL has been equipped with ABS and regulated cat as standard. The anti-lock system works fine and with the Kat version the previously low consumption was reduced somewhat. On average, our test machine consumes a good 4 liters per 100 kilometers. Thanks to the 22-litre tank, the 22-litre tank allows you to master ranges of 500 kilometres. Otherwise, the V-current has no unnecessary frills and its cockpit comes clear and tidy.
Conclusion - what's stuck?
Whether urban traffic, short distance, serpentines, narrow bends, leisurely overland trips, country road trips, motorway trips, long-distance or sporty travel - asphalt roads of all kinds are a real pleasure with the V-Stream. In heavy terrain, however, the machine quickly reach its limits. A cheap, reliable tour companion for all those who don't just care about performance and final speed. Recommended also for late and re-entry.

Although some of the V-streams say that it is an ugly duckling – motorradtest.de doesn't think so - it is of course a matter of taste. What we can understand, however, is that some people find v-stream boring or unsurprising. Well, let's be honest the egg-laying woolly milk sow is perhaps not particularly exciting. But she can do many things very well, forgives one or the other driving error and is a sufficient and faithful companion, who behaves confidently and gratefully towards his driver in almost every situation.

That is why motorradtest.de says: Yes, the SUZUKI DL650 V-Strom is entitled "Alpine Queen 2005 and 2006" and rightly so. The SUZUKI DL650 V-strom in the 2011 version, which we drove, now cost around 7900 euros plus additional costs and accessories. For this, there is a reliable adventure bike with a sophisticated chassis, which promises a lot of riding pleasure.