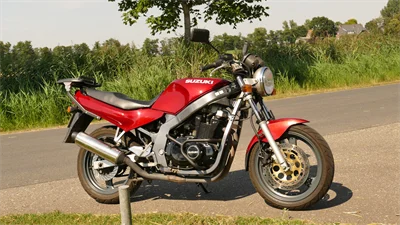 Photos: BikeReview.info. Historical: Suzuki
Since we are not only testing new machines, we have allowed ourselves the extreme this time: This Suzuki GS 500E actually has 24 years on the hump, no electronic driving aids, but choke and gasoline tap. Let's go to the test and the answer to the question whether 900 Euros are enough for the purchase of a motorcycle.
Starting at 200 Euros
Motorcycles like our Suzuki are traded from 200 to 2,500 euros. The respective condition is correspondingly broad: Everything from the well-maintained first-hand bike of a trusting pensioner to the rocked carrot from eight hands is included. It turns out that the Suzuki is still extremely popular today: 27,000 copies are reported by the German Federal Motor Transport Authority as still in existence, a very high number.

Our test machine was carefully selected when the current owner bought it about three years ago. She has only 27,000 kilometres down, and the previous owner donated fresh tyres, a set of chains and a new TÜV badge. He wanted to have 950 euros for the machine, he got 900. The questions of all questions: Is this worth it? Financially, but also technically?
In our case, we must answer the first question in the affirmative. After the purchase, the new owner did not drive excessively many kilometers, but apart from gasoline and fresh TÜV only zero euros (in numbers: 0 euros) had to be invested. That's a deal! It is therefore smart to take the time to search: tyres, chain sets and TÜV, which have been newly purchased today, would almost double the cost price. And: A Ducati driven by us in our team is so expensive in maintenance that you could have bought one of these Suzis every year in three years. And the decline in the value of the Duc is not taken into account at all.
To answer question two, is it worth it in everyday life? - let's start the test right away. But first a round around the bike. There were the 500s with their two-cylinder in-line engine in three power levels: 27, 34 and 48 hp. Ours is the golden middle with 34 horses. The maximum torque of 34 Newton is available at 4,600 rpm. In terms of design, it is a Naked Bike, although this designation did not exist at the time. During the construction and lifetime of the Suzuki GS 500E it was ... Motorcycle. And everyone knew something about what the bike would look like.