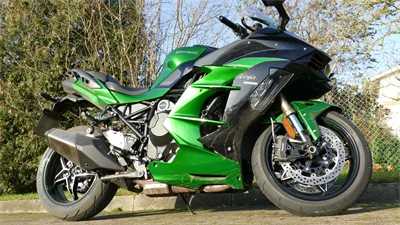 Photos: Motorradtest.de
Kawasaki has put something on the wheels with the Ninja H2 SX SE: 200 hp from a compressor engine, 263 kilos heavy and in reality over 300 kilometers fast. In the case of sow weather, we went out for the test – why? Because we finally wanted to experience this.
Why a compressor?
There it stands, and you don't have that every day: a 200 hp motorcycle. First of all, a brief word on technology: Because Kawasaki wanted to improve the driveability in and out of low speeds, the Japanese opted for a compressor to increase performance. Turbos are driven by the exhaust jet and therefore require speed to get into the gears, or an enormous technical effort that prevents this. Compressors, on the other hand, are driven directly by the engine and come from below. It used to be like this: A turbo started weakly to push the biker's eyeballs backwards when the loader is inserted. Compressors, on the other hand, immediately push off, but eat more and more power of the engine as the speed increases. One of the most beautiful compressor scenes ever in cinema was seen in the first Mad Max movie, when ... I digress.
So the Kawasaki four-cylinder produces 200 hp, and they push ahead with a sports tourer called The H2 SX. Our copy is still a skip and has the SE (for Special Edition) equipment. This has a higher disc, a main stand, launch control, heating handles, blippers, curved light, steel flex brake lines and colour display on board – roughly what you would expect at 22,000 euros anyway.
Clearly, this is a pretty big piece of motorcycle. The full cladding does not make you elegant or petite at all, it fits well with the rest of the bike in its force. Then sit up, which is completely free, but the tank is quite wide.
Los.