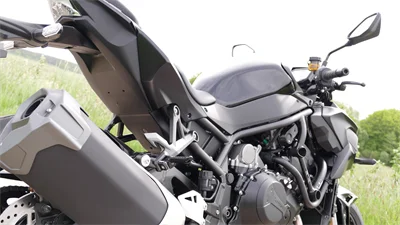 Suitable for everyday use
The first impression was not deceived: the Kawa is not a nervous racehorse, but can be moved unspectacularly. No one has to play with gas and clutch to get a clean start – the Z just starts. The sound is also moderate, and the typical expressions of life of a Japanese four-cylinder are accompanied by the siren of the compressor. Excess pressure is emitted twitchingly through the Wastegate valve, which is also clearly audible.
And the performance? Brutal. In the lower aisles she likes to lift the front wheel, whoever puts it on it can force this in the fourth without much effort. As initially suspected, the force is always and immediately retrievable and pulls one's arms long. And yet the Kawa doesn't look like the performance monster it actually is. It's not as animating as the Ducati, which is constantly brushed on riot. This is good for safety (and your own driving licence), yes, it is cultivated.
After a short acclimatization, it turns out that a gear higher is always a good choice. Thanks to the short translation and the suddenly blowing compressor, high-speed driving leads to a hustle and bustle that is not appropriate for the Kawa. Not to be misunderstood: The Z is a real superbike and can only use its power on the race track or a free motorway – but it is an everyday and confident companion.
The chassis fits this. As already mentioned, it is fully adjustable, especially the front fork keeps threatening inconvenience away from the driver. Surprise: Seat position, torque, driving comfort – the Kawa Z H2 is by its very nature a tourer. The power in abundance is sufficient for all situations of life, it does not have to be constantly at the limit. The performance is just there, no one feels challenged by it. If you want, you can tear through the corridors and enjoy the experience of seemingly infinite power – but it's like a good red wine: interesting, rich, but you don't want to drink it all the time.