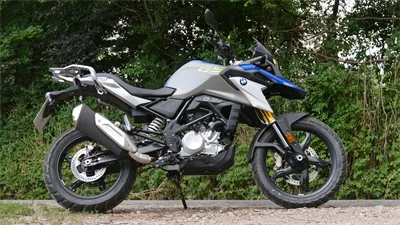 In everyday life without allures
The display is clear, but this is also due to the fact that it does not have much to display. Apart from the ABS, there is nothing to set – the zeroing of the daily mileage counter is already the programmatic highlight of the day. There is also gear display, odometer, range, speed and speed display to admire.
The handlebars are nicely wide and comfortably crumpled towards the driver. We let the clutch come and ... choked off. It shouldn't be the only time on our test rides that this happens to us, at least much more often than with any other test bike. Although the engine is without fault and reproach in terms of gas acceptance and power, on the contrary very balanced, it lacks something very elemental: performance. This does not even mean the 34 hp – as we know beforehand – but the lack of start-up. You can get used to it, but it has to be mentioned. If you fully accelerate the BMW, you can look forward to the 100 km/h on display after just under seven seconds. To get there, you have to switch three times. No surprise, because at the top the BMW runs at a maximum speed of 143 hm/h after a long start-up, so the acceleration to the maximum permitted country road limit already includes two thirds of the total maximum speed.
You should definitely try this yourself. At 120 km/h, the well-sounding engine rotates very consensually with 8,000 tours. Although he does his job without disturbing vibrations, the progress on the highway is rather unrelaxed. In any case, less sovereign than it would be for a travel enduro.
The lower the required speed in the respective situation, the better the overall concept of the G 310 GS works. Lonely peak she is finally in the city. Extremely manoeuvrable, the large handlebar impact combined with the low weight of 170 kilos, it is hard to beat in agility. Almost rollerlike.
And also on the country road all this works well, whereby the own feel-good area as well as that of the BMW reaches about 80 km/h. Here, the chassis works best with a combination of manoeuvrability, good stability and comfort.