Test of the Honda VFR 1200 F
(Baujahr 2011)
Powerful sports tourer with a design from the future.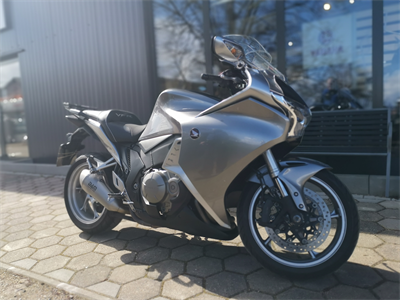 Photos: motorradtest.de
When the Honda VFR 1200 F was first shown in October 2009, the motorcycle world was not badly surprised. Honda had not yet sent such a modern motorcycle into the ring. The VFR was built until 2016. Even today, it does not look like it did yesterday - at least visually. If you didn't know better, you might think that this is a study for a motorcycle that is yet to be built. terrific!
Design of the day after tomorrow
The Honda VFR 1200 F is considered the successor to the legendary Honda CBR 1100 XX Super Blackbird. Visually, however, the two machines have little in common. The full cladding of the VFR elegantly enters the tank and is designed in two-layer. From the front, a hinted X can be seen in the lamp mask and overall the machine looks elongated, muscular, eye-sighted and elegant. Like a predatory cat just before jumping on the antelope. A big big cat! With a length of 2.25 metres and a weight of 267 kg, the VFR 1200 F is not exactly a dainty kitten. In general, potential buyers should be aware that this motorcycle is not for beginners - see performance below.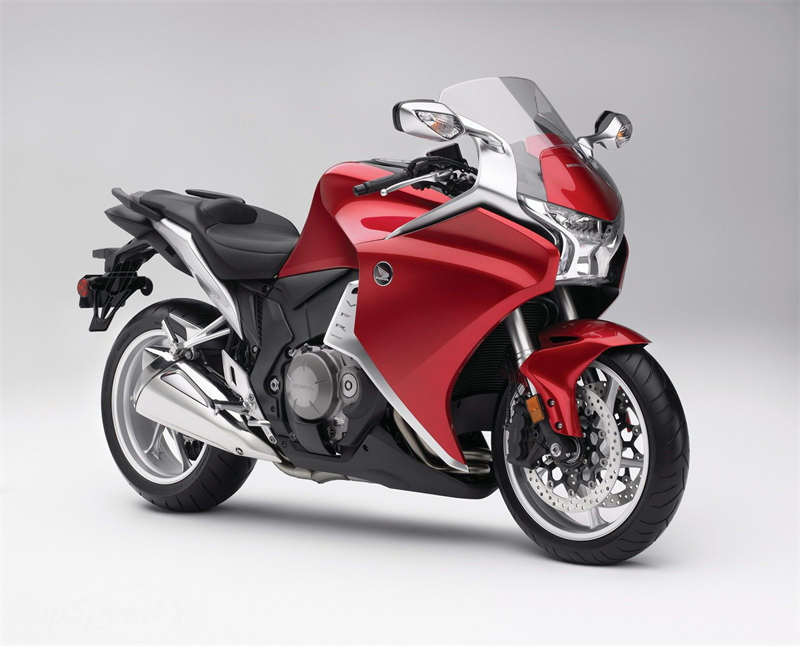 Photo: Honda
 
The VFR was offered in the three colours silver, white and red. Later there was also a blue and a black version, but our heart beats clearly for the red VFR. Due to the single-arm swingarm with integrated gimbal, the rear wheel is wonderfully free. You could almost think that Ducati had looked here. The seat sample is pleasant. The Socius has proper space and official handles. The driver sits deep in the machine and is "pulled" forward via the tank thanks to the M-handle. Very sporty, but not exaggerated. The seat height of 815 mm makes it possible even for smaller pilots to get safely on the ground with their feet. The VFR is one of the few machines on which large and small people alike can feel comfortable.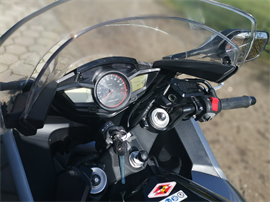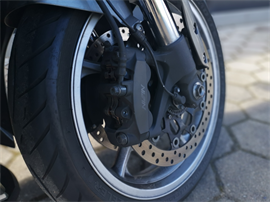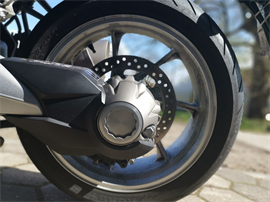 This is what she should be able to do
When it comes to technical equipment, the VFR exercises discreet restraint. Our test machine from 2011 does not even have a traction control, although this would make sense at 173 hp. No driving modes, no wheelie control, no mobile phone connection, no no anything. The meager on-board computer does not even offer a range display. Clearly: VFR riding means riding a motorcycle pure and without a condom. At least with it: A gear display - uff.
The engine is very different: an elaborate V4 with unusual cylinder arrangement and ignition order. This is described extensively on Wikipedia, so we give this to ourselves at this point. In any case, there is plenty of power, but only from higher speeds.
Worth mentioning is the vfR's braking system. At the front, no less than six pistons (Nissin fixed caliper, radially screwed) are used. Honda is also using its Combined ABS and Integral brake system. The machine then brakes extremely well in practice. Magnificently doseable and with unbelievably little hand power, the massive machine is brought to a standstill abruptly - even current machines could like to cut off a disc.
The lighting system is classic, LED technology is in vain. The blinkers are integrated into the mirrors, which further supports the elegant design - but we already had that. Then let's get started and throw on the engine.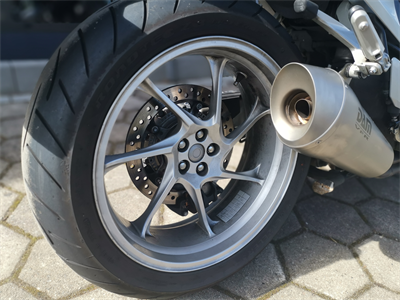 This is how she drives herself
Before we leave, we briefly sharpen our ears. What's the point of a deep scree of crawling out of the pipe?! Magnificent how grumpy the Honda is. We already know from the other VFRs, a V4 is quite different from a row-four. Rather ravenous dog as a velvety bear. This remains the case even at higher speeds, so you never forget that you are sitting on a VFR - well.
The first meters feel familiar when you have ridden a great sports tourer like .B. a Yamaha FJR 1300. The VFR1200F runs like an intercity. Nothing brings them out of their composure, nor does they frantically turn the throttle. Almost stoically she turns her laps and as a driver you are happy about every long bend. However, it is not a curve robber a la MT-07. You put the weight through the bill. Small disadvantage of the V4 plus gimbal: Load change reactions and vibrations are noticeable. However, we mention this only for the sake of completeness, it did not bother us. Just like the large turning circle that every sports tourer of this collar width brings with it.


As far as driving performance is concerned, a glance at the data sheet is enough and you know where the frog has the curls. 173 hp and 129 Nm (at 8,750 Umin) allow an acceleration from 0 to 100 km/h in 3.0 seconds. The whole thing feels even faster if it is weight. The passage from 60 to 100 km/h in the 5th gear, on the other hand, is sobering: the machine does not really want to get out of the cellar before there is no stopping from 5,500 Umin due to the valve control. Of course, it's not slow in this discipline either, but it just needs speed if you want to let it crash. Under 3,000 umin goes little, but this can be quite relaxing when gondolas through villages. And by the way, the VFR1200F is not one of the machines that encourages you to give gas. delightful.


Conclusion - what gets stuck
The Honda VFR 1200 F is one of the most beautiful motorcycles for me. She's no less than a design icon and there's no motorcycle that looks like it. Admittedly, design is a matter of taste, but at least the VFR shouldn't leave anyone cold. Their appearance arouses emotions and that's exactly what motorcycles should do, right?
The VFR is certainly not a beginner's motorcycle, but it has far too much power and is too heavy. But if you already have motorcycle experience and stand on big ships, you will be thrilled by the absolutely sovereign idea that the VFR delivers on motorways and country roads. If you are looking for a small, agile motorcycle for the city, you probably won't have read this test article until this one anyway. ;-)
The test motorcycle was kindly provided by
Motorrad Ruser
. 
Price/Availability/Colours/Years of Construction
Price: 15.000€
Used (10 years old): 7.500€
Years built: 2010-2016
Colours: red, white, silver