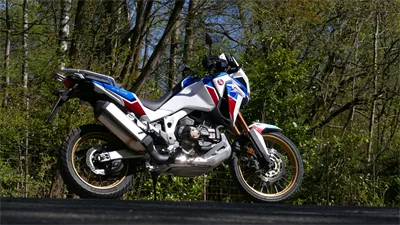 Only with user manual
Climbing and bucking is one thing, whereby bucking here means folding the side stand. There is no main stand as standard. We have read the user manual and are reasonably prepared. The display as such is good, it can also be read perfectly in the sun or with a dust layer. The electronic chassis immediately impresses. It has some gimmicks to offer, but above all an immediate adaptation to the driving conditions. For example, if you jump over a hill, it tightens in flight. This avoids a break-through on landing. Showa's EERA (Showa Electronically Equipped Ride Adjustment) costs 1,600 euros and adjusts the damper rate in 15 milliseconds. It makes the motorcycle more stable in emergency situations because it tightens the machine, usually creates a hovering, but is not raptured.
Even if the AT is a very nice chunk: the 21-inch front wheel alone underlines the Enduro claim. And, what to say, terrain can make the Adventure Sports easy.
The DCT transmission (dual-clutch transmission) is not technically automatic, but can be operated in this way. The Honda finds the right gear, different modes can be set here. If you don't like this, you can intervene at any time via the shifters, but you hardly get the engine brake even then. Overall, this is an extra that should be considered. 12 kilos more is an announcement, and it further complicates matters. With the famous African village blacksmith, that much is certain, you can not repair the sports. The DCT is really good and helpful where you wouldn't necessarily have guessed it: in the city. Those who else had to juggle with clutch and gas while manoeuvring and parking are now simply cautiously gasping.
The engine with 102 hp is not a performance miracle, but pulls itself more than mindful from the affair. Once again, it turns out that around 100 hp is always enough, even on the long haul. However, the Twin is a short-wheeler, so it needs speed. By the way: Honda relies on a chain drive, where others install a gimbal on travel machines.
Class is the comfort, here the electronic chassis shows itself at its best. The AT puts its pilot in a very upright sitting position. This increases the clarity even when standing in the off-road, but requires good wind protection for longer speed stages. What luck: The protection by the multi-adjustable windshield is also good.