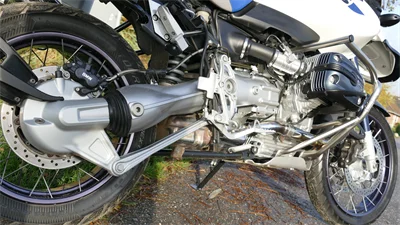 Photos: Motorradtest.de
A boxer that feels like this
Out of breath? Then the GS was not such that it was easy to start driving without sweat-inducing manoeuvring. Otherwise, however, the GS Adventure hardly poses any puzzles for the BMW newcomer. The boxer shakes quite amicably at the start, a trait that was later largely modeled away. Here and now, however, it briefly jerks through the whole moped and makes it clear that it can start now.
The typical boxer sound penetrates our ear canals and triggers feelings of happiness in the adjacent brain. Yes, that's what a BMW must sound like. The start-up is possible without jerking and twitching, even if there was no anti-hopping clutch at that time. The gimbal will certainly swallow power, but destroys anything that would somehow remind of load changes. Despite the high combat weight, things are moving fast: in 4.3 seconds, the speedometer would display the magic 100 km/h sound barrier, which is not so slow for the heavy trunk. However, this value remains theoretical, because for the brisk curve hatz or anything else that is associated with "flott", it is simply not built. In addition to the adventure, the additional weight of the large tank is quite high, which is not exactly conducive to the driving dynamics.
Mile-eating is more like it. The excellent comfort, complemented by the long-distance bench and the good wind protection ensure relaxed yet fast travel stages. The high weight is constantly present, by the way it ensures a very good driving comfort. The Sucius is also well served, there is space for it in abundance.
The brakes are good and up to date. Even a standard ABS provides the extra dose of safety you would expect from a BMW.