Yamaha MT-09 - Update for 2021
Update of one of the best-selling Nakedbikes from Japan
Yamaha has undergone a makeover on its MT-09. This was also slow to take time, because the MT-09 has been offered since 2013 and has only received an update so far. There are new things about electronics, chassis, engine and design. The new MT-09 became lighter and harder more power - a good combination that promises even more driving pleasure.
The Yamaha MT-09 has been a bestseller for years. This is probably one of the reasons why Yamaha has so far wanted to change little of this bestseller. But that is now fundamentally changing for the 2021 vintage. The CP3 engine had to be adapted due to the Euro 5 changeover and was drilled to 889 cc. This results in an additional power of 4 hp to then 119 hp. The torque rises to 93 Nm at 7,000 rpm. The old model came to 87.5 Nm at 8,500 rpm, so the new one is likely to come out of the cellar noticeably better.
Yamaha MT-09 vintage 2012 lighter and with many detail improvements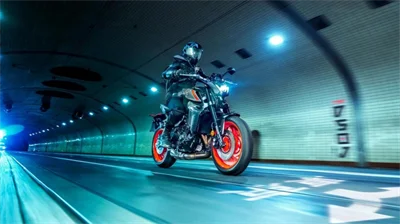 In addition, the new MT-09 was lighter by 4 kg and now weighs only 189 kg. Also new is the front light mask with now only one headlamp - of course in LED technology with daytime running light. In contrast to the "Transformer-Style" of the previous model, the MT-09 now looks a little cyclopeno-like. 
Perhaps the most important innovations on the MT-09 are not visible: the electronics have been greatly improved. A 6-axis IMU is now used, which constantly monitors the motorcycle in all positions.
On board are curve ABS, anti-wheelie control and an oblique-dependent traction control. Also new is the Quickshifter, which can now also switch down without clutch. Yamaha supplies the Bridgestone S21 in the 120/70/17 front and 180/55/17 rear dimensions.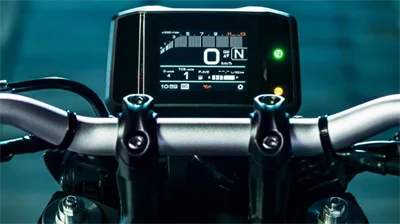 Of course, Yamaha has also given the MT-09 a new cockpit. This 3.5-inch color TFT display does not offer mobile phone connectiy or cruise control, but otherwise everything is included in technical helpers, including Ride by Wire and four driving modes. 
Yamaha has also improved the chassis: the suspension elements come from Kayaba, at the front there is an adjustable 41mm USD fork and at the rear a central spring leg adjustable in tension and spring preload.
Prices for the Yamaha MT-09 2012 not yet known

Yamaha does not intend to announce the prices for the new MT-09 until December. The new Nakedbike will be delivered from March 2021. We are looking forward to the test drive!