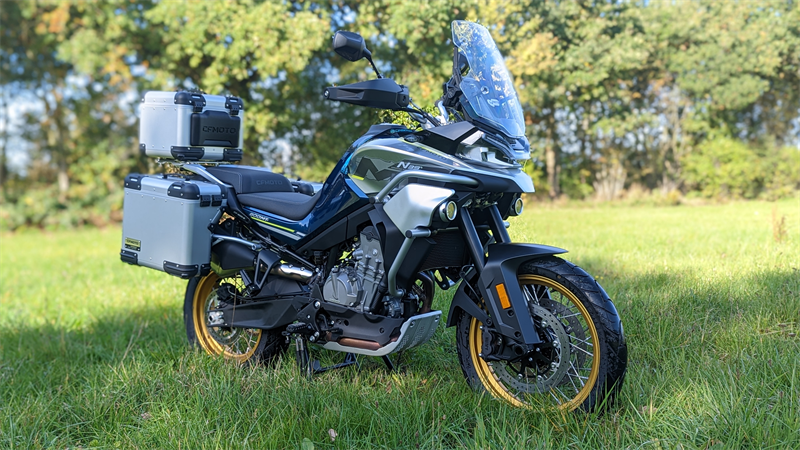 Photos: Motorradtest.de
CF Moto accelerates. With the 800 MT, the Chinese now also want to gain a foothold in the field of popular adventure bikes in Europe. We have been able to test the CF Moto 800 MT Touring extensively and describe our impressions here. There was light and shadow, but see for yourself ...
Pretty part, the MT 800 Touring
The 800 MT is available in two variants: The cheaper "Sport" costs only 9,899 euros and is available in blue and black. There is already an extensive equipment with 7-inch color TFT, ride by wire, two driving modes, cruise control, lean angle sensors (!), cornering ABS, 12 volts and USB socket, adjustable windscreen, full LED lighting including daytime running lights and auxiliary headlights as well as an informative on-board computer. And all this for under 10K, not bad! Oh yes, we forgot about mobile phone connectivity including navigation via an app.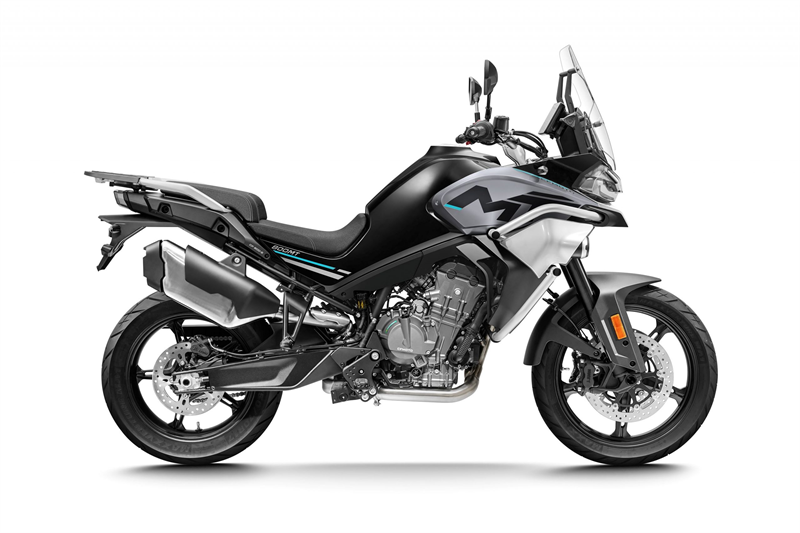 Photo: CF Moto MT 800 in the variant "Sport" in black
The "Touring" tested by us also has everything for the long tour pleasant on board: three-piece aluminum case set, heated grips, seat heating, hand protectors, tire pressure monitoring, engine protection, center stand, steering dampers, spoke wheels and QuickShifter. And then all this for 12,500 euros. That's right. The comparison may be lame, but if you configure another adventure bike with this equipment inferno, you end up in significantly different price regions - namely over 20,000 euros. As I said, such comparisons always lag somewhere, but no one will be able to seriously deny that the 800 MT is a real price hit.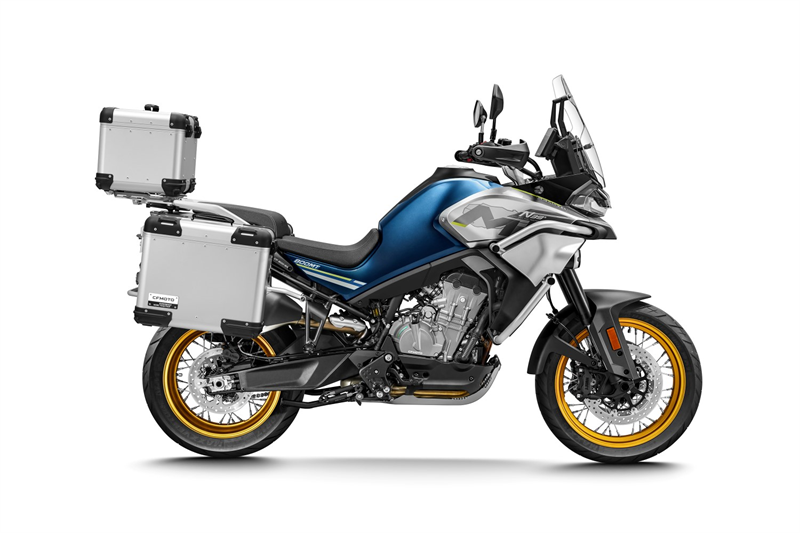 Photo: CF-Moto 800 MT in the only available colour blue in full regalia. Fat!
The seating position on the CF Moto 800 MT is very grown-up. Due to a moderate seat height of 825 mm and a very high mounted and wide handlebars, you sit very upright. The passenger also sits really well and thanks to the mounted cases and the TopCase with backrest you have the feeling as a passenger that you are in good hands. Ascent and descent is as always not so easy with mounted suitcases, as Volker impressively demonstrates in the video from minute 04:10 - applause!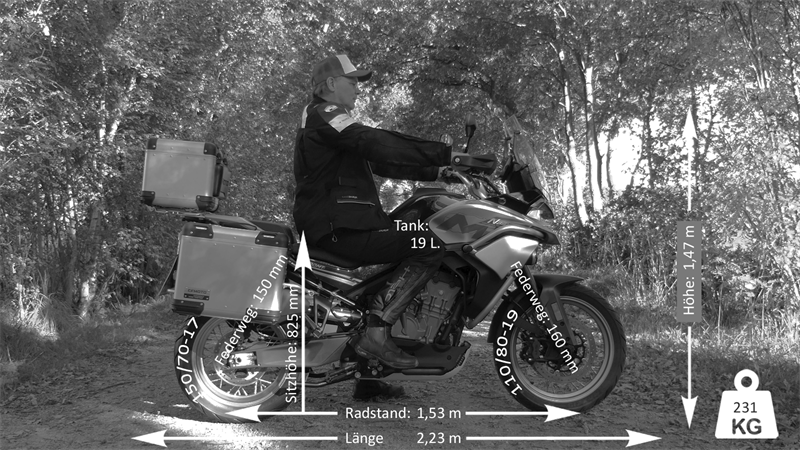 This is how comfortable you can sit on the CF Moto 800 MT Touring
A word about the look of the CF-Moto 800 MT: The design comes from the Kiska design studio in Austria, who also draw pretty much all KTM bikes. To us, the 800 MT looks like a cross between Harley Pan America, Ducati Multistrada V4, BMW 1250 GS and KTM. All not exactly ugly machines and so we like the CF-Moto really well. Above all, of course, the Touring with its golden Acront rims and spoke wheels and the aluminum cases in Touratec style. By the way, the suitcases can be loaded from above and easily removed.
360 degree tour around the CF moto 800 MT Touring (with suitcases)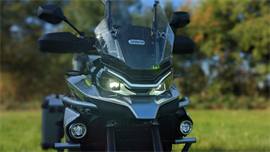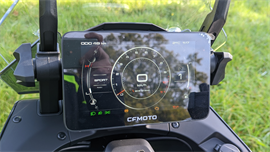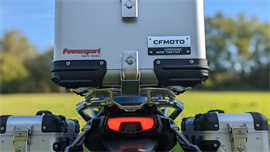 Technology of the CF Moto 800 MT
The CF Moto 800 MT has a Kayaba chassis with fully adjustable USD fork and a mono strut hinged via a lever system that is also adjustable. However, this requires a hook wrench and changes to the pretensions turn out to be a real nuisance. Well, if necessary, the dealer certainly likes to do that...
CF-Moto installs a brake system from J. Juan on the 800 MT. At the front is a 320 mm double disc with a 4-piston fixed caliper pliers. At the rear there is a Juan 2-piston floating caliper on a 260 mm single disc.
Actually, the machine has self-resetting turn signals, but they only work after you have driven tighter curves - strange. Apart from that, the lighting equipment is great: full LED incl. daytime running lights, hazard lights and, as already mentioned, LED auxiliary headlights.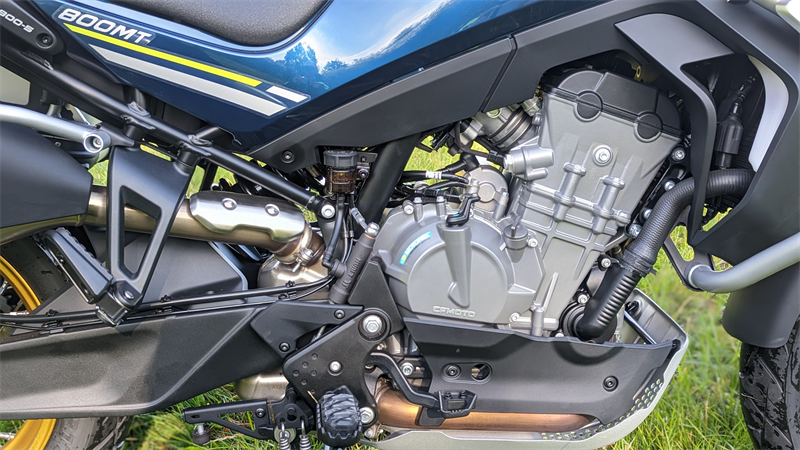 This is how it drives itself
The bike is a full-blown travel enduro and rides like that. Absolutely confident and stable, the bike curves over country roads and motorways. The riding modes "Rain" and "Sport" suggest that CF Moto has not provided blatant off-road inserts for this bike. The Maxxis MA1 tyres, which are clearly designed for road use, also fit in with this. Of course, you don't have to turn back on a gravel road, but it's definitely not an off-road machine. However, this also applies to 90 percent of all other motorcycles of this kind!
In contrast to the Sport, the Touring has a steering damper on board that does a great job. The bike is really extremely stable, but does not look quite as manoeuvrable as, for example, a GS - although it is much heavier. Nevertheless: The ride with the CF-Moto is fun, to which the good damping tuning also contributes. The fork at the front is comfortably soft, but never goes on block even with hard braking maneuvers or nasty potholes. This feels good and safe, and the good Juan brakes, which are easy to control, also fit. Okay, they're not quite as toxic and smooth as a Brembo monobloc system, but you can quickly stop with a little hand force. By the way, the necessary clutch force is pleasantly low, also okay. By the way, the clutch and brake levers are adjustable in range.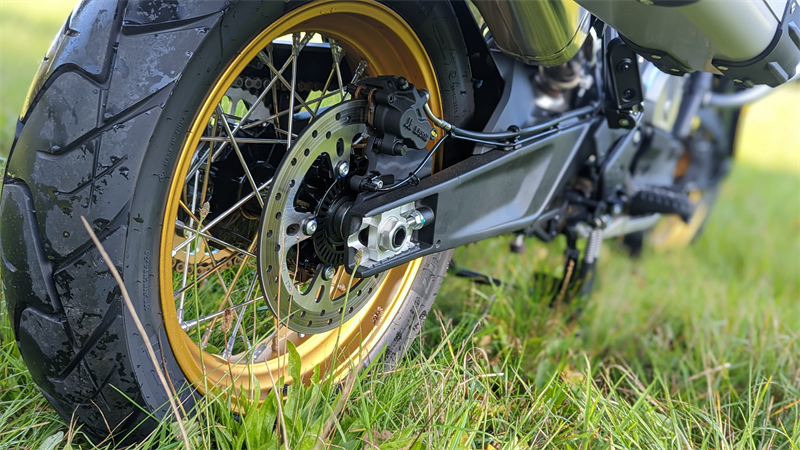 The sound of the machine is - well okay. You won't be able to lure anyone out from behind the stove, but do you even want that with an adventure bike? The stationary noise is a casual 93 dbA, which is in doubt more important when traveling than rioting. Now we come to the centerpiece, the engine. This is the old KTM 790 in-line twin, which was used on the 790 Adventure, for example. KTM said goodbye to this engine in the course of the Euro 5 changeover and has since relied on the more powerful 890 engine. The Chinese allegedly implemented the Euro-5 changeover on their own - and unfortunately something went wrong.
At least in our test (or our test bike?) the throttle response was not very smooth. When accelerating, there were always small holes and then punch phases again. As long as we calmly went through the area, everything was okay, but these problems occurred again and again when gassing. We suspect two things: On the one hand, we actually think the mapping is still in need of improvement and on the other hand, we may have underestimated the sensitivity of the QuickShifter. It may well be that Volker in particular, thanks to his fat boots, has repeatedly come up against the QS and has thus created an unwanted confusion in the engine tuning. Anyway, the QuickShifter! He is also a real diva: Sometimes he worked wonderfully, then again only with strong pressure and sometimes not at all - and then flooded buttery soft again.

We have a hard time with this criticism because we are not sure if our observations were possibly due to our test bike or if maybe even we did something wrong?! In any case, we cannot and do not want to keep this under the carpet. In other tests, e.g. of 1000hp, this problem is also pointed out, but this is rather presented as "not so bad". At "Wolfs Bike on Tour TV" nothing is said about this or the problem has apparently not occurred at all. The QuickShifter is even described as particularly good there. So, you obviously have to make yourself a picture, preferably during a test drive.
 
The engine itself is powerful at the top and of course very reminiscent of KTM's 790cc Adventure. It delivers 91 hp and 77 Nm, but only a little later than was the case with the KTM before the Euro 5 conversion. The machine runs over 200 km/h, but you should not drive faster than 120 km/h with suitcases, because at higher speeds the machine actually starts to oscillate (see video from minute 26:17). The consumption is okay with about 5 liters per 100 km, the range is thanks to the 19 liter tank at a good 380 km.
Conclusion - what sticks
The CF Moto 800 MT enriches the adventure bike segment with a motorcycle that is particularly interesting in terms of price. The equipment is great and CF Moto uses proven components from J. Juan, KTM, Acront and Kayaba. Not a bad recipe, but the Chinese are messing up when it comes to tuning the engine and QuickShifter. However, we assume that this shortcoming can be fixed by software update - and then the MT800 is a really attractive offer! 
Many thanks to the CF-MOTO dealer "
Powersport Nord
" from Pinneberg, who kindly provided us with the machine for this test. You can also test ride the 800 MT there, but please make an appointment beforehand - just call: Tel. 04101-590 575. Greetings to Jörg and Vivian!
Price/availability/colours/years of construction
Price: Touring -> 12.499 € Sport -> 9.899 €
Availability: since 07/2022
Colours: blue, black