Benelli Leoncino 500 in the test
(Baujahr 2022)
What can the 48 hp retro naked bike in Italo design do?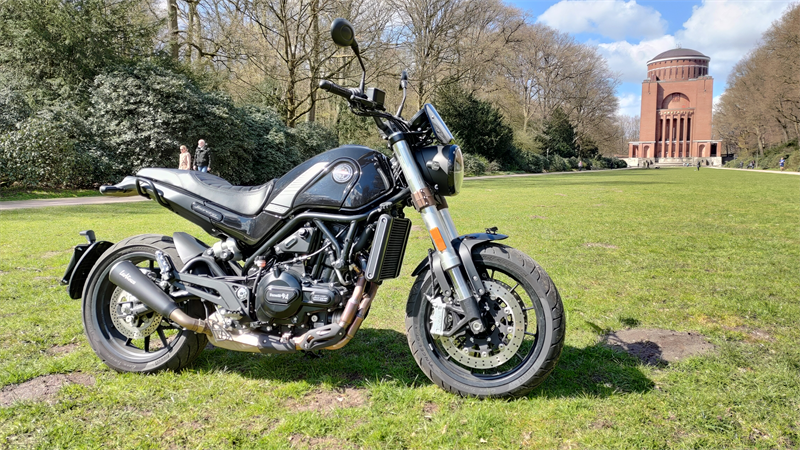 Photos: motorradtest.de
The Benelli Leoncino 500 is an A2 bike in retro scrambler design. There are not many of this type of motorcycles and certainly not for less than 6,000 euros. We have taken the bike designed in Italy and manufactured in China under the wheels and describe our impressions in this review.
This is how it stands
Benelli is a time-honored brand and stands for Italian motorcycle building art. Just think of the 6-cylinder "Benelli
Sei 750
" or the Benelli Tornado. Okay, that was a long time ago, but the Benelli brand still exists. Meanwhile, this belongs to the Chinese Geely Group, which also manufactures Volvo, for example. The current program includes 12 models. The Leoncino 500 tested here is a naked bike with scrambler and retro elements. It was designed by "CentroStile Benelli" in Italy and costs 5,899 euros (without transfer).
The bike is 2.16m long, has a wheelbase of 1.46m and a seat height of 810mm. This means that even smaller pilots can cope without any problems, both when standing or manoeuvring as well as when waving corners. Our seat test shows: Tester Dietmar (1.84m tall) does not feel lost. The handlebar is nice and wide and high, so that a comfortable upright sitting position results. The seat is tight, but not uncomfortable and even the passenger finds enough space. Of course, this is not as lush as on a travel enduro, but for a naked bike actually completely okay.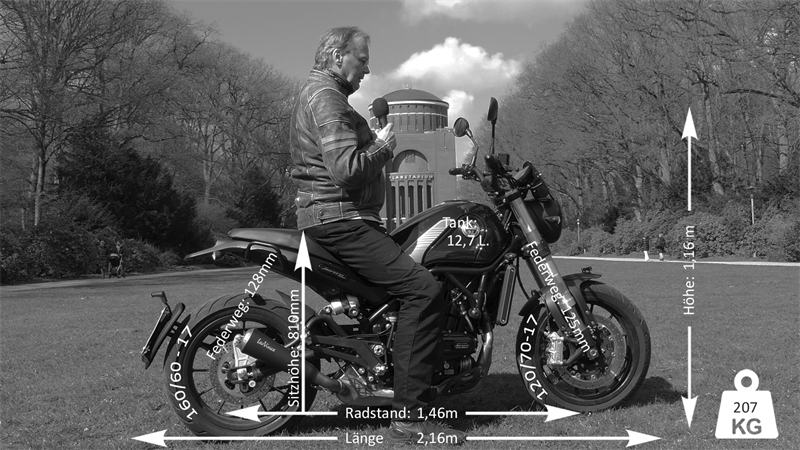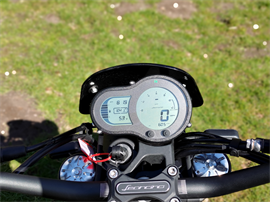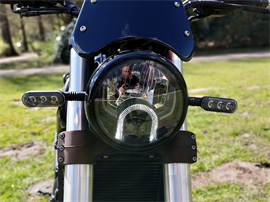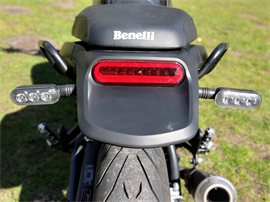 What she should be able to do
Technically, the Leoncino 500 is rather poorly equipped. There are no technical helpers, except ABS of course. But you can also see this as an advantage: Nothing distracts, the operation is child's play and you immediately "saw through" the machine. And honestly, assistance systems such as traction control, wheelie control, driving modes, etc. are not really necessary on a machine with 48 hp, are they? Instead, there is an on-board computer, gear, fuel and temperature display as well as rev counter, time and speed - everything that is really important on an easy-to-read LC display.
In terms of lighting, however, the machine is modern. There is full LED incl. the turn signals and especially the circular headlight we like well. The machine has a 12.7 liter tank, which allows a range of about 300 km. The 6-speed gearbox shifts easily and precisely. The clutch lever of the cable coupling is not adjustable, but it is nice and smooth. The brake lever is adjustable in range. The sound of the Benelli Leoncino 500 is typical "500 series". You won't lure anyone out from behind the stove, it's more of a restrained, cheerful sound babbling out of the Leo Vince silencer of our test machine.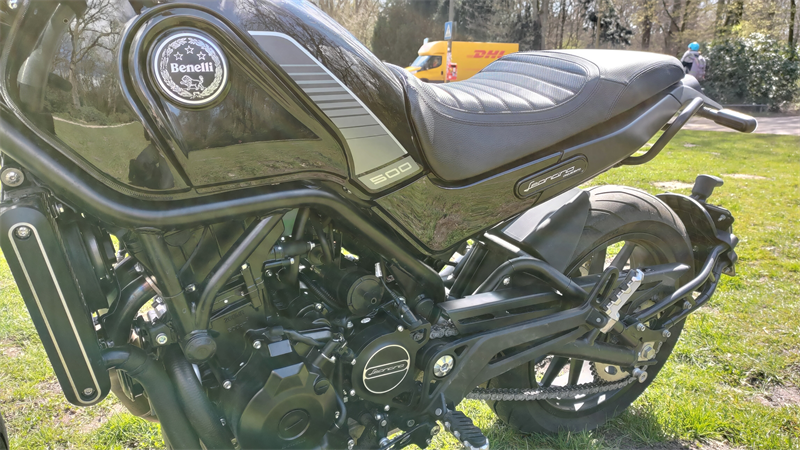 This is how it drives itself
What strikes you immediately when you start your journey is the ease with which the Benelli can be conducted. It feels lighter than the 207 kg in the data sheet. And the manoeuvrability feels even livelier than the wheelbase of 1.46m suggests. Especially in the dense city traffic of Hamburg, driving is really fun!
Of course, the 48 hp of the bike does not pull your arms long, but nevertheless you are fast on the road and leave all the cars at the traffic lights, if you want to. Engine and transmission are rather inconspicuous, which means: typical for an in-line twin of this performance class. You can drive sporty, but you have to turn the engine a little. The torque of 46 Nm is available at 6,000 rpm, so you don't have to be ashamed as an owner.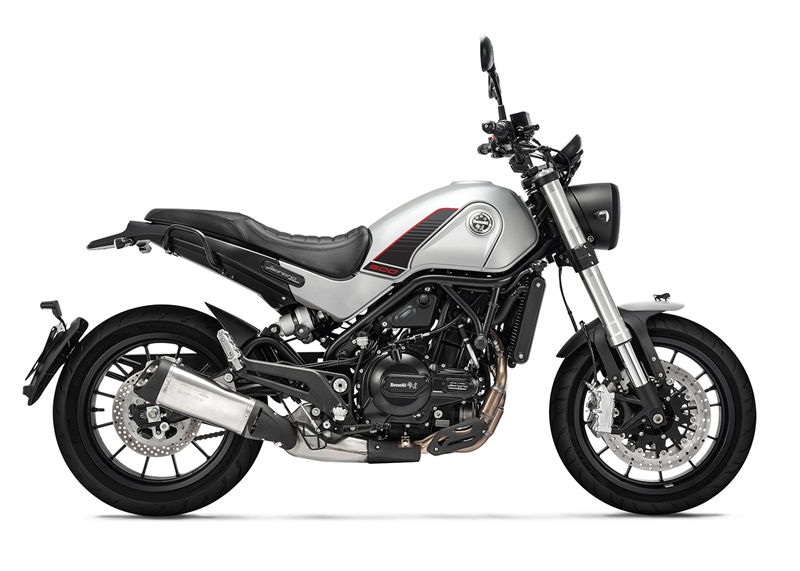 Photo: Benelli
The Benelli Leoncino 500 has front 320 double discs with radially bolted 4-piston fixed callipers. Usual with this weight and in this price league are rather single discs, so also here the Leo makes a good figure. The brakes hit when you tackle it yourself. They are not quite as sensitively dosed and less toxic as, say, Brembo stylemas, but that would have been too nice. In any case, the braking effect is okay if you have to anchor.


Noteworthy is the fat 50mm (!) USD fork in front. It is even adjustable in rebound. On the front fender sits the typical Benelli lion. Well, that looks a bit like a glued-on Lego figure, but it's just part of Benelli folklore. So don't make an agreement! At the rear there is a directly angled central shock absorber. Here, too, the rebound is adjustable and the spring base can also be adjusted hydraulically via a practical command dial. No hooks - that's how it should be. The suspension on our test bike was very comfortable at the front and a bit rough at the rear. We would set that a little less harshly, but that's a matter of taste.


Finally, a little criticism: The throttle grip has quite a lot of play, and from 6,000 revolutions there are noticeable vibrations. Okay, and we didn't like the sound that much, but we already had that. And that's actually it in terms of critical remarks. The workmanship is okay with the Benelli. Maybe not quite as polished as a Honda CB 500 F, but still perfectly fine.


Conclusion - what sticks
The Benelli Leoncino 500 pretty much met our expectations. It is manoeuvrable and is therefore a lot of fun in city traffic. The maintenance interval of 7,000 km is a bit tight, but once a year you should have your bike checked anyway.  
The price for the machine is fine. As a competitor, we can only think of the Brixton Crossfire 500, which is slightly more expensive. The Honda CB 500 F has no retro bonds, must also be mentioned here as a 500cc classic (felt since the seventies) and as an extremely reliable bike, especially since it is not more expensive than the Benelli. 
The test bike was provided by
Legenday Cycles
in Hamburg. There, the Benelli Leoncino 500 stands as a demonstrator and waits eagerly for more test riders. If you are looking for an A2 bike, style and want retro-naked scrambler design: Check it out.
Price/availability/colours/years of construction
Price: 5.899 €
Used (3 years old): 4.500€
Years of construction: 2018-2022
Availability: from 2018
Colours: red, bright yellow