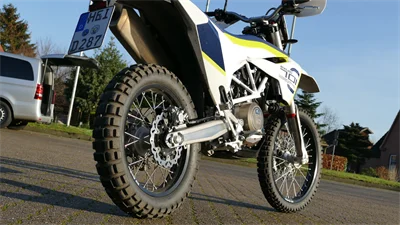 Highway? Rather not ...
This is completely unproblematic. The engine with 690 cubic meters and 75 hp has to be approached with slightly increased gas, that's just the way with single cylinders. Driving at low speeds is somehow not his thing, he acknowledges such treatment with jerking. But with more speed it goes fast and now the sound changes from inconspicuous to energetic.
75 hp is theoretically a lot for an enduro. In reality, this is no different. What seems too low for your road bike attracts you really strongly. It's hard to believe: Those who continue to push at full throttle in the sixth will drive at a speed of more than 190 km/h after a long start. We wanted it unreasonable, but here comes the ultimate tip for those motorcyclists who want to do their rounds next year and not only in the next life: let that be. Missing windscreen is known from Naked Bikes, and the upright sitting position on the Husqvarna 701 Enduro with outstretched arms does nothing, but nothing better. In addition, there is the short wheelbase as well as the coarse-stolled mixed tyres, which above all cause trouble for the front wheel – driving fun is somehow different.
On the country road, the picture changes completely. Here it's just fun, the powerful machine animates to intermediate sprints and the slightly shaky tuning is not quite so noticeable. The comfort is good due to the long spring travels of the fully adjustable chassis, but the seat is very hard.
Nevertheless, two things are fighting each other. Let's start positively: the frame looks like nothing can bend or break it. This extremely torsion-resistant backbone of the machine makes the reactions predictable and leads to a fairly stable driving feeling. On the other hand, the compromise tyres of the Conti TKC 80 are struggling. They work quite well in the terrain (but we expressly do not want that today), rather so medium on the road. Is the road cool, slippery and humid as in our test: Probably the one who still has a two-wheeler in the garage. Alternatively, waiting for the 2020 model has a traction control. In Swedish Austria, we know what this is good for.
Such an enduro-like sitting position pretty directly on the front wheel is necessary for mastering the machine in heavy terrain – it is ideal in the city. Manoeuvrable, flitty and perfectly manageable, you could whirl through the four-wheeled slalom poles called the car despite the wide handlebars, meander to the poles at the traffic lights to your heart's content, turn the start into a wheelie – if it were not forbidden. So this is just as info.