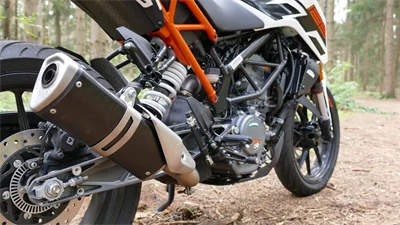 Dedicated engine
In fact, the seat height is rather not for small-grown people. The sitting position itself is restrainedly sporty, rather upright. The driver has enough space, for the passenger it is rather scarce as with almost all 125s. What is positively noticeable even when bouncing off the side stand (there is no main stand) is the low weight. If you're going through the area on a full-size adventure, you'll have to be careful not to bring the KTM into the uprights with too much of a jolt, otherwise it will tip over to the other side. The display is clear, logically structured and easy to read. There is not much to hire, that was no different.
The engine is spinning, but 15 hp are no longer. Compared to the 125 Yamaha, it has to be turned even higher to reach its maximum performance. It is good that he never seems strained or splendid or sounds like that. The six gears snap in well and smoothly, which is a not to be underestimated advantage with the rather shaky torque and correspondingly frequent shifting.
KTM is also not naked when it is used for the brakes. They come from the Indian Brembo daughter Bybre and fit well with the little duke.
Then we come to the greatest advantage of the KTM: its enormous agility. The 137 kilos plus drivers steer safely, defined and with little effort at all times. This is pure driving physics and cannot be achieved by so much electronics. A real fun bolt is the 125-Duke, with every kilometer travelled the friends climb sit on the next bend. And here again shows how important a high-quality tire is, because it gives the whole motorcycle the necessary sovereignty.