Relaxation therapy!
Wonderful resting "ERGO-COMFORT" - now also for the BMW F 900 R and XR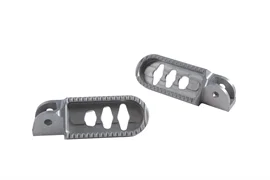 Photos: Wonderful
What you put away on the short tour, then makes painful noticeable on the long tour: the tight knee angle on the motorcycle. The sporty dynamics of the BMW F-models are then in stark contrast to their own after the descent. At least until the knee joints are supple again and everything runs smoothly. Are the legs too long? Isn't the ergonomics of the motorcycle correct? If the ergonomics of the motorcycle and the leg length do not match, this has noticeable, often painful consequences.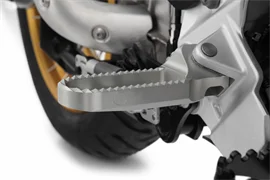 What triggers the pain? On the one hand - obvious - the overuse of the complex kinematics of the complicatedly constructed knee joint due to the narrow knee angle. The triggers are the increased surface pressure of the articulated rollers, the overuse of the meniscus, the overstretching of the inner, outer and cruciate bands. In addition , often underestimated, there is the narrowing of the blood vessels, which lead to congestion of the bloodcirculation and painful overstretching of the vessels themselves. These are often related to the fatigue of the peripheral muscles. Especially if the posture cannot be relaxed for a long time.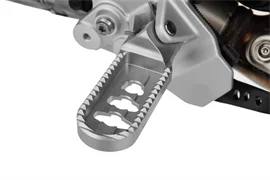 Wunderlich offers a variety of components that focus on the driver with regard to ergonomics. This includes the rest ingescent, which ensures a relaxed, open knee angle. This reduces the mechanical overload of the knee and also that of the sensitive vessels and muscles.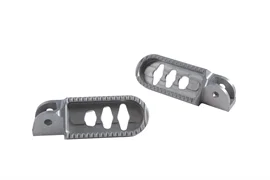 With the ergonomic lowering of the footrests, the feet move significantly 25 mm further down, the knee angle opens and becomes larger, resulting in a very relaxed and comfortable sitting position. This reduces the painful and torturous effects associated with a narrow knee angle, and usually even completely avoids them. And with the dynamics of descent, it works again. A measure that makes relaxed, comfortable driving possible and that is conducive to safety. Because only those who are relaxed on the road are safe on the road.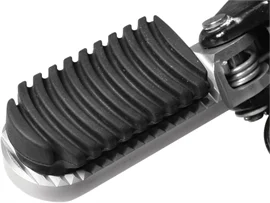 At the same time, the slant freedom is almost completely preserved. The good accessibility of shift and brake levers and their safe operation make driving a pleasure. Wunderlich also offers a vibration-absorbing, fitting rubber support. Both, resting and resting rubbers are easy to assemble. Precisely manufactured from high-strength aluminium, the functional rest set is designed for the highest demands. The valuable workmanship and the wonderful design underline the appearance of the BMW F 900 R and XR. The price of 176.36 € includes - as usual with Wunderlich components - 5 years warranty.








Items:
25910-301 - Wunderlich Deep resting set "ERGO-COMFORT" (175,36 €)
25920-000 - Wonderful latcher rubbers for the resting set "ERGO" (38,89 €)