The brand new MT-09 SP:
The most radical Yamaha Hyper Naked Bike
The Dark Side of Japan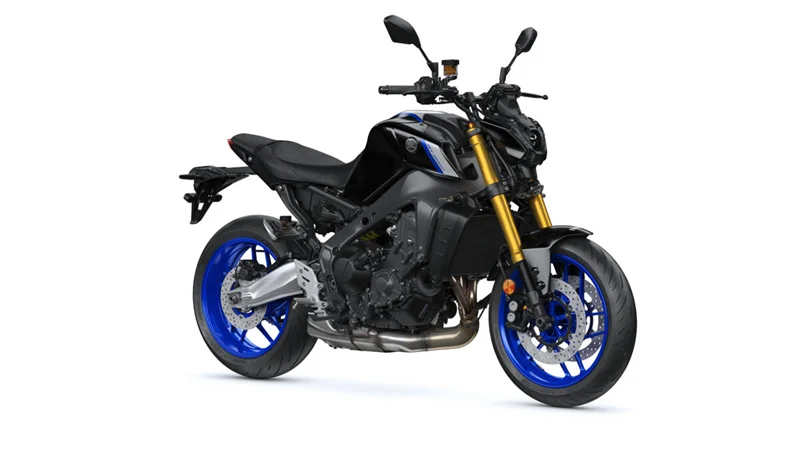 Photos: YAMAHA
Since 2013, the philosophy "The Dark Side of Japan" has inspired every Hyper Naked Bike of the MT series. The people behind these motorcycles, life for the theme of motorcycles. You can feel this every kilometre on an MT. The MT models are a completely unique type of motorcycle that has brought a whole new kind of two-wheeled experience to countless riders. With its high-torque engine, agile handling and unclothed, powerful look, the MT is built for pure pleasure in driving.
The new MT-09 SP: Sharper, smarter and more exclusive
With its completely new engine and its radical, unclothed look, the 2021 MT-09 is the purest and most exciting Hyper Naked Bike ever. For riders who want the absolute maximum in every way, Yamaha has created an even sharper, smarter and more exclusive motorcycle with the new MT-09 SP. It comes with special paintwork and a premium chassis, among other things.

Special SP coating
The special Icon Performance coating gives the MT-09 SP the well-known blue-black look. The premium finish underlines the exclusivity of the MT-09 SP. Based on the livery of the Supersport icon, the colour is a testament to the close connection to the technique of the R1M and illustrates the sporty character of the MT-09 SP.

Cruise Control System
In addition to the comprehensive electronic driving aids offered by the standard MT-09, the Premium MT-09 SP is also equipped with a Cruise Control System.
The Cruise Control System can be activated at a minimum of 50km/h and from the fourth gear. If the speed is set, it can be steadily increased in increments of 2km/h or when the switch is held down. The actuation of the brake, clutch or gas handle deactivates the system.
The Cruise Control System makes motorway travel more comfortable and helps to keep to the speed limit without constantly looking at the speedometer.

Premium KYB® fork
The 41mm KYB® telefork with DLC coating is fully adjustable in tensile and pressure level. The state-of-the-art fork also offers the possibility to adjust the damping for the high- and low-speed range separately. This allows MT-09 SP drivers to achieve the ultimate setup for any driving situation.

Öhlins shock absorber
The premium quality also continues at the rear suspension. Here, a Öhlins shock absorber ensures full adjustment of the pressure and tensile level damping. For a quick and easy adjustment, the preload can be changed by means of a remote-controlled adjuster.

Double sewn seat
Due to changes to the seat and tank, the new model offers a completely new ergonomics. Immediately, an incomparable feeling of unity with the motorcycle arises. The exclusivity of the MT-09 SP is evident in the specially designed seat with double contrast seams.

Swingarm made of anodized brushed aluminium
Another exclusive feature of the MT-09 SP is the high-quality swingarm with a specially brushed and anodized surface that perfectly complements the new Crystal Graphite frame. Together with other details, such as the yellow spring on the Öhlins shock absorber and the black sprocket, the SP swingarm enhances the simultaneously noble and sporty look.

High-quality optics
The high-quality equipment of the MT-09 SP is also reflected in many details. For example, a black anodized handlebar, black levers and dark brake fluid containers at the front and rear testify to the exclusivity of the top model.

Colours, availability and price
The new MT-09 SP will be available in icon performance.
Delivery to Yamaha's European partners will begin in March 2021.
The recommended retail price is EUR 11,599.00. It consists of the vehicle price of EUR 11,199.00 and EUR 400.00 in ancillary costs. This EIA includes 19% VAT!

Technical highlights of the MT-09 SP

Specific features of the MT-09 SP:
• Special icon performance livery based on the R1M
• Cruise Control System
• Premium KYB® fork
• Öhlins shock absorber
• Seat with double contrast seam
• Swingarm made of anodized brushed aluminium
• Lever, handlebar and sprocket black anodized
• Dark brake fluid tanks at front and rear

Features of MT-09 and MT-09 SP:
• New, EU5 compliant 889cc in-line three-cylinder DOHC engine
• More power at all engine speeds
• Increase in maximum torque at low speed by 7%
• Increase maximum power by 4hp
• New 2.3kg lighter deltabox frame made of CF die-cast aluminium
• Reduction of wet weight by 4kg to 189kg
• Shorter wheelbase for more dynamic handling
• New lightweight aluminum swingarm
• Unclothed MT styling of the new generation
• Continuous premium quality, with Crystal Graphite frame
• Full LED lighting with Y-shaped characteristics, front and rear
• New Quick Shift System for powering up and down
• Improved A&S clutch
• Lightweight and compact new 6-axis IMU
• Slant-dependent driving assistance systems: TCS, SCS and LIF with three intervention modes
• AB and Brake Control System (BC)
• D-MODE selectable driving modes
• New ultra-light SpinForged 17 inch wheels in 10-spoke design
• Larger 180/55-17 rear tyres with 120/70-17 front tyres
• 3.5 inch TFT colour instruments, controllable via handlebar switch
• Radial front main cylinder, 298mm double discs