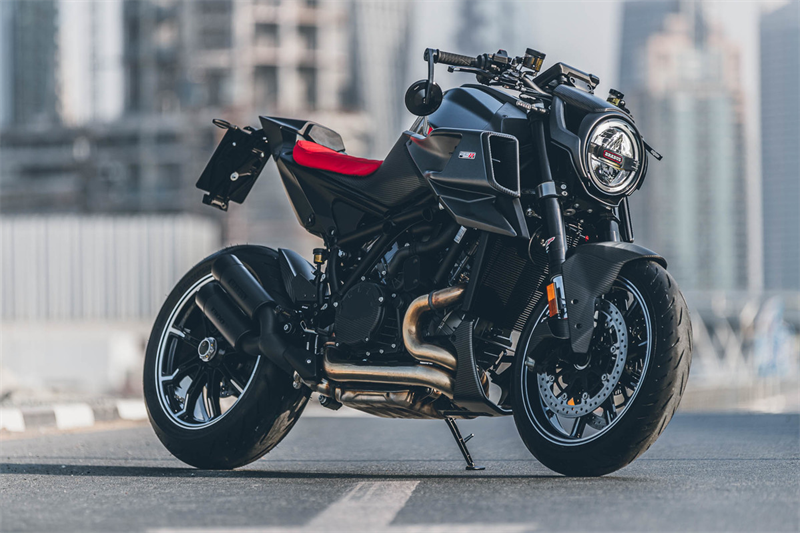 Photo: KTM/Brabus
COOPERATION BETWEEN TWO GIANTS – KTM AND BRABUS JOINTLY PRESENT THE BRABUS 1300 R
KTM is pleased to present a new impressive partnership with the world-renowned luxury brand for mobility, BRABUS. This extraordinary cooperation begins with the brand-new BRABUS 1300 R, which stands for performance and performance at the highest level. It thus offers BRABUS the perfect entry into the world of premium motorcycles.
Since 1977, the BRABUS brand has stood for luxury and handcrafted exclusivity in terms of performance. Fans worldwide have known the brand for over four decades as a manufacturer of high-performance super sports cars and as a pioneer for individualized vehicles. BRABUS has also proven itself in the maritime segment with a range of exclusive yachts. The company is now continuing its growth and expanding its product range with high-quality motorcycles in cooperation with KTM.

The new BRABUS 1300 R
The brand-new BRABUS 1300 R presents itself in an exclusive, high-quality design and at the same time impresses with its extreme power. It is the first motorcycle ever from BRABUS – a naked bike specially developed for fanatical fans who attach particular importance to detailed workmanship. The BRABUS 1300 R combines the identities and design styles of BRABUS and KTM that have been known for many years and combines the best of both brands in a unique model. BRABUS' 'Black & Bold' design with two distinctive color finishes includes BRABUS Monoblock Z forged wheels, high-quality carbon fiber body parts and a stylishly custom-made seat developed down to the smallest detail by a team of BRABUS specialists. All these components give the motorcycle this incomparably sporty character and attracts everyone's attention.
 
The outstanding V2 engine with its 180 hp at 9500 rpm and 140 Nm torque at 8000 rpm ensures the corresponding performance expected from the BRABUS brand. Designed to push the boundaries of propulsion, it sets new standards in terms of exclusivity and appeal.
 
For an even more exclusive offering, the BRABUS 1300 R will be available in two special color variants – MAGMA RED and SIGNATURE BLACK. Only 77 pieces of each color coating are produced, with the number 77 symbolizing the year BRABUS was founded.
 
From a technical point of view, the BRABUS 1300 R impresses with the latest generation of the WP APEX semi-active suspension. This allows the driver to choose between 6 special damping modes – COMFORT, STREET, SPORT, TRACK, ADVANCED and AUTO (a mode that automatically adapts to road and driving conditions).
 
Other features and exclusive parts:
• Quality seal with limited edition numbering
• Semi-active chassis WP APEX
• WP Pro Components steering dampers (WP APEX PRO 7117)
• 5 riding modes (STREET - SPORT - RAIN - PERFORMANCE - TRACK)
• Short-stroke throttle grip
• Various carbon fiber parts
• BRABUS Monoblock Z lightweight 9-spoke forged wheels
• Double slip-on rear muffler from BRABUS
• Exclusive, heated bench from BRABUS
• BRABUS air intakes
• BRABUS headlight mask
• CNC-machined triple clamp from BRABUS
• CNC-machined, adjustable brake and clutch lever from BRABUS
• CNC-milled, adjustable footpegs from BRABUS
• CNC-machined closures from BRABUS for expansion tank and oil tank
• BRABUS carbon fiber motor guard
• BRABUS pillion seat cover made of carbon fiber
The BRABUS 1300 R offers more than just an outstanding driving experience. It also presents its values of luxury, exclusivity and sovereignty. The BRABUS 1300 R will be available exclusively via
KTM's pre-order website
–
Click here
for the ordering process – Pre-orders will be accepted from February 14 at 15:00 CET.