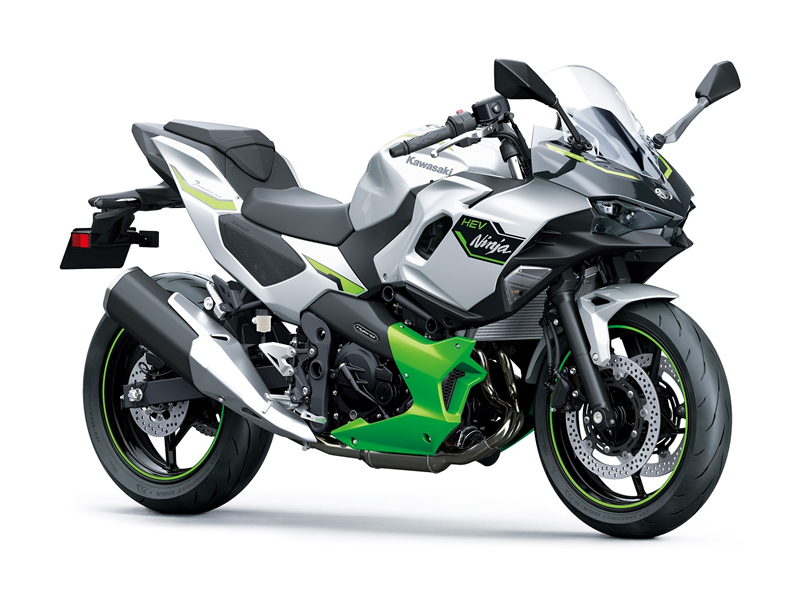 Photos: Kawasaki
Ninja 7 Hybrid: Maximum acceleration with minimized fuel consumption
A few weeks ago, Kawasaki had already announced the launch of its first electric motorcycles, the Ninja e-1 and the Z e-1. Now comes the next bang: With the Ninja 7 Hybrid, a motorcycle is coming onto the market that has a combustion engine that is combined with an electric motor. Excellent acceleration values with climate-friendly fuel consumption are the most important features of this motorcycle.

For Kawasaki, the introduction of the Ninja 7 Hybrid is an important step on the long-term path to CO2 neutrality. As early as January 2024, the first hybrid motorcycles will be in the showrooms of Kawasaki dealerships.

At the heart of the Ninja 7 Hybrid is a liquid-cooled four-stroke inline twin with a displacement of 451 cm3, which can be shifted both manually (via handlebar switch unit) and automatically. This engine is combined with an electric motor/battery. The combustion engine has an output of 43.5 kW – together with the electric motor, the Ninja 7 Hybrid has 51.1 kW. Thanks to the e-Boost function, this enables completely new driving experiences.

Thanks to the hybrid drive, the Ninja 7 Hybrid ranks in the 650 to 700 cm3 class in terms of performance. In terms of acceleration, the Ninja 7 Hybrid can even keep up with a super sports car in the class up to 1,000 cm3 displacement from a standing start (when using the e-Boost function). However, the fuel consumption figures are on a par with the class up to 250 cm3 displacement.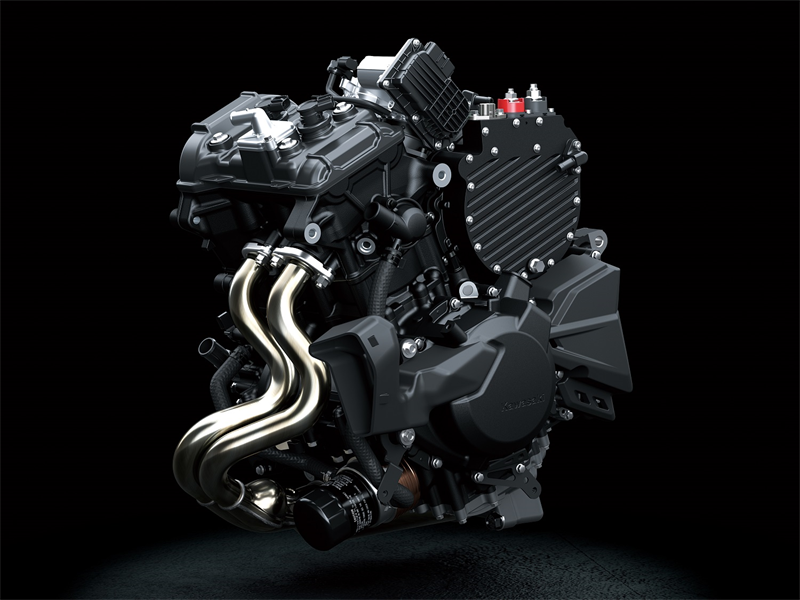 The driver can choose between three gears: SPORT-HYBRID, ECO-HYBRID and pure electric drive (for short distances at reduced speed). In addition, the Ninja 7 Hybrid is equipped with a start/stop function, which turns off the combustion engine when it stops. The "Automatic Launch Position Finder" automatically shifts the transmission into first gear so that the vehicle can move off without any problems. The walk mode also allows you to push the bike comfortably (forwards and backwards) when parking or manoeuvring.

The chassis consists of Kawasaki's well-known tubular trellis frame. The two motors are compactly integrated into this frame, and the 48V lithium-ion battery contributes to favorable weight distribution through its arrangement. The color design in silver and green also clearly sets the Ninja 7 Hybrid apart from other motorcycles.

The riding position is sporty yet relaxed. The high-quality cockpit offers extensive information in the TFT colour display. In addition, the smartphone can be connected to the motorcycle via "RIDEOLOGY THE APP MOTORCYCLE", an adapted form of the well-known Kawasaki app.

The Ninja 7 Hybrid is the world's first production motorcycle with hybrid drive. It combines the advantages of a combustion engine and electric drive and is suitable for daily use in the asphalt jungle as well as for leisure trips on winding country roads. The Ninja 7 Hybrid ushered in a new era in motorcycle history.