Motorcycle new registrations April 2020
Minus 25 percent due to Corona crisis
The Corona crisis leaves its mark - of course also in motorcycle approvals. In March, the decline was still about 16 percent, in April it was almost 26 percent compared to the previous year. Compared to the car market with minus 61 percent (!), however, these are still moderate figures.
Market shares Motorcycles over 125 cc April 2020
In April 2020, BMW continues to be in front with 27.11%, followed by Kawasaki (11.86%) and KTM (10.83%). This is followed by Honda, Yamaha, Harley and Triumph. Suzuki has stabilized to 4.2%, while Ducati is in ninth place with 4 percent.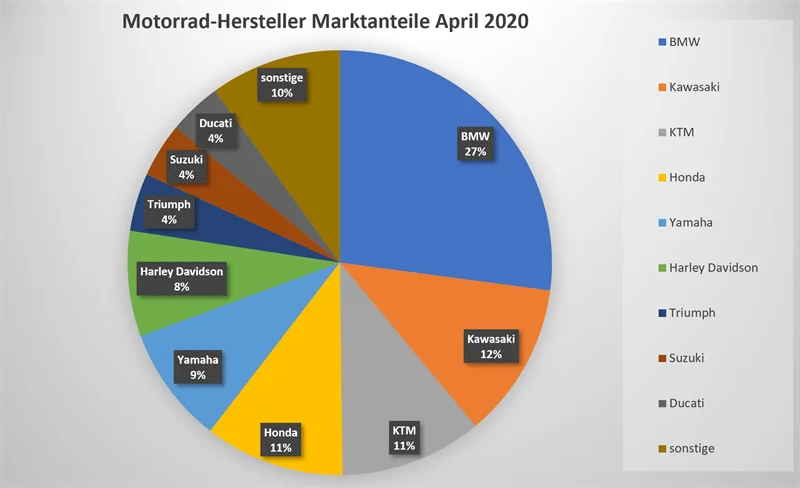 Top 50 Motorcycles January - April 2020 cumulative
| | | | |
| --- | --- | --- | --- |
| 1 | Bmw | R 1250 GS | 3.955 |
| 2 | Kawasaki | Z 900 | 1.339 |
| 3 | Kawasaki | Z 650 | 820 |
| 4 | Bmw | R 1250 RS | 808 |
| 5 | Yamaha | MT-07 | 744 |
| 6 | Bmw | S 1000 RR | 711 |
| 7 | Ktm | 690 SMC | 707 |
| 8 | Yamaha | Ténéré 700 | 706 |
| 9 | Bmw | R 1250 R | 651 |
| 10 | Ktm | 790 DUKE | 649 |
| 11 | Ktm | 390 DUKE | 589 |
| 12 | Honda | CRF 1100 AFRICA TWIN | 512 |
| 13 | Bmw | S 1000 XR | 501 |
| 14 | Bmw | F 900 XR | 493 |
| 15 | Bmw | F 750 GS | 492 |
| 16 | Bmw | F 900 R | 490 |
| 17 | Ktm | 1290 SUPERDUKE R | 486 |
| 18 | Yamaha | MT-09 | 485 |
| 19 | Suzuki | SV 650 | 477 |
| 20 | Ktm | 790 ADVENTURE | 468 |
| 21 | Bmw | R 1250 RT | 457 |
| 22 | Bmw | F 850 GS | 452 |
| 23 | Kawasaki | NINJA 650 | 444 |
| 24 | Kawasaki | Z 900 RS | 432 |
| 25 | Yamaha | MT-09 TRACER | 427 |
| 26 | Honda | CMX 500 REBEL | 420 |
| 27 | Harley-Davidson | STREET BOB | 410 |
| 28 | Ktm | 1290 SUPER ADVENTURE | 406 |
| 29 | Suzuki | GSX-S 750 | 404 |
| 30 | Kawasaki | VULCAN S | 399 |
| 31 | Honda | CB 500 F | 390 |
| 32 | Honda | CRF 1000 AFRICA TWIN | 376 |
| 33 | Husqvarna | 701 SUPERMOTO | 374 |
| 34 | Honda | CB 650 R | 374 |
| 35 | Triumph | ROCKET 3 | 355 |
| 36 | Bmw | S 1000 R | 354 |
| 37 | Harley-Davidson | SPORT GLIDE | 339 |
| 38 | Bmw | G 310 R | 310 |
| 39 | Honda | CB 1000 R NEO SPORTS CAFE | 299 |
| 40 | Kawasaki | NINJA 1000 SX | 292 |
| 41 | Honda | NC 750 X | 291 |
| 42 | Bmw | R NINE T SCRAMBLER | 282 |
| 43 | Bmw | R NINE T PURE | 282 |
| 44 | Ktm | 300 EXC | 274 |
| 45 | Royal Enfield | CONTINENTAL GT 650 | 264 |
| 46 | Moto-Guzzi | V85 TT | 262 |
| 47 | Honda | CB 650 R NEO SPORTS CAFE | 262 |
| 48 | Harley-Davidson | XL 1200 X | 258 |
| 49 | Suzuki | DL 650 V-STROM | 255 |
| 50 | Harley-Davidson | STREET GLIDE SPECIAL | 249 |