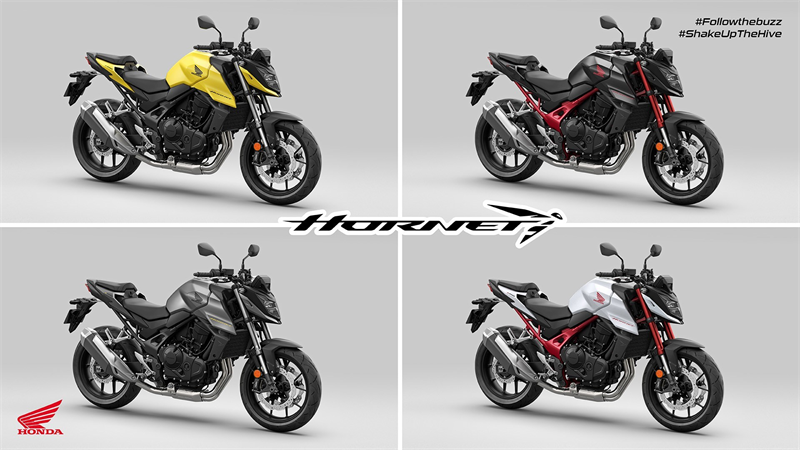 Photos: Honda
With the new Honda CB750 Hornet, the power-to-weight ratio sets standards. The naked bike, which weighs 190 kilos with a full tank, is powered by 92 hp (67.5 kW) and 75 Nm of torque. To achieve agile driving dynamics, the parallel twin combines revving pleasure with torque and pulsating running smoothness. The Throttle by Wire electronics offer the driving modes Standard, Sport and Rain. The bridge tubular frame is completed by high-quality Showa Upside Down fork and Pro-Link swingarm. A double disc with radial four-piston calipers ensures gripping braking potential. The equipment includes 5-inch TFT screen, LED lighting technology, emergency brake signal and full connectivity with Honda's smartphone voice control system. Original accessories and A2 driving licence variant with 48 hp are available at the sales launch.

Introduction
The Honda CB600F Hornet from 1998 enjoyed great popularity in Europe. The reason for this was the universal combination of modern naked design, lively engine performance and curve-hungry handling. Even cup competitions were held in Italy with it. A Hornet 600 successor model appeared for the 2007 season and shone in addition to more power with a strikingly revised design. Two other key features supported Hornet's successful career: the bike was a lot of fun to ride and the purchase price remained affordable.
25 years have passed since the first Hornet; a long period in which motorcycling was not spared from changes. The naked bike segment grew in both size and complexity. Niches have formed, the demands of the drivers have also changed, expectations have never been higher. A perfect time for the launch of a completely reissued Hornet for a modern, new generation of motorcyclists. A challenge that Honda's engineers gladly accepted.
As a result, the creation of the CB750 Hornet became something special – a brand new mid-range machine that brings the inspiring qualities of its predecessors up to date and transfers them into the present with an advanced composition of state-of-the-art technology, fresh style and tireless passion.
The design was delivered by the latest generation of creative minds at Honda's European research and development centre in Rome to appeal to younger audiences looking for a contemporary bike. This is how the European-inspired, minimalistic-modern Streetfighter style was born.
The Honda engineers in Japan contributed the technology and developed a completely new two-cylinder engine with plenty of power and torque plus friendly running smoothness and a practical electronics package. The creation completes a lightweight steel frame chassis with high-quality Showa suspension elements, allowing future owners to make the most of the available potential.
To outstanding design and visual criteria, Honda has given the new CB750 Hornet an inspiring power-to-weight ratio. And thus qualities that can be described with three attributes: fast, agile, thrilling.

Fuyuki Hosokawa, Project Manager, Honda R&D Japan:
"The Honda Hornet has always stood out with sporty performance and smooth handling. During the new development, we thought intensively about what kind of service potential buyers wanted. It was clear to hold on to the legendary punch; on the other hand, the characteristic had to be designed for modern times, in which the engine shines with strong torque and offers a pleasingly pulsating running smoothness.
Agile handling was one of the objectives to make every ride as fulfilling as possible. For example, we developed a new short-stroke two-cylinder engine with a 270° crankshaft in order to combine the best possible sporty performance with likeable character and agile handling.
For the typical Hornet kick, we tried to get powerful pull out of the rev cellar, which is essential for driving pleasure in city traffic as well as for powering out of beautiful country road curves.
For Honda, a Hornet is the ultimate representation of the Streetfighter concept. Of course, the new CB 750 Hornet continues this tradition."
Giovanni Dovis, Lead Designer, Honda R&D Rome:
"Our philosophy aims to create pure and functional design in an uncomplicated way – and thus models that are simply beautiful and emotionally appealing. Our motto for the new Hornet was 'Sensual Dynamics'. The aim was to create a straightforward streetfighter design – as with the former original – enriched with dynamic elements and proportions. We were inspired by the idea of a cheetah at full speed with a stretched silhouette and tense muscles to symbolize the obvious power of the new engine.
The look of the CB750 Hornet offers slim proportions, a pointed rear and sharply contoured lines that promise agility and lightness. In this way, we build up excitement and dynamics in order to visualize the sporting purpose.
To do this, it was important to ensure that the bike stood out from the crowd. Metallic red for the frame and anodized fork tubes are a vivid counterpoint to the coolness of the white or black color options. With the Mat Goldfinch Yellow, we pay tribute to history, because yellow has always been a particularly popular color among Hornet buyers.

Model Overview
The new Hornet Twin is the latest example of Honda's engineering skills: compact parallel twin-cylinder engine with a displacement of 755 cm3, 92 hp (67.5 kW) peak power and 75 Nm of torque. Ready to drive, the new CB750 Hornet weighs only 190 kg.
Unicam cylinder heads, four-valve technology, downstream air intakes and streamlined vortex intake ducts ensure optimum combustion. 270° crankshaft and uneven firing sequence support the pulsating running smoothness. The primary drive also serves as a balance shaft (which helps save components and weight), while an assist slipper clutch completes the six-speed gearbox. Using modern throttle by wire electronic control, the electronics offer three driving modes to choose from (standard, sport, rain), which are composed in third stages from the parameters engine power, engine brake and traction control (including wheelie control).
The potential of the twin is maximized by a newly designed bridge steel frame, which is very light thanks to optimized wall and tube thicknesses as well as adapted stiffness. High-quality suspension elements ensure optimum agility and the best feedback. Front a Showa 41 mm SFF BP Upside Down fork and rear swingarm with mono damper and Pro-Link lever linkage. The front wheel decelerates a double disc brake with radially mounted four-piston calipers. Moderately selected tyre dimensions support a practical measure of grip, directional stability and agility.
The equipment deserves the predicate rich. The 5-inch color display leaves nothing to be desired. Full connectivity for Android and IOS devices is provided by the Honda smartphone voice control system. Also on board are: LED lighting technology all around, self-resetting turn signals and the safety-enhancing ESS emergency brake signal function.
A comprehensive range of genuine Honda accessories will be available from launch. These include shift assistants, luggage solutions, protective protectors and cosmetic accessories. The new CB750 Hornet will be available in 2023 in four attractive colours:
Pearl Glare White (frame in metallic red plus red anodized fork)
Graphite Black (frame in metallic red plus red anodized fork)
Matte Iridium Gray Metallic
Mat Goldfinch Yellow

Features
Engine
- 755 cm3 parallel twin-cylinder, Unicam camshaft, 8 valves
- Power 92 hp (67.5 kW) at 9,500 rpm
- torque 75 Nm at 7,250 rpm
- 270° firing sequence, pulsating running refinement
- Patented vortex downstream intake ducts
- Assist slipper coupling
- Consumption 4.3 liters per 100 km, 340 km range
The Honda engineers have developed a new parallel twin that generates enormous driving pleasure and allows a performance advantage. This was achieved with 92 hp at 9,500 rpm and a maximum torque of 75 Nm at 7,250 rpm.
The ambitious concept envisaged nothing less than offering experienced drivers exhilarating top performance, while at the same time offering user-friendliness at low to medium speeds; as well as suitable for beginners and newcomers and to give pleasure on everyday trips in the city.
A compact Unicam cylinder head (as on the 250/450 CRF motocrossers) with a total of 8 valves characterizes the liquid-cooled design with 755 cm3 displacement. The cylinder bank is slightly inclined. Bore and stroke measure 87 x 63.5 mm. The compression ratio is 11.0:1. In the cylinder head, the 35.5 mm intake valves are actuated by cam followers and the 29 mm exhaust valves by rocker arms. The intake valve lift is 9.3 mm, the exhaust valve lift is 8.2 mm.
The mixture preparation takes place via electronic PGM-FI fuel injection and downstream arrangement, in addition patented Vortex intake channels support the sensitive throttle response. The airbox is powered by two air intakes. The throttle bodies have a diameter of 46 mm.
270° crankshaft and uneven firing sequence result in characterful two-cylinder pulsation. The cylinder liners are provided with wear-reducing Ni-SiC coating (nickel-silicon carbide). The primary drive wheel also serves to drive the balancer balance shaft, which helps to save weight, components and width. The water pump is located on the left side of the engine housing (instead of externally), which allows to save a water-washed oil cooler.
An assist slipper clutch (with inclined start-up ramps) supports a desired light feeling on the clutch lever, facilitates upshifting and prevents the rear wheel from stamping during heavy braking and fast downshifts.
The tank volume is 15.2 liters. The exemplary economical fuel consumption of 4.3 litres per 100 km (23 km per litre in WMTC mode) allows a range of over 340 km.
A 48 hp/35 kW variant for A2 licence holders is also available.
 
Engine electronics

- Three riding modes to choose from: Standard, Sport, Rain
- In addition, individually configurable user mode, in which power, engine brake and traction control can be controlled in three stages
- An additional wheelie control is integrated into the traction control
Throttle by Wire engine control offers three riding modes (Standard, Sport, Rain), which are managed via the left handlebar armature and displayed on the TFT screen. These assistance programs combine the parameters power delivery, engine braking and traction control in three different efficiencies each. Wheelie Control is also integrated into the traction control.
Sport driving mode uses maximum engine power (level 3), lowest possible engine braking and traction control (both at level 1) to enable maximum power with minimum intervention.
In Standard driving mode, all three parameters (power delivery, engine braking and traction control) are combined at medium level (level 2).
The Rain driving mode uses the smoothest engine performance (Level 1), the middle engine brake (Level 2) and the maximum sensitive intervention (Level 3) of traction control.
In USER mode, the driver can individually select each parameter in three stages and save the resulting configuration for use.

Styling & Equipment
- Contemporary minimalist design style
- Upright sitting position, natural feeling of control
- 5 inch TFT display with shift-up display, screen display adjustable
- Full connectivity – Honda Smartphone Voice Control System
- With ESS emergency brake signal function
The Honda designers in Rome respectfully studied the earlier Hornets before setting to work on realizing the new design in a contemporary modern design language and compact-elegant proportions.
The tank of the new CB750 Hornet is inspired by the shape of a hornet wing. From the sharply angled lamp trim to the tightly cut rear, tension and dynamism characterize the lines and visual appearance.
At the same time, emphasis was placed on user-friendliness. The seat height is only 795 mm, the upright seating position promotes clarity. Slightly recessed footpegs and wide handlebars support easy control and active control.

The cockpit is equipped with a 5-inch TFT color screen. The driver has the choice between four displays for the display of speed and engine speed as well as further options for fuel, consumption, driving modes and engine settings as well as a shift-up display. It is controlled via the left switch fitting on the handlebar and directly via the touch screen.

Integrated into the cockpit is the Honda Smartphone Voice Control system, which allows the use of telephony, mails, music and navigation via smartphone connection. For voice-controlled use, a helmet with headset is required; the smartphone must also be connected to the vehicle via Bluetooth.
Modern electronics characterize the Hornet's electrical system, as well as a Body Control Unit (BCU) in addition to CAN technology (Controller Area Network). The BCU unit is located on the left under the fuel tank and processes control signals – from ABS modulator, TFT screen or shift assistant – that are not controlled by the ECU control unit in the CAN system.
The rear turn signals of the CB750 Hornet have an ESS emergency stop signal function (Emergency Stop Signal). During emergency braking, these flash as hazard lights to warn other road users of an abrupt stop. In addition, the turn signals are self-resetting. This function is not controlled by a simple timer, but by the on-board electronics, which measure the wheel revolutions on the front and rear wheels when turning or changing lanes. The situational detection of driving dynamics allows the turn signal function to be reset in a practical manner, which contributes to increased driving safety.

Chassis
The Hornet steel bridge frame, which weighs only 16.6 kg, is a prime example of modern lightweight construction (the CB650R frame, for example, weighs 18.5 kg). Artful architecture and piping with targeted recesses and stiffeners support the desired stiffness balance of a design whose geometry is tailored to agility – which fits perfectly with the new twin engine.
The steering head angle is 25 degrees, the caster 99 mm and the wheelbase 1,420 mm. The total weight with a full tank is only 190 kg.
Smooth, light-footed handling and stability during braking support the Showa 41mm Separate Function Fork Big Piston (SFF-BP) upside-down fork, which features 130mm travel. The design of this fork splits functionality – one fork spar accommodates the damping cartridge, the other the coil spring – allowing lightweight construction and optimizing precise function. Upper and lower triple clamps have been specially cut for the new CB750 Hornet.
The gas pressure mono shock absorber (also from Showa) cushions the steel swingarm via a progressive Pro-Link lever system and offers 150 mm of travel. The design ensures convincing responsiveness and temperature management and allows the spring preload to be adjusted five times.
296 mm double disc brakes and radially mounted Nissin four-piston calipers allow powerful deceleration with sensitive controllability. Lightweight and shapely cast aluminium rims with Y-spokes, which have a width of 3.5 inches at the front and 4.5 inches at the rear, contribute to easy handling and exemplary driving stability. The tire dimensions of the Hornet measure 120/70-ZR17 at the front and 160/60-ZR17 at the rear.

Accessories
Honda offers a comprehensive range of original accessories for the CB750 Hornet right from the start, with which the equipment can be individualized or supplemented.
The shift assistant enables clutch-free upshifts under load, as well as downshifts with the blipper function. The function can be set in three stages. The colour-coordinated pillion seat cover gives the bike a sporty touch. A white/black quilted driver's seat enhances the premium appeal and increases comfort. There is also a choice of coloured handlebar ends, aluminium handlebar bridge, windscreen, rim décor stickers, driver footrests and camber protectors.
Tank bag and seat bag offer soft luggage storage space for luggage, hard-shell side cases complete the offer. All accessories are available separately, and Honda dealers offer accessory packages with price advantage:
SPORT PACKAGE: shift assistant, windscreen, pillion seat cover and driver's footrests.
STYLE PACKAGE: handlebar ends, aluminum handlebar bridge, tank protector, rim décor stickers and camber protectors.
TOURING PACKAGE: Hard shell side case, tank bag and seat bag.

Specifications*
ENGINE

Type

Liquid-cooled OHC Uni-Cam four-stroke 8-valve parallel two-cylinder with 270° crankshaft, Euro 5

Cubic capacity

755 cm3

Cubic capacity

87 x 63.5 mm

Compaction

11,0 : 1

Max Power

92 hp (67.5 kW) at 9,500 rpm

torque

75 Nm at 7,250 rpm

Noise measurement (ECE41-05)

Stationary 93 dB(A)/4,750 rpm, pass-by 74 dB(A)

CO2 emissions

100 g/km

Maximum speed

205 km/h

Engine oil quantity

3.8 litres

Starter

E-Starter

FUEL SYSTEM

Mixture preparation

PGM-FI petrol injection

Tank capacity

15.2 litres

CO2 emissions

107 g/km

Consumption**

4.3 litres per 100 km / (WMTC 23 km per litre)

ELECTRICS

Battery

12 volts / 7.4 Ah

DRIVE

Clutch

Multi-discs in oil bath, anti-hopping function

Transmission

6 gears

Final drive

O-ring chain

CHASSIS

Frame

Tubular steel bridge frame

Dimensions (LxWxH)

2,090 x 780 x 1,085 mm

Wheelbase

1,420 mm

Steering head angle

25° mm

Caster

99 mm

Seat

795 mm

Ground clearance

140 mm

Weight fully fueled

190 kg

Tropic

2.7 meters

WHEEL SUSPENSION

In front

Showa 41mm SFF-BP USD fork, 130mm Fw.

Behind

Pro-Link swingarm, Showa mono damper, Pro-Link link, travel 150 mm

WHEELS

Front rim

Cast aluminium, 5 Y-spokes

Rear rim

Cast aluminium, 5 Y-spokes

Front tyres

120/70-ZR17

Rear tyres

160/60-ZR17

BRAKE

ABS

2 channel

Front brake

Double discs 296 mm Ø, Nissin radial four-piston brake calipers

Rear brake

One disc 240 mm Ø, single-piston caliper

INSTRUMENTS & ELECTRICS

Instruments

TFT screen

Floodlight

LED

Taillight

LED

Connectivity

HSVC

USB port

Type C

Turn signal self-reset

Yes

Switching assistant

optional

Antitheft

HISS

Additional Features

ESS, driving modes Standard/Sport/Rain + User mode