LIVEWIRE FÄHRT WELTREKORD
Angelle Sampey sets record for standard e-motorbikes with HARLEY-DAVIDSON LiveWire
On September 4, the Harley-Davidson LiveWire set a new record for electrically powered production motorcycles on a drag strip, both in terms of acceleration and top speed. Angelle Sampey from the Harley-Davidson Screamin' Eagle/Vance & Hines team, a three-time pro-stock motorcycle champion, switched from her FXDR Pro-Stock competition machine to LiveWire. With the e-bike she set a world record on the quarter and eighth miles, covering the eighth mile (201.17 m) in 7.017 seconds and the quarter mile (402.34 m) in 11.156 seconds and with a maximum speed of 110.35 mph (177.59 km/h). The top speed of the 2020 LiveWire is electronically limited to this speed.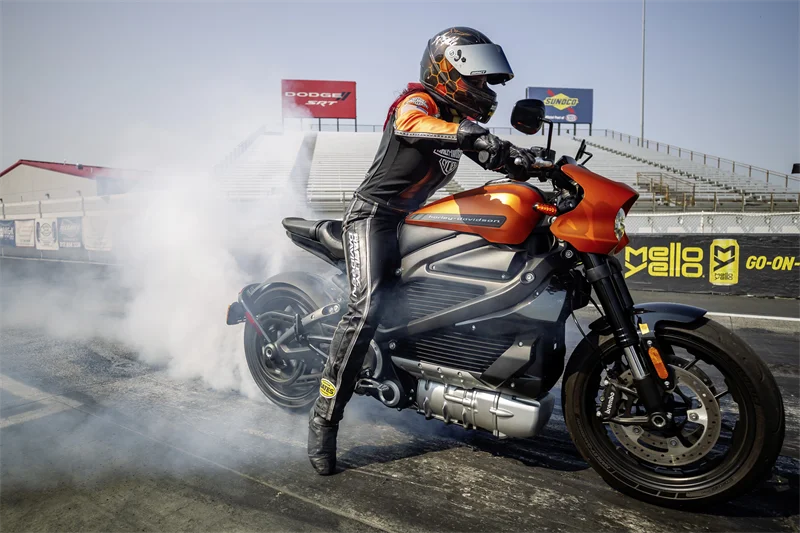 Photo: Harley Davidson
The records were set during the exhibition runs at the Denso Spark Plugs NHRA U.S. Nationals at Lucas Oil Raceway in Indianapolis. They underline Harley-Davidson's ambition to become a leading provider of dual electric mobility.
"Really amazing," Sampey commented. "I was sitting on a LiveWire for the first time and couldn't wait to get on the track on a motorcycle. The LiveWire is extremely easy to drive – just give gas enough and then the mail goes off really powerfully!"
Sampey and her Harley-Davidson Screamin' Eagle/Vance & Hines teammates Andrew Hines and Ed Krawiec previously had a series of acceleration duels in which Sampey drove the fastest times. With three pro-stock motorcycle champion titles (2000-2002) and 43 pro-stock motorcycle individual victories, she is the most successful woman in the history of U.S. motorsport.
The LiveWire is the first electrically powered motorcycle from a large-scale manufacturer. As a high-tech product, it offers an exceptionally dynamic driving experience, a fascinating look and the feel of a real Harley-Davidson. Domes and switching are a thing of the past. To accelerate, one rotation on the gas handle is sufficient.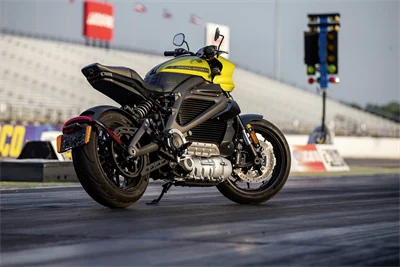 As Sampey impressively demonstrated in Indianapolis, the Harley-Davidson-Revelation powertrain delivers enormous pressure from the first wheel turn. The LiveWire accelerates from 0 to 60 mph (96.56 km/h) in about three seconds and only 1.9 seconds for the passage from 60 to 80 mph (96.56 km/h to 128.75 km/h). Since the maximum torque can be called up at any time without any charge, the motorcycle accelerates excellently in any driving condition. A low centre of gravity, a stiff light metal frame and high-quality, fully adjustable chassis components also give the LiveWire dynamic handling. According to WMTC (World Motorcycle Test Cycle), their range is 158 kilometers*.
The machine offers a high level of comfort and its electric Revelation powertrain, which produces an unobtrusive, jet-like sound while driving, produces little heat. As Angelle Sampey has now demonstrated, he is even suitable for the drag strip.
If you want to convince yourself of the qualities of LiveWire, book a test drive with an authorized Harley-Davidson LiveWire dealer. For more information, visit www.Harley-Davidson.com.
* The main battery of the LiveWire provides a range of 146 miles (235 km) in the city or 95 miles (152.9 km) in the combined stop-and-go highway cycle (measured as part of the MIC City and MIC Combined tests; SAE-J2982). According to the measurement methods of the World Motorcycle Test Cycle (EEC 134/2014 Annex VII Appendix 3.3), the range is 98 miles (157.7 km). The range assessment is based on expected performance with a fully charged battery and operating under certain conditions defined by the test procedures. Actual range may vary depending on driving habits, weather conditions and other factors.