KTM 890 Adventure R introduced
Two new travel enduros from KTM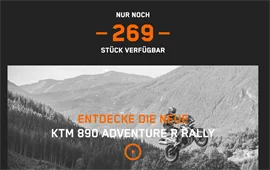 Yesterday KTM presented two new travel enduros with a lot of TamTam: the KTM 890 Adventure R and the KTM 890 Adventure R Rally. Both models are suitable for off-road use and are aimed more at hardcore endurists than at fair-weather riders. We present both models briefly.
KTM reaches into the shelf and creates a new enduro. Building on the new 890 engine, which is already used in the Duke 890, KTM is building two R-Adventures, with which you can really crash it off-road. With the Rally there is also a special version limped to 700 pieces, which is even more radical than the standard model. At the time of publication of this article, however, only 269 copies are available ... if you are interested, quickly access and pre-order. Of the 700 pieces, exactly 500 are available outside the USA.
KTM 890 Adventure R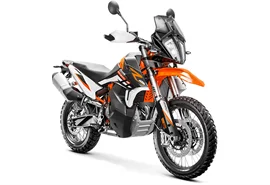 Both bikes come with the 890 cc two-cylinder, which produces 105 hp and 100 Nm of torque on the crankshaft. That's exactly 10 hp and 12 Nm more than the 790 Adventure, which has been around for some time. The travel of the R is a whopping 240 mm at the front and rear, the spring elements come from WP (WP XPLOR Pro) and are fully adjustable. The machine has a 6-speed gearbox with curve ABS and traction control, both can be switched off on request. If you want to slide in a controlled way, you can deactivate the ABS on the rear wheel in off-road mode- there is a cruise control and a 5" TFT colour display.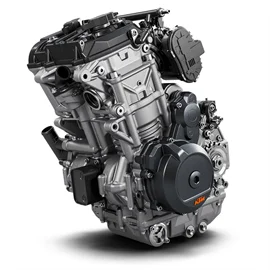 KTM 890 Adventure R Rally
The Rally version comes with spring travel of 270 mm and offers a very high bench: 910 mm in the Rally, 880 mm in the normal version. The Rally has an Akra silencer and, as standard, a Quickshifter that functions in both directions. There are also special rally footrests, winglets and a special rally mode for the terrain.
 
In order to get the centre of gravity of both machines as low as possible, the tank of both bikes is pulled down as it did with the 790 Adventure. "Pig belly design" was often called this, but it certainly fulfils its purpose and is a real advantage, especially in the terrain. The tank capacity is a good 20 litres. The KTM 890 Adventure R is scheduled to be available from dealerships in November. Unfortunately, KTM has not yet stated prices for both machines.
Specifications KTM 890 Adventure R
Engine
DREHMOMENT: 100 Nm
GEAR: 6 gears
COOLING: Liquid-cooled with water-oil heat exchanger
STARTER electric starter HUB: 68.8 mm
BORE 90.7 mm
RELATED: PASC(TM) anti-hopping coupling, mechanically operated
CO2 EMISSION: 105 g/km
HUBROOM: 889 cm3
EMS: Bosch EMS with RBW
BAUART: 2-cylinder, 4-stroke, in-line engine
FUEL CONSUMPTION: 4.5 l/100 km
SCHMIERUNG: Pressure circulation lubrication with 2 oil pumps
Chassis
TANK CONTENT (CA.): 20 l
ABS: Bosch 9.1 MP (incl. curve ABS and off-road mode, switchable)
DIAMETER BRAKE STOCH FRONT: 320 mm
DURCHMESSER BREMSSCHEIBE HINTEN: 260 mm
BRAKE FRONT: Four-piston radial caliper, brake disc
BRAKE BACK: Brembo two-piston floating caliper, brake disc
KETTE: 520 X-Ring
FRAME: Chromium-molybdenum steel frame, motor is structural component, powder-coated
SPRING FRONT: WP XPLOR-USD, 48 mm
BODENFREIHEIT: 263 mm
SUSPENSION BACK: XACT WP PDS mono shock
SEAT HEIGHT: 880 mm
CONTROL HEAD ANGLE: 63.7°
SPRING FRONT: 240 mm
FEDERWEG HINTEN: 240 mm