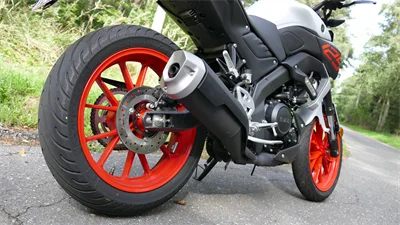 Extremely agile
Ascending works without any problems. Despite a not small seat height of 810 millimeters, even short-legged people can safely get into the stand thanks to a narrow seat-tank combination. The display is clear and looks grown-up, although there is not much displayed there. Apart from the ALREADY mentioned ABS, there are no electronic helpers or driving modes.
The extremely smooth coupling is precise to dose, the gear snaps immediately and defines. Yamaha, with something like that, the Routiniers from Japan can't be caught. The turning on the gas handle brings the engine up to speed. He needs this, because the maximum torque of 11.5 Newton meters at 8,000 tours is standard in class, but it is quite barren. Further up, with 10,000 tours, the maximum power is 15 hp.
The way to do this is not really sovereign. On the other hand, the Yamaha does not complain, does not sound tormented or seems somehow laced. The variable valve drive makes its thing decent, it definitely comes up with driving pleasure. The maximum acceleration of 10.7 seconds is not bad. Yamaha gives a top speed of 130 km/h, but this should only be accessible to small pilots.
The incredible lightness contributes to the driving pleasure. It is only with these flyweights that you realize how heavy today's motorcycles are. This is a circumstance that the most sophisticated electronics cannot overplay. The Yamaha doesn't have this electronics, it has something better: capable chassis engineers. It is already enormous how agile and agile the Yamaha MT-125 is, which seamlessly transfers to the driver.
Actually, the chassis is quite comfortable despite the sporty tuning. Unfortunately, the hard bench is not: you have to sit down first.