Ducati Desert X in the test
(Baujahr 2022)
What can the Ducati Desert X do better than Multistrada - and what can't?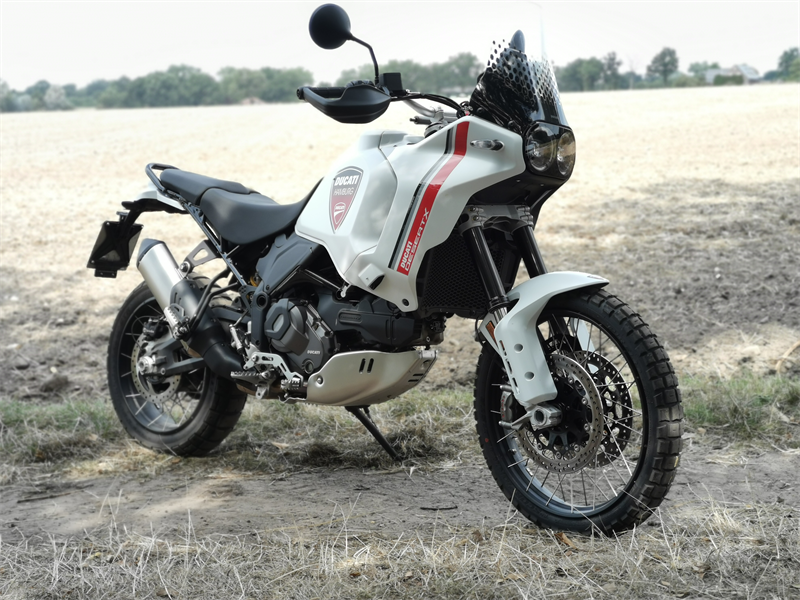 Photos: Motorradtest.de
Next taboo break at Ducati: The Desert X is the first Ducati in many years with a 21-inch front wheel. It thus underlines its claim to a serious off-road capability and apparently wants to participate in the success of the Yamaha Ténéré 700. Volker and Dietmar have tested how it performs, especially in normal operation on country roads and motorways.
Bigger than a GS
Ducati is getting bolder than that. Old laws are disregarded and this is noticeably good for the machines from Bologna. The outcry was great when a monster without a tubular space frame was presented a few years ago. Then the Multistrada V4 without 17 inch front wheel - whether it still goes well around the curve? She went. And now a travel enduro with 21 inches. The Desert X is only available in matt white with black-grey-red accents. Visually reminiscent of the Lucky Strike editions of the Cagiva elephant and looks really good.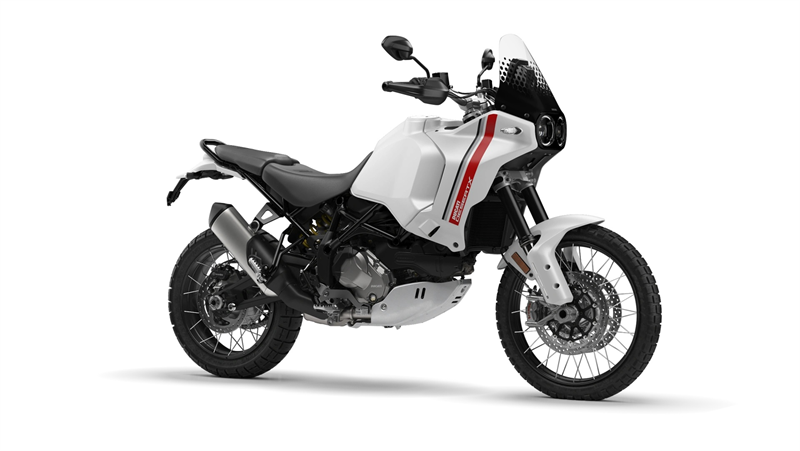 Photo: Ducati
For us, the Desert X is a real feast for the eyes. The proportions are right from front to back, plus beautiful spoke wheels on black rims and an immediately recognizable double headlight with cross optics. The machine does not seem so powerful live, but what is in truth: A whopping 2.39 m long and blessed with a wheelbase of 1.61 m. For comparison: A current GS 1250 is almost 20 centimeters shorter and has a 9 centimeter shorter wheelbase - these are worlds in motorcycle construction! Bigger doesn't necessarily mean better, but Ducati wanted to create a travel
enduro
that doesn't stop at any mountain or sand dune. The official promotional videos were shot in the desert, certainly no coincidence.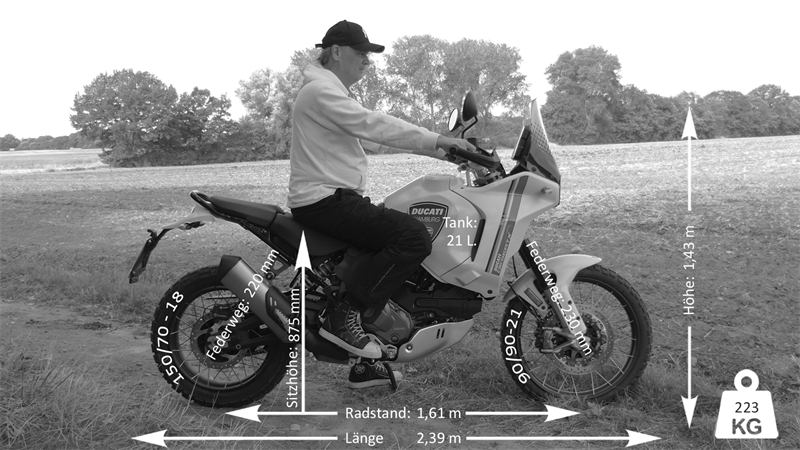 Sitting on the Desert X is super comfortable. The knee angle is relaxed, the hands fall on the handlebars as if by themselves and the back is upright like a stroke. Even as a passenger you can feel comfortable, although there is not as much space as on a Multistrada. Although you will find a retaining bracket on the Desert X, you do not feel as finely integrated as on the Multi. There are also no integrated luggage carriers, so the set on cases plus carrier frame unfortunately costs just over 2,000 euros.
360 degree tour around the Ducati Desert X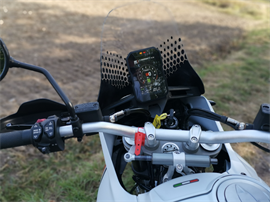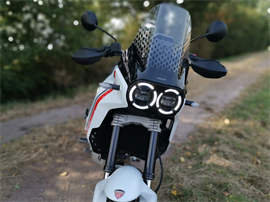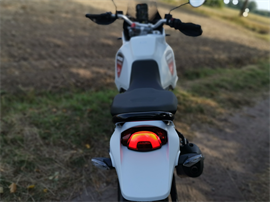 Technology of the Desert X
The Desert X is already fully equipped in series except for the heated handles. There is a 6-axis IMU with cornering ABS and lean-dependent traction control, wheelie control, engine braking, six configurable driving modes, cruise control, QuickShifter and an upright 5-inch color TFT display. In addition, there is LED lighting including daytime running lights and self-resetting turn signals together with hazard warning lights.
Optionally, there is an arrow navigation via app (247 €), an anti-theft device (272 €), fog lights (385 €) as well as touring window (178 €) and crash bar (560 €). If you then add the heated grips (286 €) and the case set including top case & carrier, you end up with exactly 21,000 €. <gulp>. Well, then you have a really fully equipped machine compared to the Yamaha Ténéré World Raid (13.074€).
By the way, there are plenty of other accessories in the Ducati configurator, don't worry. Fortunately, everyone can decide for themselves whether you really need all this or not. Without accessories, the Desert X for 16K is already pretty well equipped.
This is how it drives itself
Before we start, we listen to the sound (soundcheck top right). Typical Ducati V2 sound, we would say. The stationary noise is 94 dbA, but sounds - as always with Ducati - louder. While driving, the Desert X spoils the driver with a beguiling intake sound. Not quite as concise as a KTM 1290 Super Duke R, but still palpable and audible.

 

Only very few test riders will forget the first few meters on the Desert X. You sit so sovereign and stately on this horse that you do not want to descend again. It's also amazing how easy it is to stand up! Standing driving is one of the parade disciplines of the Desert X anyway. We didn't drive the sand dunes from the promotional video, but even when riding through our northern German fields we had a lot of fun. The machine does everything with the left, even when driving briskly, you don't feel unsafe off-road.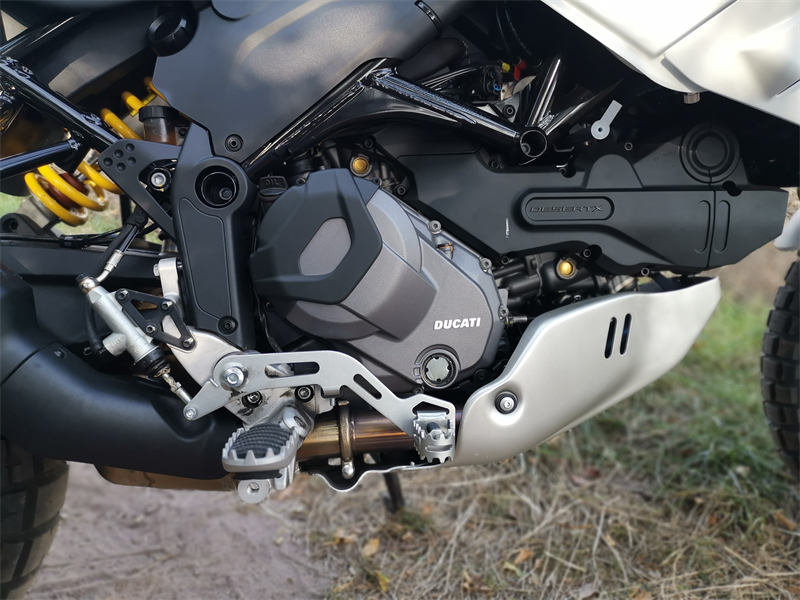 The 223 kg weight (ready to drive) is a bit too much for real terrain gurus, but it is pleasantly stable on the road. The balanced riding geometry and the 21 inch front wheel bring a lot of calm into the beams, and the long spring travel of 230/220mm results in an extremely comfortable ride. The fully adjustable Kayaba fork responds sensitively and gives good feedback, the also fully adjustable Kayaba mono strut is a bit firmer, but not uncomfortable. The official and tubeless Pirelli Scorpion Rally STR not only look great, but also have good grip on the road. Of course, you can't sweep around the corners like with a Multi 1260 with 17 inch front wheel and road tires, but that's not what the Desert X is made for.
The ride actually feels very similar to the
Yamaha T7 World Raid
, with the Duc of course having more pressure. The V2 goes well to the gas, is willing to rev and at about 6,500 rpm there is an extra sip from the performance pull. We already know the engine abundantly e.g. from the
SuperSport 950
, the
Monster
and from the
V2-Multi
and he is simply a magnificent guy with manners and character in equal measure.
Brembo's monoblock stoppers deserve special praise. Controllability, braking force and bite are at an extremely high level. During emergency braking (see video from minute 23:00), the machine does not get out of the glue and remains stable until it comes to a standstill. Also on the highway (see video from minute 26:00) the Desert X is quite quiet. However, it cannot keep up with the Mulitstrada in terms of wind protection. Even at country road speed it gets loud in the helmet and at 220 km/h Volker had to hide behind the rather small window so that he could be understood at all. Well, it's just a rally disc that fits the machine, which certainly makes sense off-road. If you are more likely to be on the road, you should treat yourself to the larger touring window.
We would also like to praise the warranty and service intervals. The Desert X gets a 4-year warranty without mileage limit and you only have to service every two years or after 15,000 km. Since the V2 is a Desmo engine, the valve clearance check is due every 30,000 km.


As a competitor, the first thing that comes to mind is the Yamaha Ténéré 700, which has often been mentioned here, in the World Raid Edition. This is quite similar to the Duc from the data sheet, but has to lose out in terms of equipment and engine. Otherwise, there are now surprisingly many high-legged travel enduros with 21 inch front wheel, which we have all already tested and compare here:
So all is well with the Desert X? In principle, yes, we didn't really find much to complain about. It is technically similarly well equipped as a current Multistrada V4, whereby this with radar-supported cruise control and blind spot assi certainly has one or the other ace more up its sleeve, but is also 6,000 euros more expensive. Clearly: If you travel a lot on the road and in pairs and do not want to do without extras such as electronic suspension, Keyless Go, etc., you can use the Multi. If you prefer to travel alone and want to drive the Gaul across the field, take the Desert X.
Conclusion - what sticks
Ducati has achieved a great success with the Desert X. The machine can do a lot, but is not exactly a bargain. Whether so much technology has to be in an off-road travel enduro is certainly not without controversy. There will be both parties, namely those who say: "Too much stuff" and those who say: "Cool, finally modern technology on a real terrain machine". 
The test bike was kindly provided by
Ducati Hamburg
. There is the Desert X as a demonstrator and may be very gladly driven by you. Or you just drop by Ducati Hamburg and enjoy the beguiling sight of Italian motorcycle building art. You will certainly stop in front of the Superleggera. Take coffee, enjoy it and check your account balance! And remember: We only live once and life is damn short. 
Price/availability/colours/years of construction
Price: 15.990€
Availability: from 06/2022
Colours: white