Test: Ducati Monster 821
(Baujahr 2020)
The measure of the middle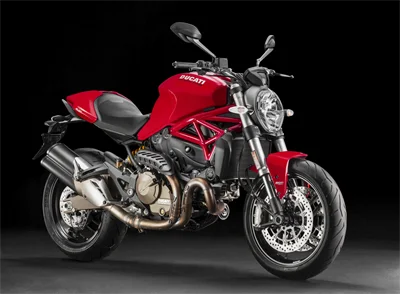 The Ducati Monster 821 came to our test. Well, that's a lie. Honestly, we just wanted it. It's not new, we just had a buck on it. Sometimes you just have to do it. A wise decision, as it turned out.
Built for 27 years
The monster is a constant of the motorcycle world. In fact, Ducati doesn't sell nearly as many motorcycles as Japanese manufacturers, but it's often felt. There are two things: firstly, it lasts a long time, and secondly, it has been built for more than 27 years since its presentation in 1993. There comes something together, so purely in terms of quantity.
Since Ducati is a master of model maintenance, the numerous versions, improvements and equipment have become almost unmanageable. Three models are currently on offer. The little one is the 797 with 75 hp, then follows as golden center our 821 with 109 hp, above it is the 1200. Their S-variant provided us with extremely beautiful and, thanks to 150 hp, exciting experiences. Does this work a step lower?
No monster, no Ducati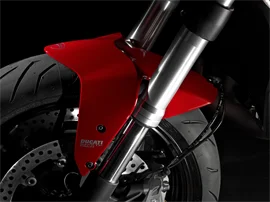 Photos: Ducati
But first, take a step back. The Monster series was a success then as it is today. She had to, because Ducati's survival was (again) hanging by the famous silk thread. If the monsters had flopped in 1993, Ducati probably wouldn't exist any more. It is – monster driver, you must be strong now – due to the financial tightness of the company a mish-mash of different components used in other Ducatis. Recycling in Italian. The engines come from the Supersport models, the frame is borrowed from the Superbike series.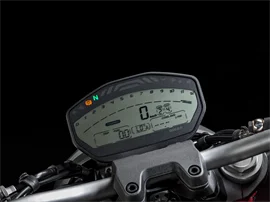 And yet, ducati mixed something completely new from the well-known parts, thanks to the designer Miguel Angel Galluzzi. Was that a streetfighter? For many motorcyclists, it seemed to mark a new class, which today trades as Naked Bike. The design with the conscious omission of a windshield, the emphasis of the frame and the typical V2 sound give the motorcycle its own character. Although the origin of the parts may have been uninnovative, the composition was it.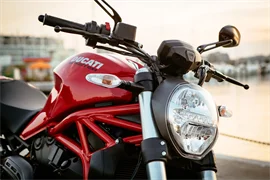 And, let's not forget that, a part shelf like Ducati's, from which you can use, many other manufacturers would like to have.
On bits and bytes-fed helpers there are today, among other things, a traction control with eight steps and an ABS with three modes on board.
The 821 has been around since 2014. At that time, she was given a water cooling system, whose cooler of course changes the design in a lasting way. But it pleases, Ducati manages to keep the monsters up to date. The V2 with a displacement of, well, you guessed it: 821 cubic meters produces 109 hp, these only have to push 206 kilos plus crew forward.
Visually, a monster always looks smaller than it actually is with a length of 2.15 meters. Is this due to the flat construction?
But let's go, let's see.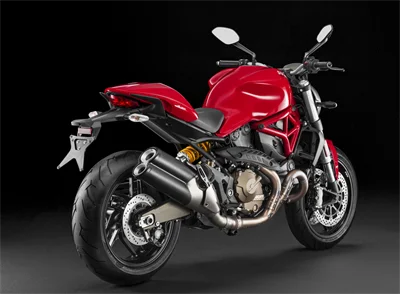 Great V2
The ascent is easy for normal-sized pilots, even if the monster is not as low as it looks. There are two seat heights, 785 or 810 millimeters are available.
In terms of operation, Ducati has taken huge steps forward in recent years. This big step was possible, among other things, because Until recently Ducati offered some displays that had little to do with the self-imposed demands of the exclusive bike. But now everything is paletti and even so good that other manufacturers can cut off a disc.
Fire free, then, and the corners of the mouth move inexorably towards earlobes. Friends of the well-maintained V2 sound enjoy this, while others wonder at higher speeds how this machine was able to obtain approval according to the Euro 4 standard. But that is not a noise, and certainly nothing. The sound is justified, because the V2 pushes forward with the typical Ducati brutality. 109 hp belong to the upper middle class in terms of performance, but none of this is mediocre. Monster-wise rather.
And again, the suspicion arises that more is not necessarily better. The already mentioned 1200s makes us monster-like friends - but really more than the 821? The maximum running is 225 km/h, the 1200 swells to 255 km/h. But doesn't it matter if you don't want to drive 225 or 255 km/h thanks to a lack of wind protection? If you didn't know that there are 1200s, you wouldn't miss them. The middle class of Ducati storms off like crazy, throws itself into the curves like alone and brakes brutally (albeit with a clear set-up moment) into curves.
The limitation of the Monster 821 is not the engine power, but the driving ability of the pilot, pointum. If we stay within these limits of what we did, the day went exactly as we thought it would. Sometimes you just have to do it, but I've probably mentioned that.
Expensive, but good
All peace, joy and flourishing landscapes? Except for the moment of setting up in curves and the feeling that it could get a bit hot in the summer thanks to the curvature on the right knee, there is one more point. The bags of the monster buyer should be deep and well filled, because on the price tag are 11,200 euros. This is cheap, but only in monster circles. A performance-comparable Kawasaki Z 900 costs 9,596 euros, 9,099 euros the Yamaha MT-09.
At this point, the objectivity of the tester begins to get thin. I would take the Duc and console myself with the fact that it saves 6,290 euros compared to the 1200s. That's nonsense, I know. But it's almost as stupid as motorcycling at all.
Gorgeous.
The test bike was provided to us by Ducati Hamburg.
Price / Availability / Colours / Years of Construction
Price: 11.200€
Used (3 years old): 8,000€
Years of construction: since 2014
Availability: good
Colours: red, special model Stealth: matt black