Ducati Scrambler Full Throttle Review
(Baujahr 2023)
Changes to the 2023 Ducati Scrambler family using the example of the Full Throttle.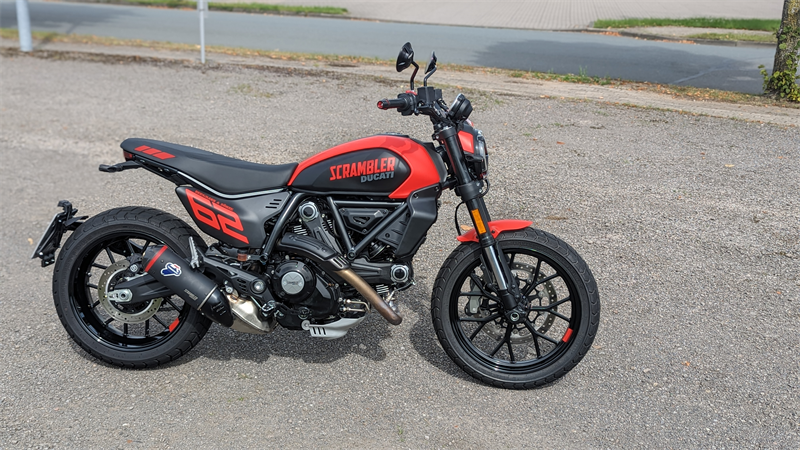 Photos: Motorradtest.de
The Ducati Scrambler Full Throttle is one of three new Scrambler models that Ducati has unveiled this year. It is supposed to be reminiscent of flat-track bikes and of course still has the air-oil cooled V2 in L-shape with desmodromic valve control - so it's a real Ducati! Jan and Dietmar went for a spin.
Three new horses in the stable
Ducati's Scrambler model range continues to enjoy great popularity. That's why Ducati even gives these bikes their own
website
. There are three 1100 and three 800 variants. The smaller 800s are sold more frequently, of which Ducati is putting the three refreshed variants Nightshift, Full Throttle and Icon in the shop windows for the 2023 model year.
The Icon,
which we have already tested
, is the cheapest model for 10,590 euros. It has the highest handlebars and can be customized in nine colors thanks to a clever cover kit modular system. The primary colors are red, black and yellow. The cover kit with six other colors costs only 285 euros. So if you're bored, you can get a little variety here for little money - great idea!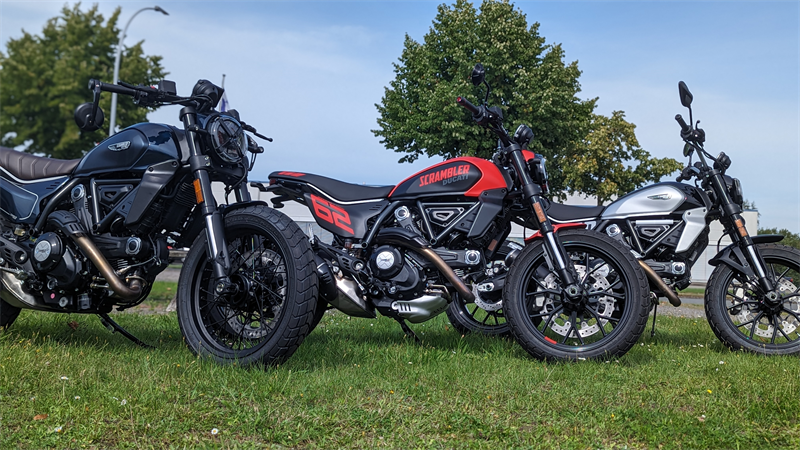 Ducati Scrambler 800 vintage 2023 from left to right: Nightshift, Full Throttle, Icon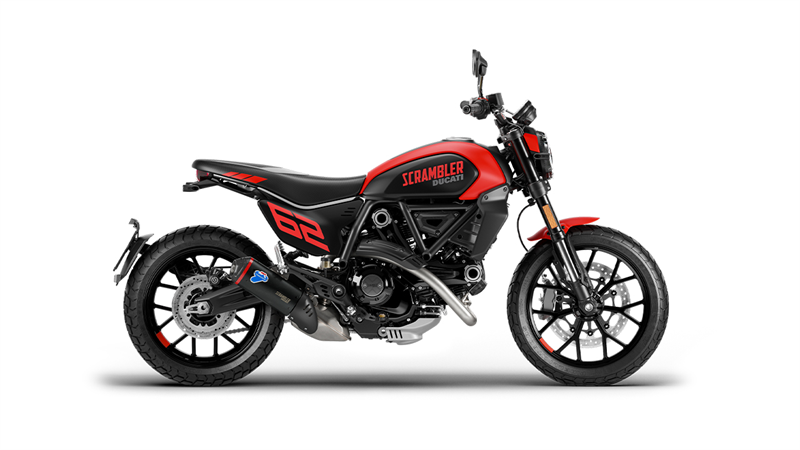 We tested the Full Throttle here, which is only available in red and black (called "Rosso GP19") and which has a Termignoni exhaust on board. It costs 12,490 euros and also has an aluminium oil pan protection, a contoured seat and side trim with the iconic number 62 as standard. Thanks to the rear license plate holder, it has a very short rear end with tiny LED indicators. Visually, the Full Throttle makes a good impression...
Dimensions and seating comfort Ducati Scrambler Full Throttle
 
The seat height of 795 mm should not pose any problems even for smaller pilots. The handlebars are mounted a little lower than the Icon, which has a very high handlebar, but it is very wide and not as low as the Nightshift, which has a very low handlebar. The golden mean, you could also say. The driver has enough space, but it will naturally be a bit tight for the passenger. Although it finds recessed grips below the seat, real joy over long tours for two should not arise here.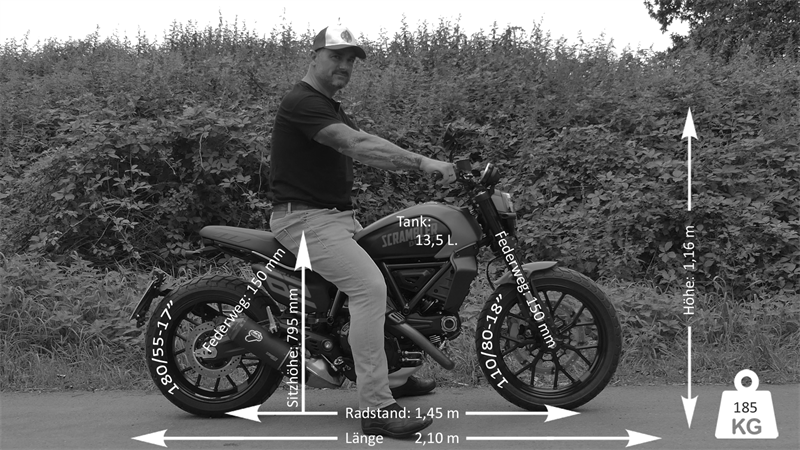 That's what it's like to sit on the Ducati Scrambler Full Throttle.
On the other hand, there is joy when manoeuvring, because the machine weighs only 185 kg ready to drive. The weight should also not be a problem for smaller people and women should also be happy about the handiness and maneuverability of the Full Throttle. By the way, from our point of view, this is an issue that should not be underestimated when choosing a motorcycle!
360 degree tour around the Ducati Scrambler Full Throttle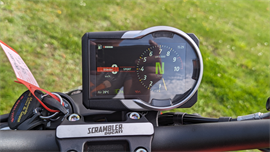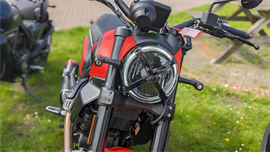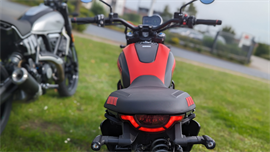 Technique of the Full Throttle
The Ducati Scrambler models of 2023 have technically saddled up properly. While the predecessors were still very puristically equipped, all three models now have a 4.3-inch TFT color display, two driving modes, a very well-functioning QuickShifter and lean angle sensors with cornering ABS and traction control.
You can't complain about lighting either. The Full Throttle has full LED incl. daytime running lights with separate switch and LED indicators. These are small, but nice and bright.
The TFT display is easy to read, but the operation is unfortunately a bit fiddly. After a short period of getting used to it, however, you can get along. The driving modes can be configured, and there are also beautiful pictograms that illustrate the respective parameter to be set in a visually appealing way.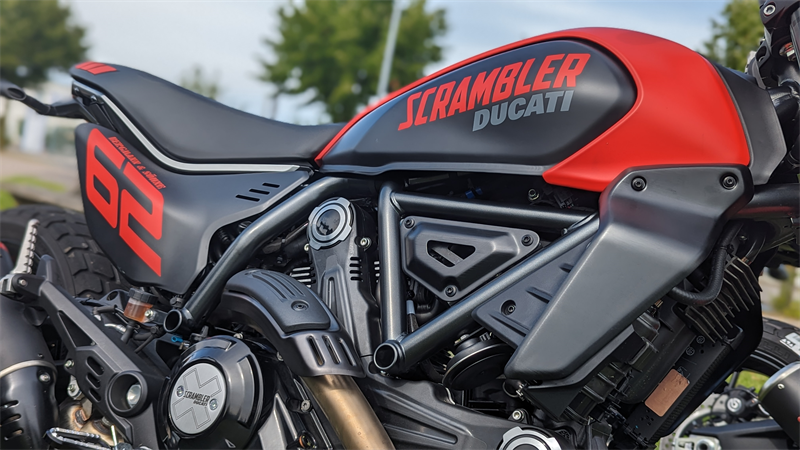 That's how it drives
The sound of the Full Throttle is typical Ducati. There is grumbling and rattling and someone nearby also seems to be shaking a bag of shells. The Termignoni muffler sounds really great and of course an air-oil cooled Desmo V2 has a lot to offer acoustically. Or to put it another way: the other two Scrambler models without the Termignoni also sound good.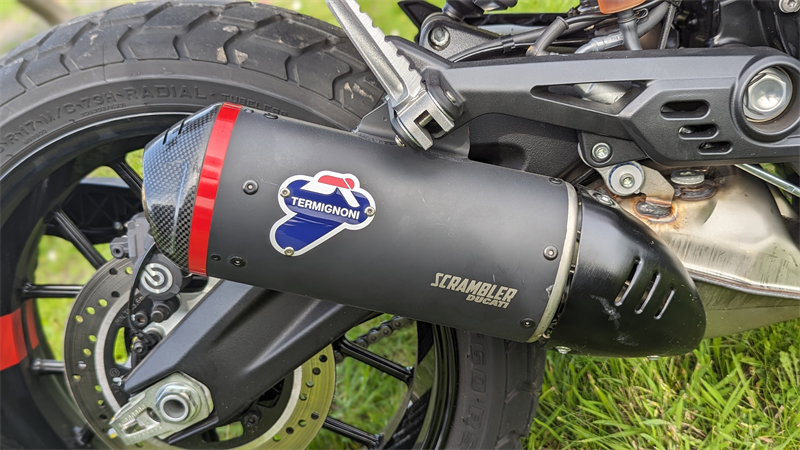 So, let's get started, up on the box and off for it. The Ducati Scramblers have always been very agile and manoeuvrable bikes. If you switch from a larger machine directly to the Full Throttle, you even feel a little wobbly. But after just a few meters you get used to it and are happy to see how willingly the Duc bends into the curves.
All it takes is a minimal steering impulse and the machine lies down to the left or right. And that's despite the fact that the Full Throttle has an 18 inch front rim! However, a 110/80 tire is mounted, which certainly contributes to the maneuverability. By the way, Ducati has chosen the Pirelli MT 60 RS as a tire - an excellent choice! This tire not only looks sharp (because it is coarse), it also works great - in the dry, but also in the rain.
The Kayaba chassis is not adjustable except for the spring preload at the rear, but it is perfectly matched to this type of motorcycle. It's tight, but not uncomfortable. The suspension travel of 150 mm also makes it possible to ride into moderate terrain, although this is not necessarily part of the nature of the Full Throttle. Rather, this bike feels comfortable in the city and on the country road. The brakes at the front are okay, but at the rear they are a bit weak on the chest. Never mind, the Duc brakes sufficiently well overall.
 
Now a word about the engine and the driving performance. With 73 hp and 65 Newton meters of torque, you shouldn't expect top performance from this machine, but it still goes forward quickly. If you give it a try, you can produce wheelies without much fuss and otherwise let it rip. In any case, no one will be overwhelmed here and that is exactly what makes for immense driving pleasure!
Now, Scrambler machines are not necessarily made for such speckles, but it's still a lot of fun to give the horse its spurs. The V2 is happy about any form of throttling and, above all, is very "talkative". You can just feel what the engine likes and doesn't like and - typical for a Ducati - you can hear exactly what's going on down there. It's hard to describe, but it's always a great experience. If you have never driven a Desmodue before, you should do so as soon as possible. Best during a test drive with a Ducati Scrambler 800 vintage 2023...
Conclusion - That puts you in a good mood!
Fortunately, the Full Throttle has been able to transport the typical Ducati Scrambler feeling into 2023. This bike is simply a real fun grenade that pretty much every biker should be able to get along with. On top of that, there is a two-year warranty with no mileage limit. Due to the complex valve lash control, however, it goes to the service every 12,000 km. 
The test machine was kindly provided to us by
Bergmann & Söhne
in Bremervörde. Holger, one of the local salespeople, is a real Ducatisti and will calmly explain to you over a coffee which Ducati suits you best. There are plenty of Ducati and Suzuki demonstrators and a lot of used machines. Let's go to Bremervörde!
Price/Availability/Colours/Years of Construction
Price: 12.490€
Used (8 years old): 7.000€
Availability: since 2015
Colors: black-red