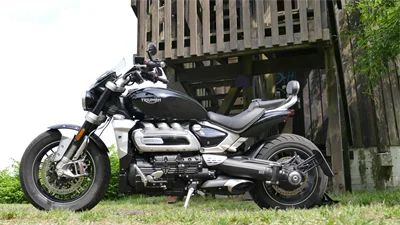 This is how she drives herself
And how: The tester mentally tuned in to a torque mountain, but he got a mountain. By the way, the new Rocket can do this much better than the old one, the current version does not have as violent a drop in torque as its predecessors. Between 3,000 and 6,000 tours are now always available at over 200 Newtons. So it's going to be a lot of progress on the straights. But life is rarely a permanent straight line, why should motorcycling make an exception here?
If it doesn't, the brakes are on in front of the bend. Two things to do with this: you should definitely brake the rocket, and do so more than on other motorcycles. The slant-free ness of the Rocket is rather mau due to its design. The second, however, is more surprising: the brakes are more than able to cope with a sporty driving style, extremely powerful and playfully to dose. This facility would also do well for a super athlete.
The Rocket also lays unexpectedly joyfully into the curve. Of course, she is not a curve star, and serpentines want to be gently retracted. But it can do more, much more than it would be expected to do at the equally royal wheelbase of 1,680 millimetres. The ultra-wide tyres could be a hindrance. They are Avon Cobra Chrome tyres in the massive dimensions 150/80-17 front and 240/50-16. But behold, not even these seem fun-reusing.
The comfortable seating position and the far forward footrests of the GT immediately give rise to cruiser feeling. The unfamiliar, sporting talents of triumph still in your head suddenly catch your eye: the driving comfort. Of course not weighing like a heavy tanker, such a thing is no longer delivered today. But with this elaborate chassis with 320 kilos of live weight, you would have expected more. Not to be misunderstood: the GT is by no means uncomfortable, but here it is not enough to achieve the best.
Do you notice anything else?
True, I mentioned the engine in the first paragraph after driving off, but shouldn't it be worth at least five paragraphs at these values? After all, record-breaking .... but I repeat myself. In fact, the engine shapes every ride with the Rocket. But by the way. More in the way that you don't have to worry about it: there's always enough of everything. This in turn leads to a sovereignty of locomotion, in appearance, which is reflected in the whole motorcycle.