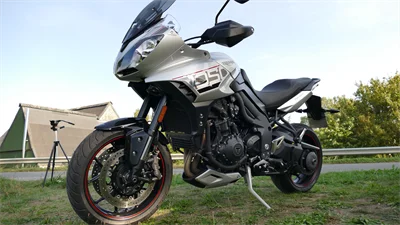 What the motorist's SUV is to the motorcyclist his adventure bike. Somehow they should be able to do everything. We wanted to know more and took a used Triumph Tiger 1050 Sport from the year September 2016 to the test track.
First contact with the tiger
She's standing there, the tigers. Neither one sees the two years, nor the approximately 14,000 kilometers. This gives some advantages in the B-note, because with some competing models the first impression is much worse.
But what does triumph want to be? Since not everyone is as smart as our readers, the British obviously wanted to make it understandable to everyone. In the name of the bike, therefore, not only the biggest big cat of our planet is hidden, but also the term sport. Could it be that triumph tends towards sport? Yes, exactly! But we'll get to that later.
The 1050 is virtually the central model of the series, there is still an 800 and the 1200. Ours is about two years old, so she has the current facelift. Triumph wants to make 100 improvements to the engine alone, including a ride-by-wire system. Before the first key turn quickly clarify the most important thing: on-board computer with the usual features? Check. Wide, comfortable looking bench for the big tour? Check. Adjustable disc? Check. 126 hp, all still available? Let's have a look.