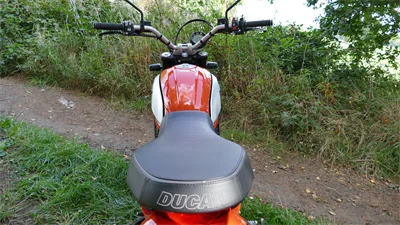 Overall, a lot of fine-tuning
First impression: Oha, here the pilot sits upright and stable. The wide and high handlebars force a sitting position that is anything but sporty. You can't be further away from a panigale than on this scrambler. The new bench dispenses with the cowl, so that the butt can find its own position on the bench. On the previous model, I always noticed that the pilot was sitting on the machine, not in the machine, therefore not very integrated. I didn't like this, now I feel the sitting position is well integrated. However: After 15 to 30 minutes of driving, the very slippery seat becomes uncomfortable, which makes the handle necessary for accessories.
The view of the new display registers the laudable tank display, but a new marotte has been added: The speed is displayed via narrow bells at the bottom wheel of the circular instrument, which will hopefully be corrected with the next facelift.
The sound is rather restrained for a Ducati engine, but still bassy and powerful. It never gets annoyingly loud, which pleases the neighbors and suits the character. The engine is a force. It is already enormous what this V2 can do with the light (only 189 kilos filled) Ducati Scrambler 800 Icon. It doesn't matter if you prefer to drive up or down. Of course, 73 hp are not lavish, but they are always predictable. Overall, the engine of the Scamblers looks balanced, more balanced than in the big 1100s. Class.
And something else has changed. When I was visiting a friend in Los Angeles, on a hot day, I used his 800 scrambler for a trip to the sea. I noticed that it got very hot on my right leg, where the bend was. Back in Hamburg (okay, here it is rarely hot) this effect could be observed during a test drive. Now this imbalance has disappeared.
We also liked the chassis. Sporty tight, but by no means uncomfortable and therefore completely ok among Scramblerians. The low weight naturally promotes the manoeuvrability of the icon, which is alien to most rather stable Designed Ducatis. Here, however, she and her crew swing loosely through the curves after a short acclimatization, hear the satisfied sound of the engine and enjoy the country road as the ideal habitat of the 800s.