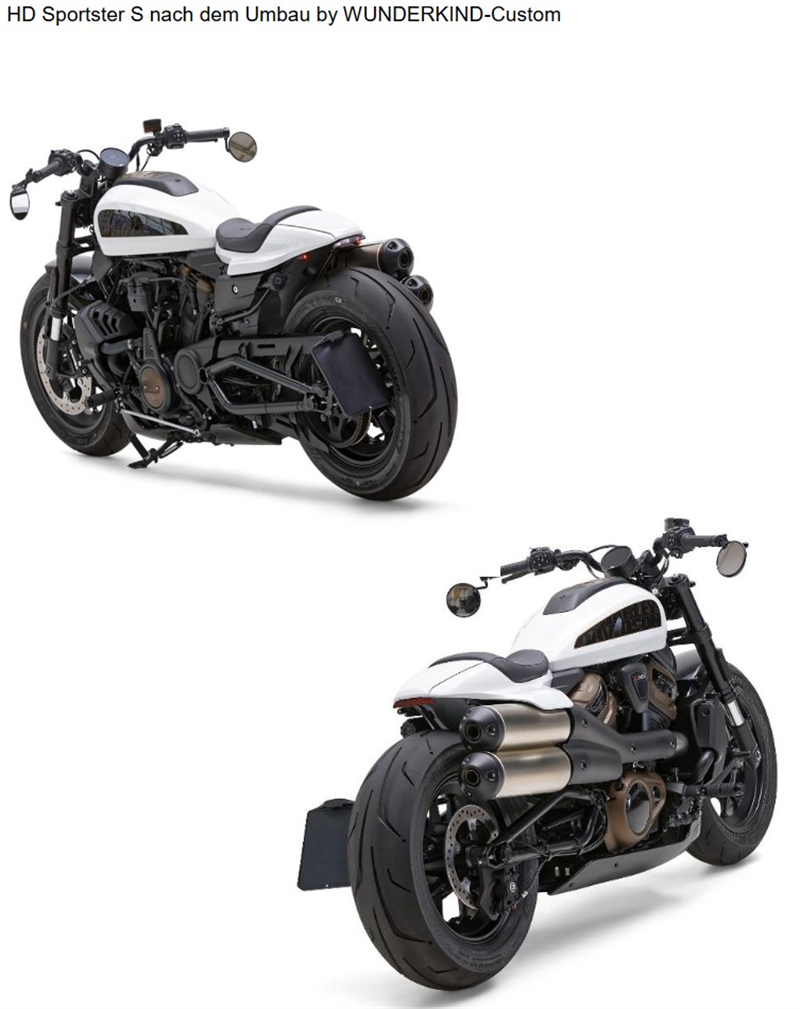 Photos: WUNDERKIND-Custom
With the new conversion parts for the Harley-Davidson Sportster S, manufacturer WUNDERKIND-Custom once again shows how the appearance of the motorcycle can be significantly improved by the targeted replacement of certain parts.
Starting at the front, by replacing the chunky, original with the newly designed, simple LED turn signals 'littleOne', the front is much simpler and more integrated.
If you do not like the look of the original peg system, you can replace the peg and pedal with shapely alternatives. The replacement pegs from the accessory manufacturer are not only visually impressive. Thanks to their non-slip rubber, they reduce the risk of feet slipping away when wet. The replacement pedal for the gear lever also serves its purpose: it is slightly longer than the original, which allows better operability of the gearshift. 
The original license plate holder
including lighting can be exchanged for a lateral, adjustable license plate holder with integrated LED lighting. This is available in two design versions. In addition, a discreet LED turn signal / taillight combination is offered for mounting on the rear fender, which really brings out the already short rear. A mounting set with an attractive reflector allows central mounting on original mounting points. And for those who are travelling with a pillion seat, there is an LED turn signal/taillight combination, which has been specially developed for mounting on the original splash guard. 
In summary, it can be said that the silhouette of the motorcycle appears much more coherent after the conversion with only a few accessories.
All WUNDERKIND custom parts are developed at the southern German location in Breisach and comply with the StVZO or have a parts certificate.


For more information:
WUNDERKIND-Custom.com