Motorcycle new registrations March 2020
18.5 percent fewer new registrations due to the Corona crisis
Due to the Corona crisis, new motorcycle registrations fell by 18.5 percent year-on-year in March 2020. Although this is a smaller decline than expected, the shops were not closed until mid-March, so the decline in April is likely to be even more drastic.
For motorcycle dealers, the Corona crisis is a catatrophy, as is the case for almost all retailers that rely on customer contact. Online sales were allowed during the Corona crisis, but the bikers' appetite for buying may still have been limited. In this respect, the decline of "just" almost 20 percent is already a little surprising. Bright spot: Since 20 April, car and motorcycle dealers have been allowed to reopen their shops and sell motorcycles - of course only under the applicable distance and hygiene conditions. 
An interactive evaluation of the new registrations since 2002 can be found here.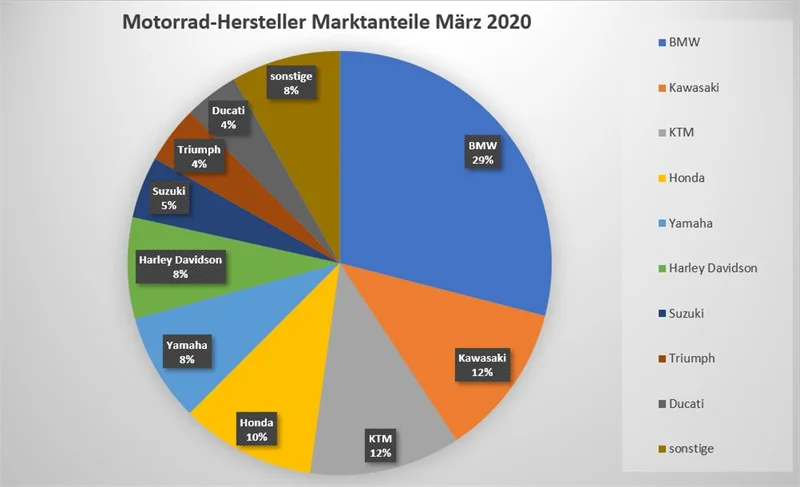 Top 50 Motorcycles in March 2020
| Manufacturer | | model | quantity |
| --- | --- | --- | --- |
| 1 | Bmw | R 1250 GS | 3.028 |
| 2 | Kawasaki | Z 900 | 901 |
| 3 | Bmw | R 1250 RS | 622 |
| 4 | Kawasaki | Z 650 | 569 |
| 5 | Bmw | S 1000 RR | 559 |
| 6 | Yamaha | MT-07 | 508 |
| 7 | Bmw | R 1250 R | 506 |
| 8 | Ktm | 690 SMC | 500 |
| 9 | Yamaha | Ténéré 700 | 498 |
| 10 | Ktm | 790 DUKE | 457 |
| 11 | Bmw | F 750 GS | 392 |
| 12 | Bmw | F 900 R | 367 |
| 13 | Honda | CRF 1100 AFRICA TWIN | 360 |
| 14 | Ktm | 790 ADVENTURE | 356 |
| 15 | Suzuki | SV 650 | 356 |
| 16 | Bmw | S 1000 XR | 352 |
| 17 | Ktm | 390 DUKE | 349 |
| 18 | Bmw | F 900 XR | 348 |
| 19 | Bmw | R 1250 RT | 342 |
| 20 | Bmw | F 850 GS | 341 |
| 21 | Yamaha | MT-09 | 327 |
| 22 | Ktm | 1290 SUPERDUKE R | 319 |
| 23 | Yamaha | MT-09 TRACER | 315 |
| 24 | Kawasaki | NINJA 650 | 311 |
| 25 | Honda | CRF 1000 AFRICA TWIN | 311 |
| 26 | Ktm | 1290 SUPER ADVENTURE | 311 |
| 27 | Kawasaki | Z 900 RS | 310 |
| 28 | Honda | CB 650 R | 306 |
| 29 | Suzuki | GSX-S 750 | 303 |
| 30 | Honda | CB 500 F | 277 |
| 31 | Bmw | S 1000 R | 273 |
| 32 | Harley-Davidson | STREET BOB | 270 |
| 33 | Kawasaki | VULCAN S | 262 |
| 34 | Husqvarna | 701 SUPERMOTO | 260 |
| 35 | Bmw | G 310 R | 251 |
| 36 | Triumph | ROCKET 3 | 244 |
| 37 | Harley-Davidson | SPORT GLIDE | 237 |
| 38 | Honda | CB 1000 R NEO SPORTS CAFE | 222 |
| 39 | Bmw | R NINE T PURE | 214 |
| 40 | Honda | NC 750 X | 213 |
| 41 | Ktm | 300 EXC | 211 |
| 42 | Bmw | R NINE T SCRAMBLER | 207 |
| 43 | Suzuki | DL 650 V-STROM | 192 |
| 44 | Kawasaki | VERSYS 1000 | 185 |
| 45 | Bmw | NINE T | 180 |
| 46 | Royal Enfield | CONTINENTAL GT 650 | 178 |
| 47 | Kawasaki | NINJA 1000 SX | 177 |
| 48 | Moto-Guzzi | V85 TT | 175 |
| 49 | Ducati | PANIGALE V4 SPECIALE | 172 |
| 50 | Honda | CBR 650 R | 167 |