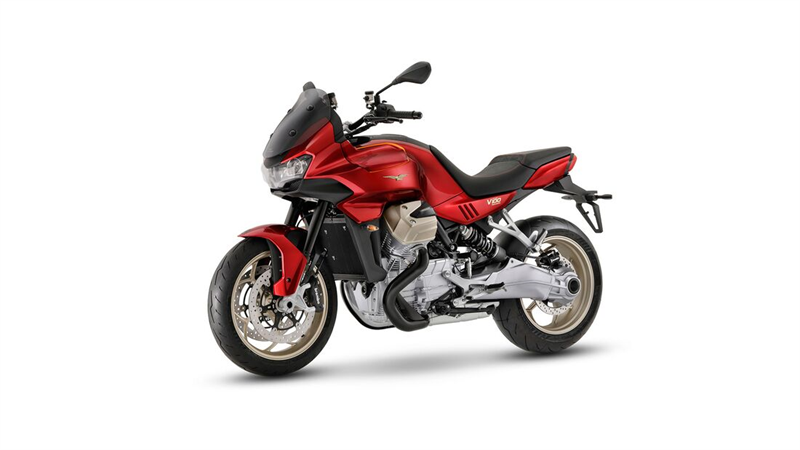 Photo: Moto Guzzi (factory)
Moto Guzzi celebrates its 100th birthday with a new model
That's brave from Moto Guzzi: A water-cooled cross-over bike will be on the grid in 2022. As a reminder, Guzzi currently has only three models: V7, V9 and V85TT. So it's time for an update, and it's only logical that the new V100 comes water-cooled - even if one or the other Guzzi fan won't find that great.
The successful
V85TT
was often criticized for the somewhat low-draft engine. We also thought the machine was great overall, but would have liked to see 100 hp. The new V100 Mandello is not an update of the V85, but comes very close to its type. It is a cross-over bike that can be moved painlessly even over longer distances due to the sitting position. However, the 17-inch rims at the front and rear make it clear that this is a much sportier model. The new engine with 110 hp also fits in with this. Moto Guzzi also focuses on sportiness when it's look. There is a single-arm swingarm with integrated gimbal, a short exhaust and a half fairing, which sets the still typical V-engine excellently in scene.
In the video of the new "Moto Guzzi V100 Mandello" you can also see a Brembo brake system, a color TFT display and a relatively high mounted handlebar. The front reminds us a little of older Bandit models from Suzuki, plus there is an electrically adjustable windshield. We officially presented the new Guzzi at the EICMA in November. There the prices and the availability of the machine will be announced - we are excited and are already looking forward to the test!