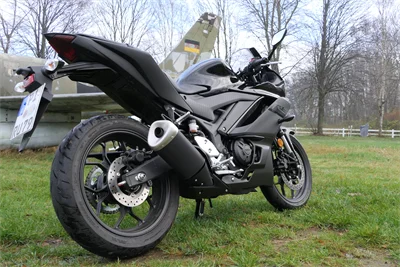 Variable seating position
The first surprise comes immediately after sitting on: the sitting position is by no means as super-sporty as hoped (or feared, depending on the intended use). And it is variable: depending on the position of the most very good, the sitting position changes considerably. Abdominal to the tank means a position that is almost reminiscent of sports tourers. If you push your butt backwards, you're flat behind the disc and ready for the Hatz. The high-laid footrests are good for the slant freedom, but in combination with the low-build machine, they are responsible for a rather narrow knee angle. If you have long legs, you won't find it suitable for long distances.
The second surprise comes after the engine is started. The small two-cylinder sounds suitably sporty, but above all after more than the existing 321 cubic meters. The first gear of the precise six-speed transmission is inserted with a not exactly smooth clutch - and off you go.
As long as the two-cylinder is cold, only restrained turning is made. This in turn means that it is linear, but not very fast. From the middle of the speed band there is thrust. We like the vibrations or the absence of this, never the small motor seems strained.
The Yamaha has reached operating temperature, fire free! Determined, she storms the speed band upwards until it is sealed off at 13,000. That fits, she can do it well, but she has to. Once in the wrong gear and already the R3 has to turn back into higher speed regions. If you want to be fast, you have to drive and switch precisely, then, but only then, it fits.
In fact, the R3 is really fun now. This is also due to the low weight, which is staged by a very good chassis. The small racing machine throws itself with great pleasure in curves of all radii and lets the pilot with his knees taste the slant-free.
We didn't like the brakes very much. Objectively, she has little to blame. And yet we would have liked a little more bite for a super athlete. A second disc at the front would have increased the performance.