Brixton Cromwell 1200 Review
(Baujahr 2022)
1200cc retro roadster from Austria for less than 10.000 €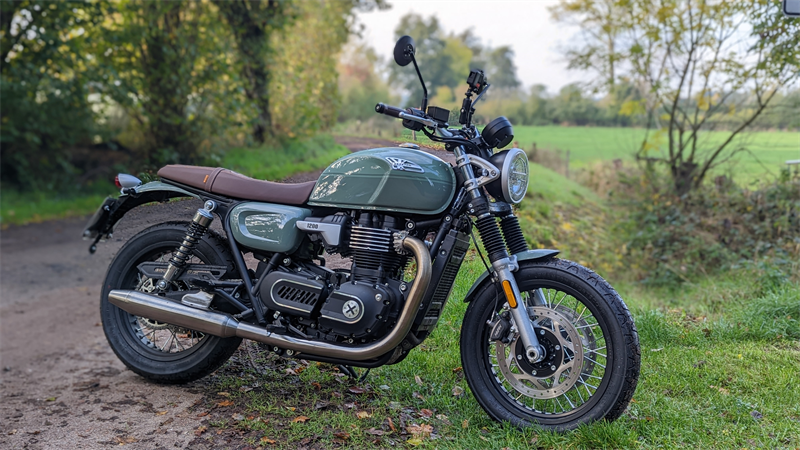 Photos: Motorradtest.de
With the Cromwell 1200, Brixton is outrageously poaching in Triumph's retro camp. The new machine looks like a mixture of Speed Twin and T120, but costs only 9,999 euros. Markus and Dietmar checked whether the Brixton Cromwell 1200 drives as well as the British originals during a test drive.


New retro roadster from Austria
Until now, Brixton, a house brand of KSR, was known for smaller motorcycles up to 500 cc. With the new Cromwell, the Austrians are now venturing into higher realms. The engine is 1,222 cubic centimeters in size and a look at the data sheet suggests that this is now a full-blown motorcycle. Brixton has always had retro in its program, but now KSR is obviously about the target group of retro fans who have so far oriented themselves to Triumph and BMW - i.e. the top dog premium brands with corresponding prices. In this respect, perhaps not such a bad move by KSR to send a large retro bike into the ring for less than 10,000 euros.

 

Visually, the Cromwell pleases with classic features such as a free-standing engine, a very nicely curved exhaust system with fat manifolds and slim end pots made of stainless steel as well as bellows and elongated seat. But Brixton has also thought of fine details and there is a short rear with Cromwell emblem, spoke wheels and stereo struts. We particularly like the color of our test machine in mint green with brown seat, which was provided to us by

2Rad-Stadie in Pinneberg

for this test and can also be tested there. There are also two other variants available in grey and black.

The seat test proceeds without surprises. You sit upright and relaxed, as does the passenger, but without being able to hold on to grab handles. Instead, there is only one strap, but the driver is still there to hold onto. Footpegs, handlebar height, knee angle, that all fits for both taller and smaller people. The seat height is very moderate at 800 mm, so almost everyone should get their feet well on the ground. Nevertheless, the Cromwell 1200 is not an entry-level bike, but with its 235 kg it is unfortunately a bit too heavy.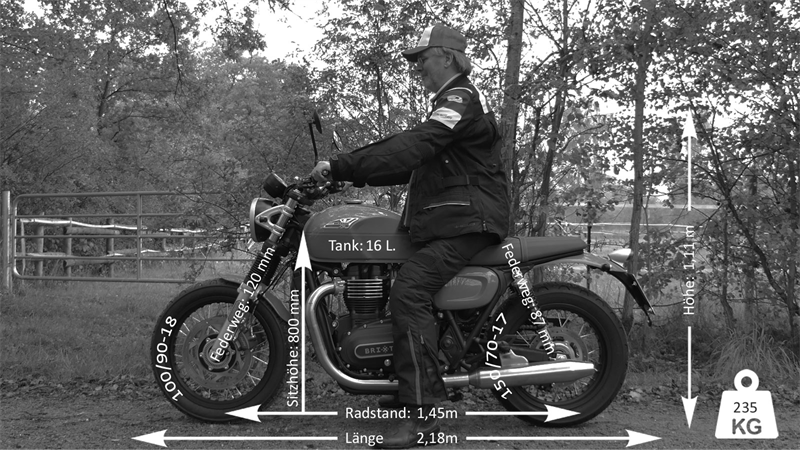 That's how you sit on the Brixton Cromwell 1200.
360 degree tour around the Brixton Cromwell 1200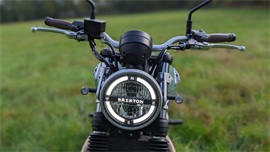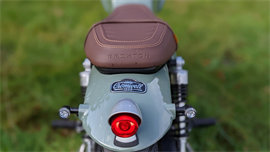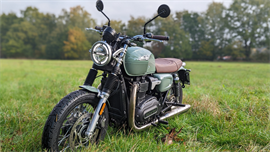 Technology: Simple, but okay
The Cromwell 1200 doesn't set off technical fireworks, but nobody expects that from a retro machine. It has a Bosch ABS, a switchable traction control and two driving modes as well as cruise control. The driving modes do not change the maximum performance, but do change the control of the throttle valves. In the "Eco" mode, it is a bit easier to work than in the "Sport" mode.
The lighting looks classic, but comes in modern LED technology. There are daytime running lights with a separate switch and also the unfortunately not self-resetting, but pretty, small turn signals come in LED technology. The machine looks great from the front and rear, which is probably also due to the successful luminaire design.
Practical: A USB socket is attached to the front right of the headlight housing. That's where it belongs, if someone wants to attach their mobile phone to the handlebars and charge it while driving. Brake and clutch levers are adjustable in range, wonderful.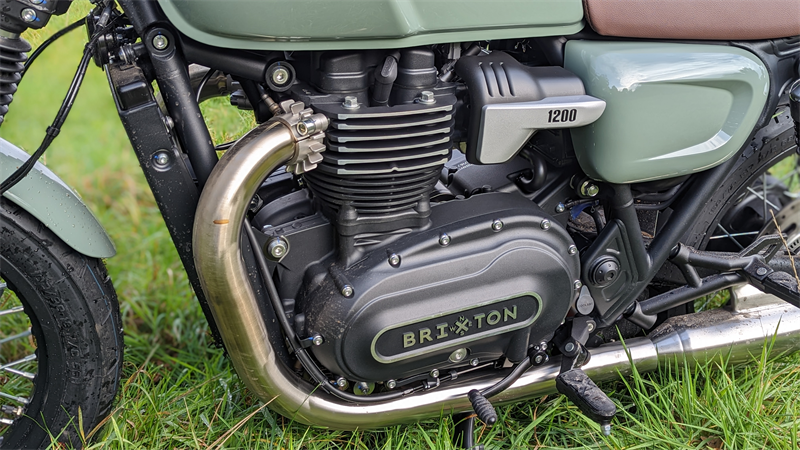 This is how it drives itself
Then let's go. But first listen briefly to the sound: Engine on and wonderful, English row twin "
Braaaaap"
enjoy. Sounds really super cool and suitable for the bike, also with 89 dbA not too loud, but nice bassy.
Just as little as the seating position is the handling of the Cromwell 1200. It drives exactly as it looks. No sports cannon, but also no motorcycle to fall asleep. The engine has plenty of torque with 108 Nm, which is also very early, namely at 3,100 rpm. It is therefore a classic torque motor, which then slowly runs out of air from 7,000 rpm. We assume that nobody will wring this bike out to the rev limiter, because that's not necessary at all. In addition, the Brixton Cromwell 1200 is also more of a type of motorcycle on which you do not necessarily want to sprint. It rather tempts you to cruise along smoothly. And if you want to let it crash out of the cellar, she likes to go along with it.
This is also where the difference to the 1,200cc from Triumph can be found: The T120, for example, is noticeably more powerful and sprints forward with much more emphasis than the Brixton. That's why it also likes to tempt the driver to step on the gas. The Brixton is rather relaxed and brings the driver down. By the way, we noticed a noticeable constant jerking, which can be avoided by briefly accelerating. Brixton could perhaps do some fine-tuning here, but this is certainly not the end of the world.

The chassis of the Austrian is kept simple. Except for the spring preload at the rear you can not adjust anything, but does not bother us. It lies comfortably but not too soft on the road and the Nissin brakes also do a good job. This may all work a bit better and more confidently with the retros from Triumph and BMW, but we didn't miss anything with the Cromwell in this regard. Especially not when looking at the price tag, because the competitors are much more expensive here:
Conclusion - what sticks
Very good start of Brixton in this segment! The Cromwell 1200 does exactly what you expect it to do. It conveys a classic retro roadster feeling, drives well, brakes well, sounds good, is well made and looks good. The British competition has not yet been fine-tuned, but it is also cheaper. 
The test bike was kindly provided by
2Rad Stadie
in Pinneberg for this test. There she stands in the most beautiful color variant in our opinion as a demonstrator and is happy about test drivers. If you find the grey version more beautiful: You can find it there too. And there are also beautiful country roads for test driving and the shop is also conveniently located directly on the A23 motorway. So, let's go for a test drive - greetings to Ralf and his great dog!
Price/availability/colours/years of construction
Price: 9.999 €
Availability: from 10/2022
Colours: black, grey, green