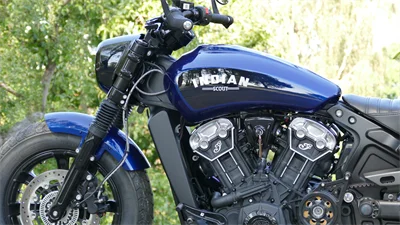 Everything easy
The engine starts immediately, somehow one would now expect a sloppy announcement noise like in the past from a carburetor battery. This does not exist thanks to the injection system, but the expressions of life in the stand indicate what will happen later: it is not loud, dull and can be heard at any time.
The seat height is 649 millimetres, so in this case it is more of a seat depth. Even for Bobber ratios, that's little. This, in combination with the footrests mounted far in front, brings with it an almost non-existent knee angle. The handlebars are wide, but not mounted too far in front. The maximum casual bobsleigh maintenance of the pilot is finished.
The circular instrument, which one would like to call classic despite the integrated display for the on-board computer, displays the speed analogously. The Indian digital informs about the rest, including the speed. Which makes it difficult for us to read in 50 increments in case of speed. The good news is immediately after the start, because the respective speed does not matter at all, enough wumms is always present. By the way, there is not much to indicate, because the Indian can only show an ABS on modern electronic helper lines. Her only driving porgram is firmly burned into her DNA, so deep that it can never come out again. It says: Bobbern, so casual cruising.
The Bobber rides completely unproblematic, if you pay attention to one thing. Slanted, well, that's not hers. It could be from the chassis or the tire, if it were not at 29 degrees inclination. On the right, the expensive exhaust would snap across the asphalt.
The Indian engine characterizes the Indian Scout Bobber more than other brands. This has already occurred to us at the Indian FTR, how well the engines harmonize with the respective machine. Here the V2 never shows a strenuous side, it does not want to animate the pilot to anything. What is astonishingly good is that, despite its torque-heavy design, it does not appear laced up around. A sportier motorad than a bobsleigh would get him on his toes. In reality, such sparrows can be fast not only because of the low slant freedom or the not exactly over-motivated brakes. The casual bustle suits the Indian much better – it can do anything, but it doesn't have to. Unfortunately, this also refers to the Bobber's rear suspension. Only 51 millimetres of travel cannot, of course, perform miracles, and they do not. Short shocks come through noticeably.