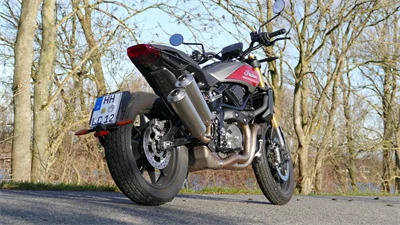 Pass without end
The dull bollards from the Akras are not bad. The touchscreen setting is as practical as it can be, at least in a stand. We liked that all round. Despite a handsome 231 kilograms, the FTR 1200 S does not seem cumbersome when driving slowly. The engine is the hammer, so much in advance. In contrast to Ducati engines, for example, the V2 is capable of performance from just above idle speed. In fact, the Indian moves out of the basement as if there was no tomorrow.
The V2 presses 120 Newton meters under the driver to the rear wheel, more than enough to get the front wheel at eye level. The running culture is very good for a V2. A rotary organ is not the Indian, at 8,250 revolutions the maximum power is on, and it doesn't have to be any more.
It is not intended for speed bolters, which is not only due to its windshield or rather the lack of it. The maximum speed is surprisingly low at 193 km/h, at 123 hp it could be more. But why? The straight-line run is impeccable, as is the curve behavior. And yet the Indian FTR 1200 S always informs the driver that it is not built for such a thing (like all Scramblers, by the way). Rather, it inspires with its sudden passage in any life and speed position (60 to 100 km/h in 3.4 seconds) than with maximum inclinations.
A word about the tyres. Dunlop has developed this especially for the FTR 1200 and is intended to enhance the sand track look and its suitability on loose ground. "Specially designed tyres" sounds very important, of course, but in reality it means two things: in ten years' time, these tyres will no longer exist, before they will never be cheap. I wouldn't put away the included set (see photo), but put the Indians on tyres the next time they change, their grip is higher on roads. Who, please, is jetting across the sand in St Peter-Ording with his FTR?