2021 will be an exciting year for Yamaha with the launch of several important new models. There was also an important innovation for the motorcycle industry: the EU5 regulations made new models even more environmentally friendly.

The new rules will, of course, affect Yamaha's engine segment. The 125 cc, CP2, CP3 and CP4 engines are upgraded to comply with the EU5 standard.

Yamaha Motor remains one of the leading suppliers in the motorcycle industry - both in terms of market share and innovation. More than ever, Yamaha's goal is to make "KANDO" tangible: every rider should experience the feeling of deep satisfaction and true enthusiasm through Yamaha products. No matter what Yamaha product it has: on two, three or four wheels, on the water or in the snow. Yamaha products continue to convey this feeling, in compliance with EU5 regulations.

Hyper Naked - The Dark Side of Japan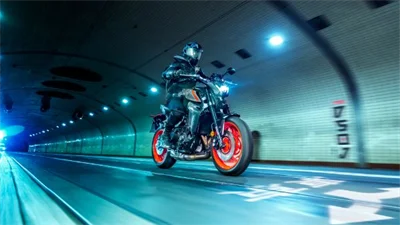 Photo: YAMAHA
Yamaha's dynamic MT series stands for the next generation of the "Dark Side of Japan". The legendary MT-09 and MT-09 SP have been completely renewed for 2021. They were given a new engine with a larger displacement, a redesigned lightweight frame and a fresh, aggressive look. The bestseller MT-07 comes in 2021 with a completely new look and a premium package. The MT-125 is equipped with a new EU5 compliant engine and, like the rest of the MT family, will also be available in the Storm Fluo colour.

The remaining motorcycles of our Hyper Naked series will also be upgraded to EU5 in 2021.

Sport Touring - Roads of Life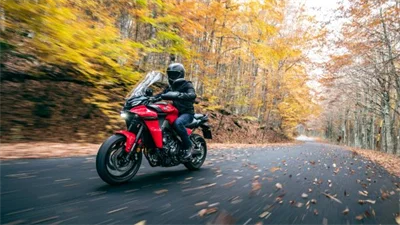 Photo: YAMAHA
TRACER 9 and TRACER 9 GT have been radically modified for 2021. The Sport Touring Bike has been given a new frame, a new engine and a new fairing design. The top model of the Sport Touring segment is equipped with more electronic technology than ever before – making it one of the most exciting and versatile motorcycles on the road.

For the new model year, the extremely powerful TRACER 7 will be available in two new colours. Redline is a bold, bright red finish that underlines the sporty character of the high-torque motorcycle. Tech Kamo is a green-grey hue that provides a powerful and mature look that fits well with the long-distance suitability of the motorcycle.

The TRACER 7 GT is the right choice for all drivers who want to get even more out of every ride. It is perfectly equipped with comfort seat, touring disc, USB adapter and city side cases. Comfort and functionality wherever the journey goes.

Since 2001, more than 120,000 drivers worldwide have relied on the FJR1300. The legendary Sport Touring model has achieved cult status. The unique driving experience, the powerful engine and the sporty yet comfortable chassis impressed the drivers. The fact that many police forces in Europe have chosen the FJR1300 as their emergency vehicle is the highest award for this motorcycle. In 2021 Yamaha will stop production of the FJR1300. There are still some models of the Ultimate Edition. If you want to grab a FJR1300 as a collector's item, you should be quick.

Sport Heritage - Faster Sons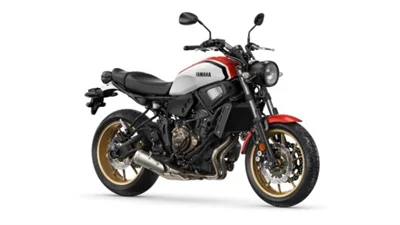 Photo: YAMAHA

With timeless appearance, modern technology and dynamic performance, the Sport Heritage models are among the most fashionable motorcycles ever. The XSR700 now has a new EU5 CP2 engine and will be available from Yamaha partners from March 2021.

The remaining motorcycles in our Sport Heritage range will also be upgraded to EU5 in 2021.

Adventure - Next Horizon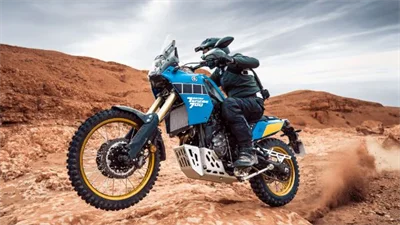 Photo: YAMAHA
With over 11,000 units sold in Europe, the Ténéré 700 is one of the most successful new models launched in 2020. The high-torque performance, the agile handling and the outstanding off-road qualities have made it the ultimate adventure bike. The Ténéré 700 Rally Edition with its classic colours pays homage to Yamaha's Dakar heroes. Both models will be fully EU5 compliant from 2021. They will be available from Yamaha Partner from March 2021.
After 10 successful years in which many thousands of adventurers around the world have benefited from the incredible reliability and comfort of the XT1200Z Super Ténéré, the adventure bike is retiring. The Super Ténéré leaves behind many great memories that will remain forever.

Supersport - R World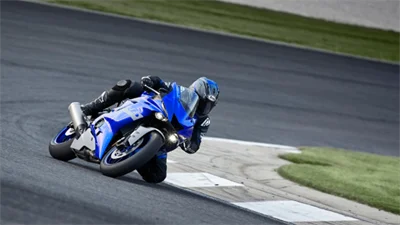 Photo: YAMAHA
Yamaha is more involved in racing than ever before. Our teams are fighting for victory in all classes. The renewed victory of the SS600 World Championship, with 6 drivers in the Top 10, makes it clear that the R6 is the ultimate racing machine. Starting in 2021, this winning Supersport motorcycle will be used exclusively for use on the racetrack.

Hobby racers and racers have the opportunity to purchase a non-homologated standard R6, the R6 RACE, at a special price from their Yamaha partner.

The R World is open to all who love motorcycles. The best way to get into this exciting world is with the R125. For 2021, the lightweight Supersport motorcycle is also equipped with an EU5 engine, as well as the legendary R1 and R1M.
The R3 will also be upgraded to EU5 in 2021.