Triumph Re-entry trainings
- Pure passion rekindled.
Back on the bike and enjoy the freedom.
You have a motorcycle licence but haven't driven for some time? Then it's time to breathe new life into your passion. So that you do not start unprepared into new adventures and travel safely from "New Beginning", we offer you exclusive re-entry trainings on the latest TRIUMPH models at a dealer near you.
Certified instructors take the first steps back on the bike together with you as part of a 4-hour course. In small groups of a maximum of 10 participants, the instructors respond individually to the needs and skills of each participant.
Experience the fascination of motorcycling anew and at the same time enjoy the intuitive driving fun and the unique design of the current TRIUMPH models.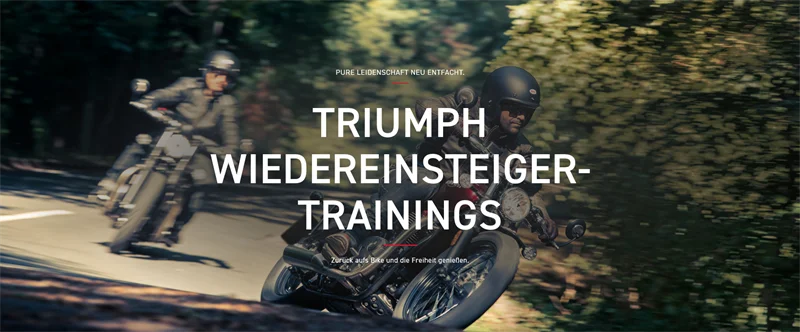 Photo: Triumph
The details:
Course duration: 4 hours
Max 10 participants per course
Professional instructor
A valid driving licence (class A) is required to participate in a re-entry training