Racetracks Experience for Triumph Bikers
Limited offer: Rum heating at the DrivingCenter at Baden Airpark
Triumph invites you to the Racetrak Experience at the DrivingCenter Baden-Airpark! On May 7th, a dream comes true for 40 Triumph bikers: To get the gas right on a race track. The motorradtest.de team is also on site. Who is the fastest, best, greatest?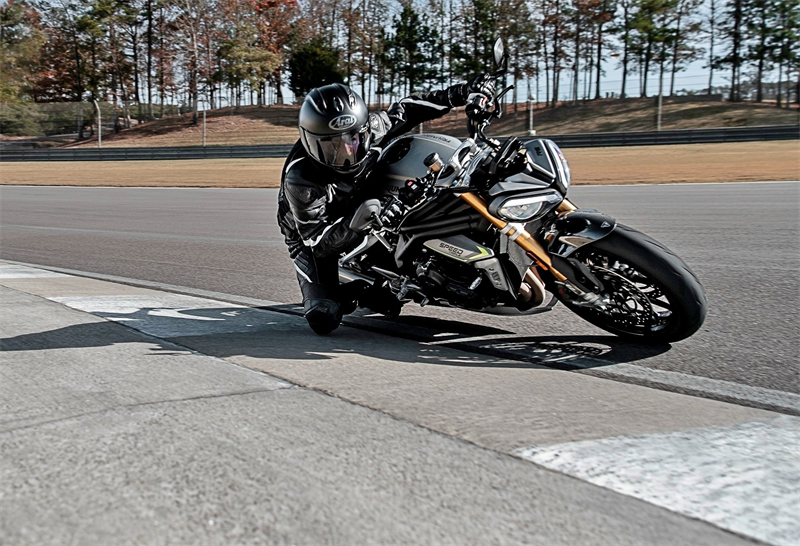 Photo: Triumph
This is the perfect opportunity for those who have always wanted to know what their triumph really can do: On Friday, 7 May 2021, the British traditional manufacturer invites you to the exclusive Triumph Racetrack Experience at the DrivingCenter Baden Airpark near Baden-Baden. During the rides on the versatile circuit and guided by the experienced instructors from MotoControl, beginners and routines in small groups get important tips and tricks that help them to master their Triumph Bike perfectly – especially when things get through the curves at a faster pace.
Good to know: The groups at the Racetrack Experience are divided individually according to experience and driving skills. The event is therefore suitable for drivers of all levels and is also aimed at A2 beginners with 48 hp. So no one is left behind and maximum driving fun for all Triumph owners on site – from rookie to piste fox – is guaranteed!
A prerequisite for the start of the Racetrack Experience is an own Triumph motorcycle with road approval and corresponding slant freedom. Chopper and Cruiser models are therefore unable to participate in the training. For this purpose, a driving noise limit of 98 dB (A) applies, which can be easily adhered to with standard or accessory exhaust systems, including dB eaters. Complete motorcycle protection clothing (leather or textile, incl. protectors) is also mandatory. In addition, there is the option to test some Triumph models on site.
Important: In order to ensure the best possible support, the tickets are limited to 40 participants. If you don't want to miss the exclusive event at a reasonable total price of 299 euros (incl. meals), you should access it quickly.
Of course, all current Corona regulations and hygiene regulations are adhered to. If the training has to be cancelled due to official regulations, Triumph Motorrad Germany has a 100% money back guarantee. More information and booking the Triumph Racetrack Experience can be found
here
.