TRIUMPH Trident - Final tests
Final tests
With it, a new dimension in triple power is entering the world of mid-range roadsters: the new photos of the TRIUMPH Trident show the new motorcycle during the last tests around the TRIUMPH headquarters in Hinckley, UK, where it was designed and developed.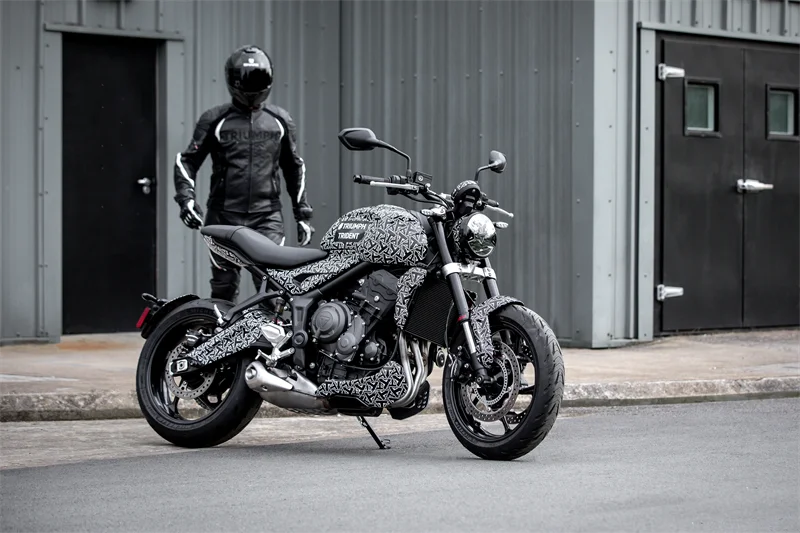 Photos: Triumph
The completely redesigned TRIUMPH Trident is on display during final tests at Hinckley, UK
Three advantages make them special in the highly competitive category:

Three-cylinder power and high-torque performance
A complete package of state-of-the-art technology
The agile and trust-inspiring handling typical of TRIUMPH

The competitive price enables a new generation of drivers to enter the world of TRIUMPH's triple-roadsters
From spring 2021, the new Trident will be available from TRIUMPH dealers
The final performance is just around the corner
Following the unveiling of the Trident Design prototype at London's Design Museum in August 2020, the photos of the final tests show the final stage of development before the introduction of the new model. The images were taken during the last test phase near triumph's headquarters and development department in Hinckley, UK. The test bike shows itself in the Erlkönig look and also presents the hashtag #TriumphTrident, which refers to further information on social media.
The images of the camouflaged TRIUMPH Trident show the result of a four-year development process at the company's Hinckley headquarters, focusing on a typically British model design.
The latest tests are now about fine-tuning the features that are expected to make the new Trident the first choice for a new generation of TRIUMPH drivers: it brings all the advantages of a triple engine to the mid-range roadster segment, comes standard with top technology and combines this with an agile chassis and driver-friendly ergonomics.
As announced at the press launch at London's Design Museum, the Trident will be available from spring 2021 and will be offered at a competitive price– making it equally attractive to long-time TRIUMPH fans as well as to new driver groups.
The date on which the TRIUMPH Trident final will be presented will be announced in the coming weeks.