New Speed Triple 1200 RS will be unveiled on January 26
Triumph Speed Triple 1200 RS with many updates
Triumph will present the new Speed Triple 1200 RS on January 26, 2021. The machine gets a new engine, a new chassis and many technical updates. We take a first look at the new machine.
 
The name already reveals it: The new Speed Triple 1200 RS gets a new engine. The old 1050 was already in use in the Speedy for 16 years - now a new unit with approx. 1,200 cc. Of course, the Triple 3 cylinder remains, but the power of 150 hp is expected to rise sharply. We expect about 180 hp and a torque of over 130 Nm.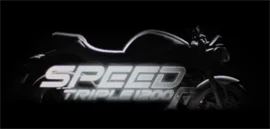 With the light, the LED technology will finally be introduced to the Speed Triple, as the teaser images of Triumph show. Otherwise, no specifications for the new 1200 Speedy have yet been announced. We expect a strong Tec update with mobile phone and GoPro connect, various driving modes, wheelie control, etc.
It is also not known whether there will be other models of the Speed Triple 1200 in addition to the RS. But could well be that triumph the RS with an electr. chassis incl. QuickShifter and there will be a cheaper Speedy without these features. In any case, Triumph's new RS brings it much closer to the super-nakeds of KTM, Ducati, BMW & Co.
All pictures: Triumph