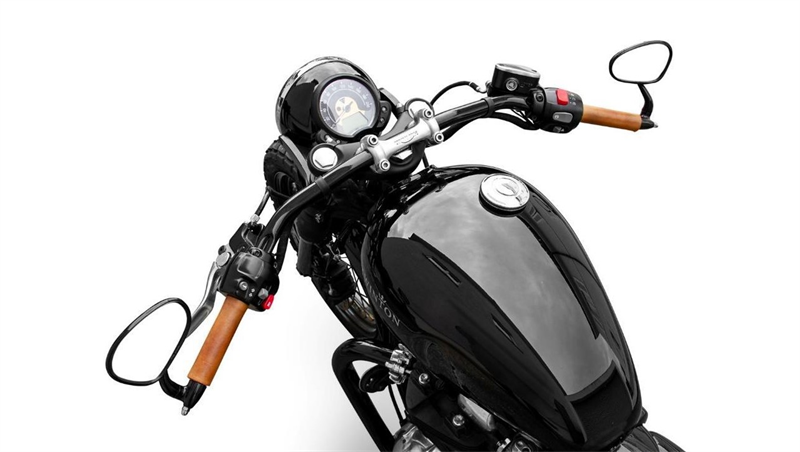 Photo: WUNDERKIND-Custom
This is where new conversion parts are created, which perfectly combine classic and modern and thus make a beautiful motorcycle even more unique. As in this case, the Triumph Bonneville Bobber.
With the TWINTON® 7" headlight, it is possible to integrate the original speedometer into the housing of the headlight. This is done simply by mounting at fixed mounting points. This makes the front look tidier and headlights and speedometer offer a nice unit. The headlight is available either with H4 lamps or with modern LED technology. The latter is suitable for customizers who value modern light. For everyone else, the old-school lighting with classic H4 insert is available.
Because a different lamp holder is required for the installation of the headlight, TWINTON® has also designed the matching holder. This convinces not only by its simple design, but also by a foldable clamp, which makes it possible to mount it on the fork tube in no time at all.
If you want to visually upgrade the side line of your bobbers, you can easily raise the original Triumph tank with the TWINTON® tank elevation. The tank booster consists of an attachment set. Adjustment work on the tank is not necessary.
The original rear can also be freed from the chunky ballast and replaced by a side license plate holder and a simple LED taillight.
The side TWINTON® license plate holder is adjustable and has LED lighting integrated. The license plate is mounted by simply inserting it into the frame without drilling. The specially designed retaining arm with TWINTON® logo also catches the eye.
The massive large original taillight can be a thing of the past when replaced by the fine TWINTON ® LED taillight. The attachment is simply done at the original mounting points. A special accent is set by a small cover with TWINTON® logo, which serves to cover the lower bore on the fender and is included in the scope of delivery of the rear light.
All parts comply with the StVZO or have a parts certificate.
In order for these beautiful accessories to find their way to the customizer, the premium accessory manufacturer WUNDERKIND-Custom takes care of production and sales. In short: TWINTON® provides the ideas - WUNDERKIND-Custom makes them come true.
More information:
WUNDERKIND-Custom.com