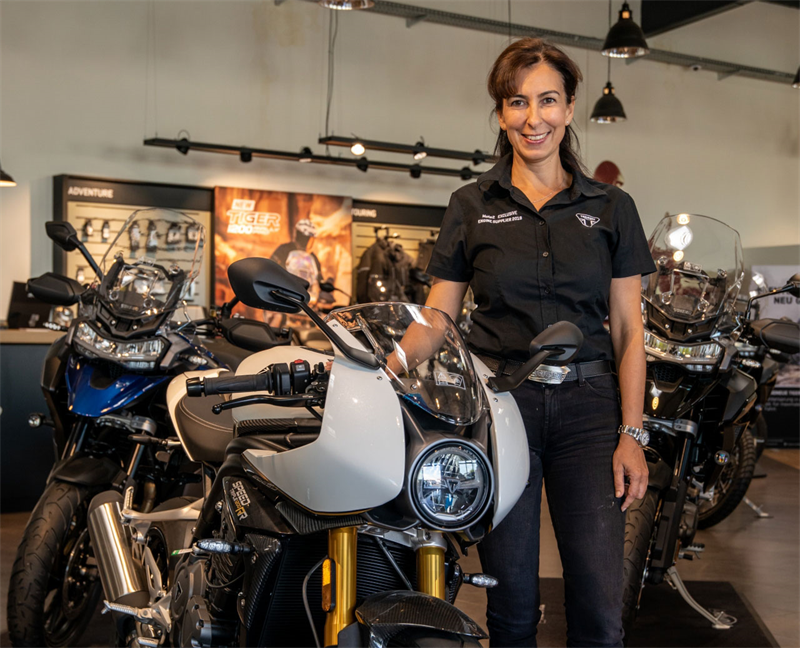 Photo: Natalie Kavafyan / Managing Director of TRIUMPH Motorrad Deutschland
Triumph is pleased with good figures
The stylish and characterful motorcycles of the British brand TRIUMPH continue to be fully in line with the trend: In the past financial year, the manufacturer increased its sales in the German and Austrian markets by a whopping 13 percent, and sales even increased by more than 16 percent.
 
The results are extremely positive: despite the still difficult market environment due to the effects of the pandemic and the war in Ukraine, TRIUMPH Motorcycles sold significantly more motorcycles on the German-speaking EU markets in the last financial year. In the period from 1 July 2021 to 30 June 2022, 6,759 bikes were sold to fans of the traditional British brand in Germany, which corresponds to an increase of 14 percent compared to the previous financial year of the brand. The same applies to the Alpine republic: In the same period, 714 new motorcycles found their way to Austrian Brit Bike enthusiasts, an increase of around 12 percent compared to the previous year.
 
"The fact that we were able to grow by more than 13 percent in both countries supported by our team in Rosbach is a great success," explains Natalie Kavafyan, Managing Director of TRIUMPH Motorrad Deutschland GmbH and responsible for the German and Austrian markets. "In addition to the colleagues here on site, I would also like to thank the team in England, which always brings great new bikes onto the market, and – last but not least – of course also to our sales partners, who do a great job in sales and service every day!"
 
The signs are good that further chapters will be added to the success story of the British brand in the coming years: The Tiger 1200 and Speed Triple 1200 RR models, which were launched this year, were already in very good demand in the first months of sales. TRIUMPH is also further expanding its dealer network in Germany and Austria. Two new locations have already been added or will be opened in the near future, and planning is already well advanced in several other regions. One thing is clear: by spring 2023, significantly more motorcyclists will have a representation of the traditional British manufacturer within reach of their hometown.