START PROBLEMS?
Racing Dynamic tells them to fight
New at POLO: The RACING DYNAMIC Fuel System & Carburetor Cleaner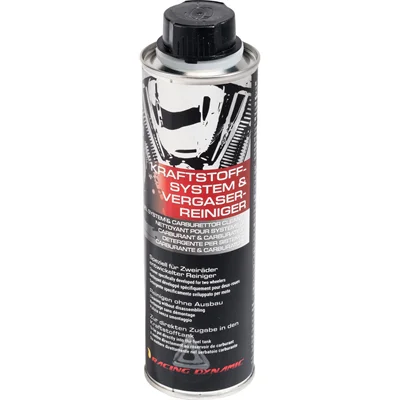 Photo: POLO
Longer service life is the most common cause of sludge formation, oxidation (greenboard) and deposits in carburetors and injection systems for two-wheelers. The result is start-up problems and uncircular engine running. Correct setting and synchronization will be impossible. The RACING DYNAMIC Fuel System & Carburetor Cleaner provides a quick and effective remedy.
This has probably happened to most people in their motorcycle life before. At the end of the season the tarpaulin over all "I take care of mothballing later". And then it became later. Always later. When the sun was still waiting in the spring, the motorcycle often stood unused for months and not waited in the garage. When the buddies call the first exit then the evil awakening. The buck does not jump or only laboriously and with a lot of good talk. Or the engine just doesn't run round. If he snorted like a kitten last year, he now buckles like a stubborn donkey. The cause: oxidation and/or sludge formation in the carburetor and in the injection system. Light components of the gasoline can evaporate during longer service life and the hard-to-soluble oils eventually dry up. Even a tank rusted from the inside can flush dirt particles into the system again and again. Removal, disassemble, check and clean is now the order of the day. The first exit will probably have to wait.
Or you can take the new RACING DYNAMIC fuel system & carburetor cleaner at hand. Specially designed for two-wheelers, it cleans without the often cumbersome and lengthy expansion of the carburetor plant. Simply add as a direct addition to the fuel tank, leave to act briefly and finally start. The cleaner, specially developed for the POLO exclusive brand, is distributed in the system, dissolves unpleasant deposits and eliminates blockages and bonding. Nothing stands in the way of the first round of the new season.
The RACING DYNAMIC Fuel & Carburetor Cleaner (content: 270 ml) is available for € 12.99 here.