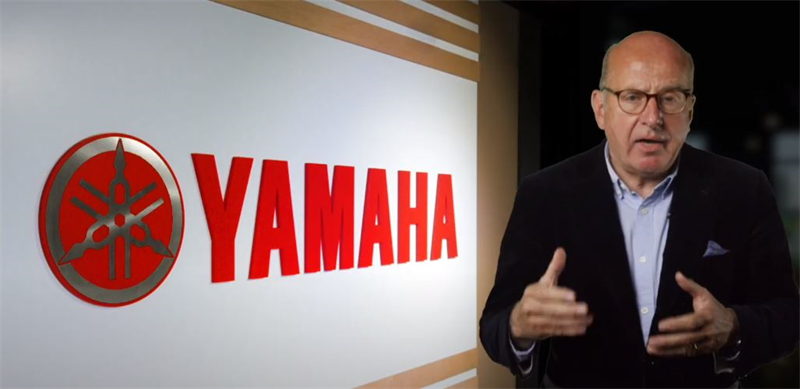 Video message from Yamaha Chef
The corona crisis is not only costing lives, it is also known to affect the economy. In a video statement, Eric de Seynes, CEO of Yamaha Moto Europe, comments on the current situation regarding the production and delivery of Yamaha bikes. If you don't want to watch the VIdeo, you can read the German transcript below the video.
Transcript to the video
"
Dear Customers, Dear Yamaha Partners,After a difficult 2020, we thought that the most critical part of the entire corona pandemic is now behind us, both in terms of public health and that of our company.The initial outlook for 2021 was and still is very positive. Since last summer, demand had recovered strongly thanks to a strong and dedicated dealer network, and many new products were expected to be delivered soon.Unfortunately, now that the 2021 season begins, this is not the case as the long-term impact of the corona pandemic on the supply chain becomes clear, and these impacts make it very difficult for us to fulfill our core duty: to provide you with products in sufficient quantities through our extensive dealer network.In the past ten months, the availability of raw materials has become a problem in many areas, e.B. in the semiconductors for the production of our smart keys, ABS brake systems, ECU, etc. The delivery of goods abroad was also problematic in view of the high demand in many categories of finished products. These problems were further complicated at the beginning of the season by the unexpected crisis in the Suez Canal with the container ship "Ever Given", which unfortunately transported several thousand Yamaha products and components.All of us here at Yamaha, from procurement and manufacturing to logistics and sales, work hard to minimize the impact and deliver all available products. At the same time, we are trying to provide our dealer network throughout Europe with the most accurate information possible on product availability in this still very unpredictable situation.However, and fortunately, the situation will improve in the coming days, weeks and months. We thank you for your patience and are confident that this patience will be rewarded with the great experience you will have with your new motorcycle, scooter outboard, WaveRunner or other Yamaha products you have chosen.In the meantime, despite all our hard work at Yamaha to find solutions to all the problems created by the pandemic and increasing the number of goods delivered, we are aware that waiting for product delivery can be frustrating, and we are infinitely sorry for that. Therefore, we sincerely apologize for any late deliveries.We very much hope that your new machine will "make your heart beat faster", and that as soon as possible ...See you. Thank you again for your patience."