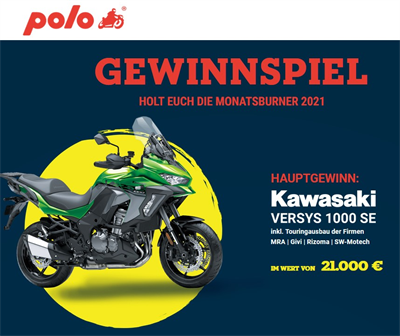 Photo: POLO Motorrad
Versys 1000 SE is looking for buyers!
After the great success in the anniversary year, POLO Motorrad has again set up a large-scale competition for its customers in 2021. They can look forward to prizes worth over €55,000 this year. With every purchase in the POLO Store or in the POLO online shop, you will receive a participation code that entitles you to register and participate in all six draws. Once registered, each additional entry code increases the chance of winning. The main prize is a
Kawasaki Versys 1000 SE,
including a touring package from the POLO range.
It started on 01.03.2021, participation is still possible up to and including 31.08.2021. In order to be able to offer its customers a little excitement and anticipation despite all the Corona drearyness, POLO Motorrad has decided without further ado to charge the competition, which has already been launched for the 40th anniversary, with new prizes and is pleased to be able to offer a real top prize again this year thanks to the generous support of Kawasaki Germany. A Kawasaki Versys 1000 SE will find a new owner this summer, who can also look forward to a touring expansion of the companies MRA, Givi, Rizoma and SW-Motech. In addition, further profit highlights await POLO customers with the so-called "monthly burners". For example, a Moto2 Team membership, in which the Liqui Moly Intact GP Team can be accompanied to a race weekend in Spielberg (Corona may not occur until 2022). Here, winners and accompanying them become part of the Moto2 team sponsored by POLO and are allowed to sniff pit lane air, but also have to get involved. Board and lodging included, of course. With bicycles, motorcycle complete outfits, Campingaz grills, WGB socket wrench sets, Krups fully automatic coffee machines, navigation devices, wellness trips and much more, there is again a lot on offer for POLO customers in 2021. Participation codes are available for every purchase in the more than 90 POLO stores in Germany, Austria and Switzerland and on polo-motorrad.com as well as at various events, as soon as they are finally allowed to take place again (sometime). Under
www.gewinnspiel.polo-motorrad.com,
the winning codes can be registered, which automatically participates in all six draws until the end of August. POLO keeps its fingers crossed for all participants and wishes them the necessary bit of luck.