Put on a leash!
- Wonderful helmet fuse »HELM-LOCK" - now also for the BMW F 900 R and XR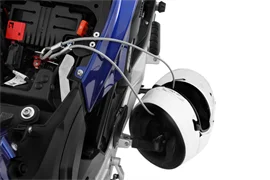 Photos: Wonderful
As important as the helmet is for safety when driving, it is and remains annoying when you carry it with you. The »HELM-LOCK» system from Wunderlichprovides a remedy. Their developers have now introduced the solid, safe and easy-to-use helmet fuse for the BMW F 900 R and XR. Following the motto "Never change a running system", the Ringers have now adapted the design principle, which has already proven itself in many other BMW model series, for the F-models.
The "HELM-LOCK" anti-theft protection is made of aluminium and stainless steel, is miraculously typically well thought out, high-quality workmanship, functional and perfectly integrated into the motorcycle. The robust base is securely fastened under the bench. It is additionally secured by the mounted and closed bench. The length of the safety rope is such that up to two helmets can be secured. The wire rope has a diameter of 5 mm and this alone allows long-finged crooks to refrain from seising property from others. The neatly designed chewing of the rope ends are mounted in the suspension device of the holding base and securely fixed by a spring-assisted latch. This makes it impossible to open the lock without lifting the seat. These backup features can only be found at Wunderlich. Another advantage is that no additional lock is required and therefore you do not have to carry another key with you. The transparent, generously dimensioned sheathing of the silicone safety rope protects helmets, their interior and the motorcycle itself from abrasion and paint damage. When not in use - always at hand - the rope is simply stowed under the seat in a space-saving way, so that nothing can be seen from the fuse.
With Wunderlich's "HELM-LOCK" anti-theft protection, helmets can be easily and safely "put on a leash". It's easy to use, safe and helpful, so you don't want to miss it anymore.
The price of €68.14 includes a 5-year warranty. All "HELM-LOCK" fuses from Wunderlich are "Made in Germany".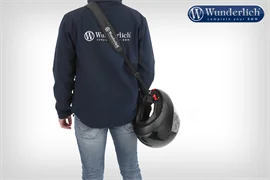 Photos: Wonderful
And for those who prefer to carry your helmet with them, there is also a solution for the price of 14.52 €: Thanks to the Wunderlich helmet strap, your hands remain free and you no longer have to put your helmet on the ground.
This practical companion fits all helmets with a ratchet closure (Micro-Metric), Nexus clip: The strap is either connected to the existing ratchet clasp or simply plugged into the nearby helmet clip.
The facts:
Function
Attached to the helmet clamp
Hands remain free
You don't have to take off your helmet
Technical data
Tape material: polyester
Upholstery material for the shoulder: mesh lining
Colour: black