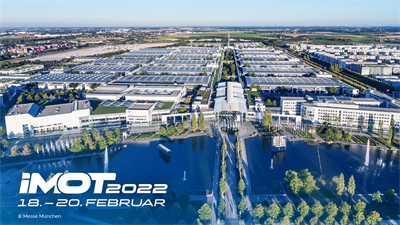 Photo: IMOT
Important news for motorcycle fans: In 2022, the IMOT International Motorcycle Exhibition will move to the Munich Exhibition Centre in Riem. The new location offers the organizer various possibilities to expand the event spatially and make it even more attractive. The IMOT will also run from 18 to 20 February 2022 in parallel with the large travel and leisure fair f.re.e. With a common ticket, visitors can not only find out about the latest trends and highlights from the motorcycle industry, they can also enjoy the travel area, caravanning & camping, outdoor & sport, the bicycle zone, the Munich AutoDays and the Munich Golf Days. A win-win model for organisers, fans and exhibitors that exploits synergies and opens up the offerings of an even larger target group.

Photo: IMOT
Every year for 27 years, around 60,000 motorcycle fans came to the MOC event centre every year in February for the IMOT in Order to prepare for the upcoming biker season. From February 2022, IMOT visitors will be told to go to the International Motorcycle Exhibition at the Munich Exhibition Centre in Riem. IMOT Managing Director Petra Zahradka looks forward to the move with a laughing and a crying eye: "The MOC was a piece of home for us for 27 years, so the decision was not easy for us. However, the new location offers the IMOT completely new spatial possibilities and state-of-the-art conditions both outdoors and indoors." In the future, IMOT will be able to display more than 20,000 square metres of exhibition space in two large halls on the grounds of Messe München for the presentation of new products in the areas of motorcycle, scooter and quad, as well as accessories and tuning.

Photo: IMOT
Another plus point of the new location: IMOT opens its doors parallel to Bavaria's largest travel and leisure fair. In doing so, the organisers share common interests. "To be able to start the motorcycle season in southern Germany as part of f.re.e is a really uniquely good situation," explains Petra Zahradka. "This gives our regular audience access to an even larger range of products. Since many motorcycle enthusiasts are also outdoor, sports and travel fans – and vice versa – visitors can only benefit." Dr. Reinhard Pfeiffer, Vice-Chairman of the Management Board of Messe München, also welcomes the IMOT's decision: "The International Motorcycle Exhibition is an ideal fit for f.re.e and complements the existing mobility axis with the f.re.e theme areas of caravanning & camping and bicycle as well as the Munich Auto Tageperfect." Access to this comprehensive offer is granted by a common ticket: from 2022, fans of IMOT will have access to a total of four events and thus the opportunity to move freely in all halls – which of course also applies to the classic f.re.e guests with regard to the IMOT.