Motorcycle new registrations February 2020
Four percent decrease in new registrations compared to 2019
After a good start to 2020 in January, sales in February fell by almost 4 percent compared to the previous year. The market shares of the manufacturers have now almost returned to the level of 2019, after there were even greater differences in January.
After Yamaha.B had to show a miserable five percent market share in January, Yamaha had to show a whoy 5 percent market share in January, but by the end of February it was already 9.1 percent. BMW is still at the top of the market with an uncatchable 28 percent, followed by KTM, Honda, Kawasaki and Yamaha. Things continue to look bad for Suzuki, which now has a market share of only 2.8 percent and has already fallen behind Harley, Ducati and Triumph. If this continues, Suzuki's sales will soon have to be sumd under the heading "Other". Let us hope that the new V-Stream 1050 will sell well. Incidentally, the Corona crisis is not yet likely to have been reflected in the February figures. It is therefore to be feared that the March figures will look much more catastrophic.
An interactive evaluation of the new registrations since 2002 can be found here.
Market shares motorcycle manufacturers in February 2020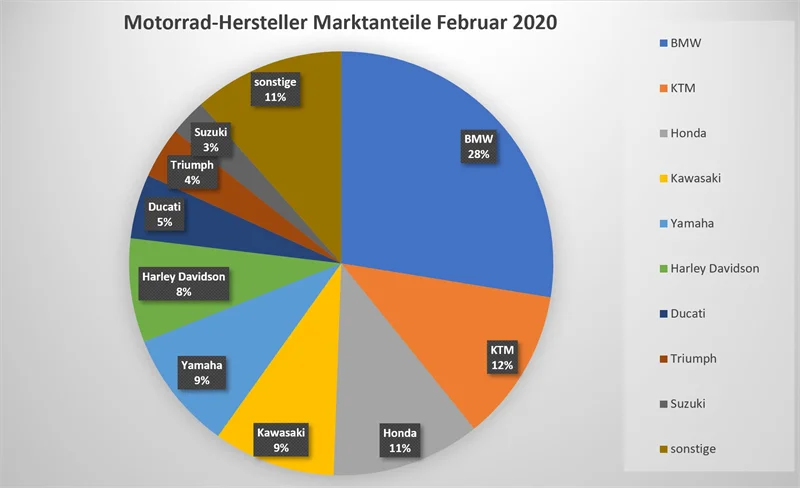 Top 10 Motorcycles February 2020
BMW R 1250 GS 1,228
Kawasaki Z900 338
Yamaha MT-07 246
KTM 690 SM-C 244
BMW R 1250 RS 238
Yamaha Ténéré 700 234
BMW R 1250 R 227
KTM 790 Duke 220
Kawasaki Z650 202
BMW S 1000 RR 194